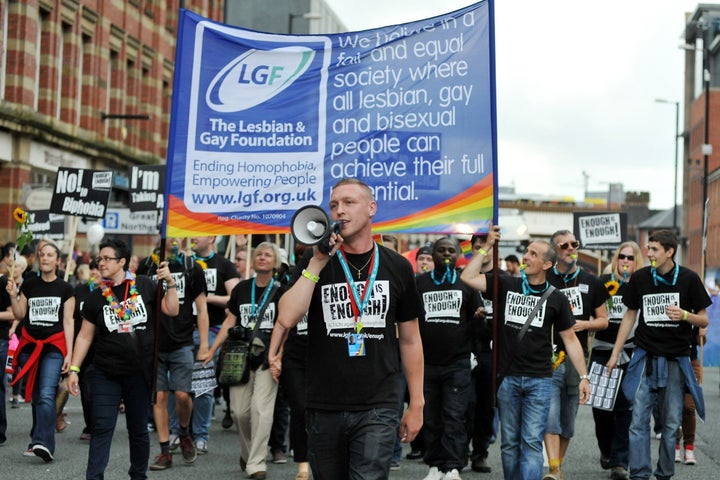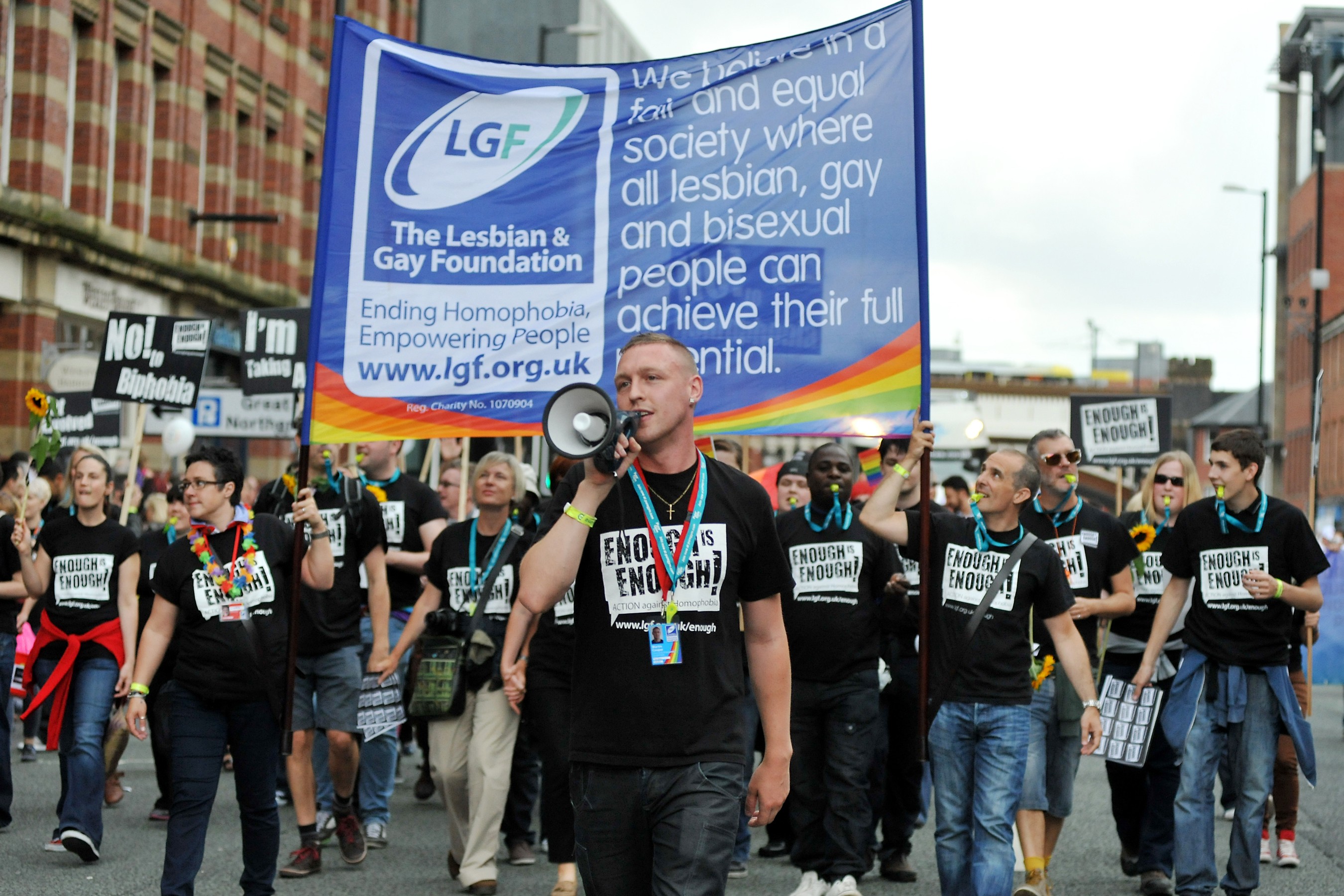 I used to associate Pride parades with shameless displays of sweaty skin, manorexia, and binge drinking; pierced leather daddies; shabby attempts at drag; and criminally overpriced parties. Thankfully, Manchester, England, has rescued me from these stale stereotypes and shown me that Pride can be so much more than a frivolous, hedonistic affair.
Two weeks ago, I had the honor and privilege to walk at the front of this year's Manchester Pride Parade alongside its Board of Trustees, celebrity patrons, and Grand Marshal (a fabulous, feather-clad, campy, Cuban chanteuse named Margarita Pracatan). Ms. Pracatan and I traveled to England for the UK premiere of her new show, Stranger in the Night, which I directed and co-wrote.
I am not a sentimentalist, yet nothing could prepare me for the flood of emotions I felt as I passed thousands of cheering Mancunian families, many of them straight allies who wanted to offer their support to the LGBT community. I have been attending Pride events in New York (where I live) and Los Angeles (where I was born) for over a decade. Unlike those festivities, where skin and intoxication take center stage in an explosive display of release, Manchester's parade, along with the week leading up to it and the weekend following it, exists in a class all its own.
For 11 meticulously programmed days, Manchester highlights the sublime union of charity, history, the arts, and celebration. This fine balance between the Dionysian and Apollonian sides of gay culture should be the model for any Pride event worldwide.
Along with a host of dedicated volunteers, Ms. Pracatan and I spent an afternoon fundraising for LGBT charities at the airport with retired NBA player John Amaechi and cast members from the British TV shows Queer as Folk and Coronation Street. This emphasis on giving back to the community permeated the entire weekend; I was moved by how many young volunteers I met had traveled to Manchester in order to donate their time and services.
While attending the parade is free of charge, it should be noted that unlike many gay celebrations in America, the Big Weekend programming requires a general admission ticket (a one-time charge of approximately $40 for access to all the events in the Gay Village); proceeds are distributed to various LGBT organizations. As a result, Manchester remains one of the world's leading Pride celebrations dedicated to raising significant charitable contributions for LGBT organizations.
During the week preceding the parade, Manchester welcomes artists from around the world for its Pride Fringe Festival, featuring 30-plus performances and exhibitions. Nightly events at Manchester's packed gay bars (there are over 35) prepare the crowds for the Big Weekend Parade and music festival. Past performers in the Main Arena have included Róisín Murphy, the Human League, Bananarama, Belinda Carlisle, Dragonette, and recent Grand Marshal Sir Ian McKellen.
The theme of this year's parade was "Queer'd Science" in honor of Alan Turing, often credited as the father of computer science and artificial intelligence. When Turing was charged with gross indecency for his homosexuality in 1952, he agreed to be chemically castrated in lieu of serving a prison sentence; he committed suicide two years later. Sixty years after his arrest, thousands of gays and their allies (together with their children), many dressed as scientists and computer geeks, flocked to the streets to offer their homage to a gay hero. It was a classy march marked by warmth, wit, and optimism -- the sort of commemoration that any parent should feel comfortable sharing with their children.
There's a reason that Manchester is consistently cited as the gay capital of the United Kingdom. To achieve such a stirring success, planning for the following year begins moments after the main stage is disassembled. Manchester Pride's Chair Vicken Couligan, Chief Executive John Stewart, and Deputy Chief Executive Darren Adams (along with their dedicated staff) deserve tremendous recognition for elevating the discourse and setting the tone for such a powerful (and vivacious) Pride. I have never experienced such a smart melding of revelry and reflection.
The weekend culminated with the George House Trust Candlelight Vigil on Monday night, commemorating all those we have lost to HIV worldwide. Sackville Gardens became a silent "sea of flickering candles" as most of the weekend's attendees gracefully shifted out of party mode for this touching tribute.
To feel a sense of pride, we need to understand our history: where we came from, those who sacrificed to bring us to the brink of equality, and what struggles still lie ahead.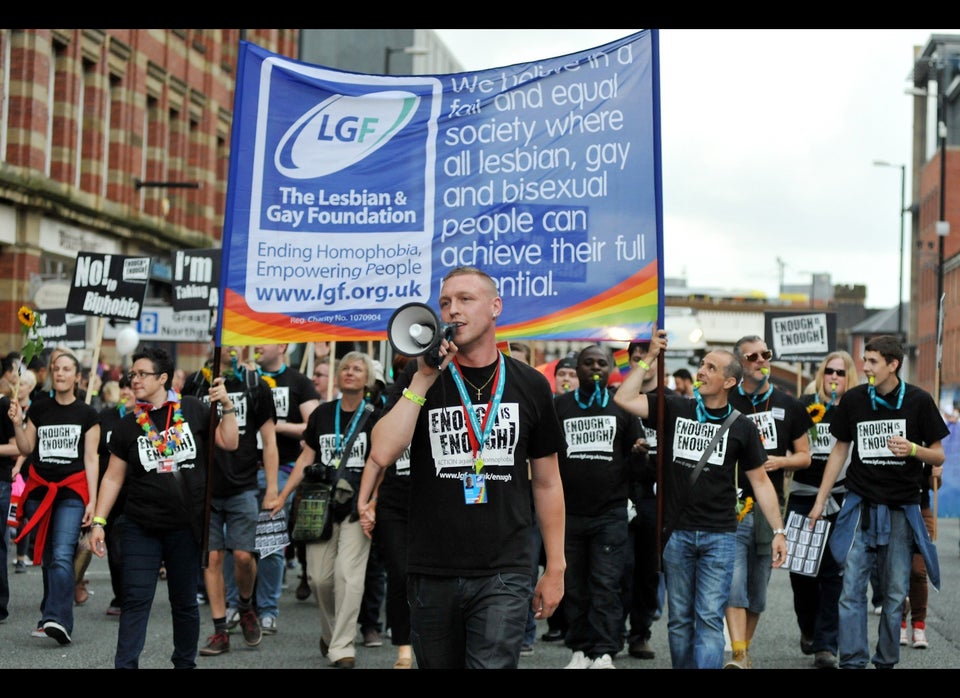 Manchester Pride 2012
Popular in the Community