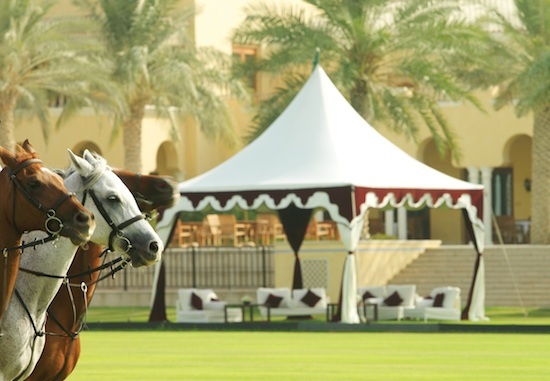 I always felt that being single in NYC was the best way to experience the city. It meant having all the time in world to devote to shopping, while also spending evenings lingering over "Sex & the City" type dinners amongst girlfriends, and no man to feel jealous about or bored with. Sorry guys, this was NYC in the 90s and the 2000s and girls did just wanna to have fun.
Then I grew up a bit and outgrew NYC, I'll admit it. Outgrew it because while the Big Apple is exceptional as a playground for the very young, there is a generational gap that hits those stuck now between the ages of the bar-hopping twenty-somethings and the gala-attending sixty-something crowds. If you find yourself somewhere in the middle there, have I got the perfect place for you!
Dubai is the new mecca -- pardon the pun -- of the single and fun seeking. There are communal lunches, morning markets that encourage interaction, Polo brunches and wine and cheese evenings that can't be beat. Add to that a once-a-week ladies night that offers, every Tuesday, free drinks and great noshes, at every bar and restaurant in the megalopolis -- and you've got the perfect storm to create an idyllic single's paradise.
I picked a few favorites based on my own hobbies and taste but there is definitely way too much to do and much too little time to do it in, in Dubai.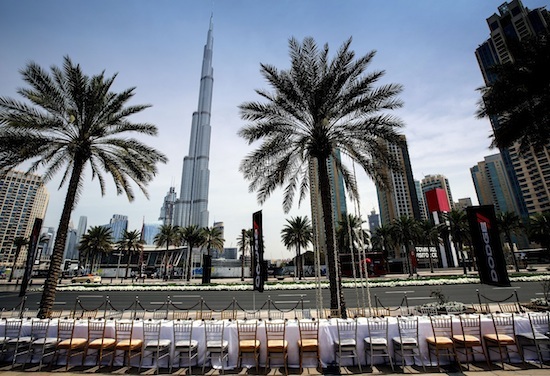 The Long Table is a concept that has been recreated around the world, after a restaurant in Bangkok created a communal dinner table where people could meet and mingle, while having their meal. The Dubai Long Table brunch didn't hold the Guinness World Record for longest table, held instead by a company in Jeddah, Saudi Arabia, but it did hold my own personal record of most pleasant group of people surrounding my seat. I ended up knowing the matriarch of the family of five that were seated next to me and by the end of the brunch we'd all gotten our photo taken in colorful wigs and giant glasses. You know how they say that OPC -- "other people's children" -- are the best because you get to give them back at the end of the day? Well, I really didn't want to give these pint-sized rockstars in the making back at all, they were that cute, smart and inspiring.
But back to The Long Table. There were more than a 1,000 tickets sold for the brunch and even to my left I met two young and eligible bachelors who may have been snatched up by someone less interested in the junior group to my right. Yet we all know that a brunch is only as great as its food. For starters we were served some yummy eggplant appetizers along with smoked salmon and basil hummus dip, our mains consisted of chicken kebabs and a lamb cooked so beautifully it melted in my mouth, and dessert was a yummy cheesecake square with lemon curd. I bet I know the chef who came up with that last concoction...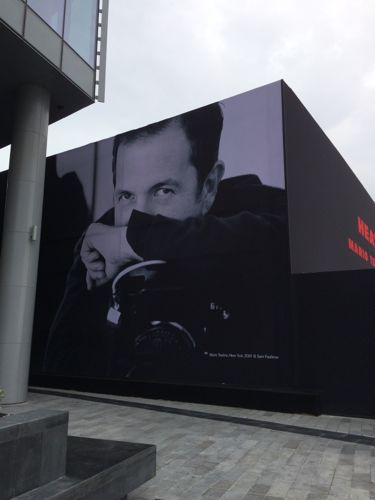 After lunch, my newly adopted family took me to see the HEAT by Mario Testino exhibit inside the Dubai Design District, or D3 as it is called here. There I met artist and fashion photographer Saeed Khalifa who wrapped up the show perfectly in a few words for me. "I am a big fan of Mario's work and I collect all the magazines and books his photographs are featured in, but seeing them this size and upclose, gave me goosebumps," said Khalifa, and I had to agree. There is something about the way Testino photographs women that goes beyond beauty, capturing the feminine spirit to its core.
On a different day, I had to try out the brunch at the Dubai Polo & Equestrian Club. On the weekend of the semi-finals to the Julius Baer Gold Cup, it was divine to sit at a table field-side, surrounded by food, a glass of bubbly in hand and watching what is quite possibly the most beautiful sport in the world. I sat through all six chukkers that make up a polo match, and sampled every kind of cuisine offered as part of the buffet, from Indian favorites like chicken biryani, to American soul food including mac & cheese and smoked chicken wings.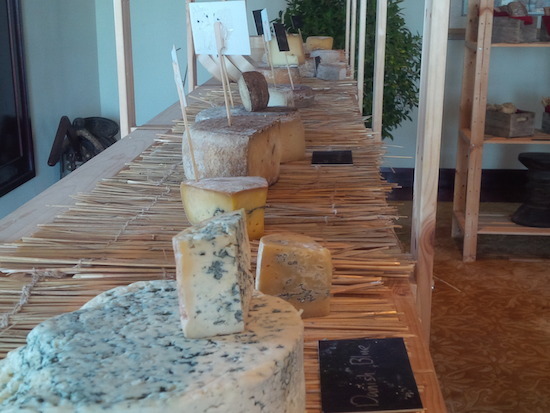 Right before dessert, which featured ice cream, chocolate tarts and a reinvented tiramisu, I ventured into the Polo Club's Cheese Room which boasts 56 different types of cheeses. Which gives me a smooth segue into their weekly Thursday evening "Cheese Vault and Raclette" event, where great wines and Champagne can be paired with any of the cheeses and enjoyed in a spectacular club room, complete with plush leather sofas and equine paintings.
If that wasn't enough, there is also a special spa package offered at the Polo Club, which includes a massage, unlimited use of the pool and gym, and a leisurely meal to be enjoyed by the polo field. Ralph Lauren's Polo Bar in NYC doesn't have anything on this place, I tell you!

Where is the best place for a single woman to come to terms with just how much the world has to offer, and where the true wonders of "singledom" lie? On my way out of the Dubai Polo Club, I stepped into the property's stables, which are so lush and well maintained even a human would be lucky to call them home. As I wandered through the long, impeccably clean lanes and was greeted by the soft characteristic nickering that horses use as a social "hello" to communicate with humans, I realized that the best way to be single is to never feel alone. How do I achieve that, you ask? By surrounding myself with friends, family and foals, all the while enjoying good food.
Oh, and most certainly, by being in Dubai.
All images used with permission.