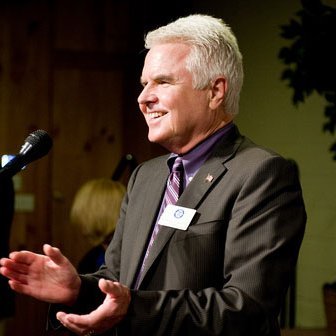 Dr. Thomas McGovern became the eighth President of Boston-based Fisher College in 2007, after 28 years of teaching students at the institution. McGovern joined the school 38 years ago as an adjunct professor having already built a successful career in the field of transportation management, where he served as the former Governor's Representative for Highway Safety as well as the Executive Director of the Massachusetts Governor's Highway Safety Bureau. Passionate about education and an ardent believer in earning degrees across multiple complementary disciplines, McGovern holds a Bachelor's of Science from Northeastern University, a Master's Degree of Public Administration from Suffolk University's Sawyer School of Management, and a Doctorate of Education in Leadership from Johnson and Wales University. He's a natural-born teacher, an innovator, a veteran, a sports fan, and a proud grandfather. I recently sat down with McGovern to find out what it takes to retain an "Everyone-Knows-Your-Name" school culture while keeping pace, and in some instances, outpacing most other colleges in year-over-year growth in admissions, while remaining relevant as an institution in a highly competitive educational market like Boston. Here are Dr. Thomas McGovern's four simple strategies for being the change you wish to see in business and in life:
Seize the Opportunity to Lead: When the opening for President of Fisher College became available in 2007, McGovern says it was at a time in his life when he should have been considering his retirement options, especially because it was the same year in which his wife was retiring. However, he had been teaching at the school for more than 28 years and as a faculty member it's easy to sit back and be critical of what's happening in the school. He says that in life, it's fine if you want to constantly give your "two cents" about how things could be better, but you better be ready to seize the opportunity to make things better if the occasion is presented. As inviting as the idea of retirement was at the time, McGovern says to him there was really nothing more exciting than being part of the solution to making Fisher College stronger, more competitive, and more culturally diverse than it already was. So, he threw his hat in the ring as a candidate for the position. Upon being selected for the role, he first went to work on the budget deficit the school faced for the current fiscal year, and not only did he and his team eliminate the deficit, they turned a profit that year. With the help of his leadership team during the past nine years, they have transformed the executive team, now suggesting each member have a MBA to support their education credentials, have increased enrollment by more than 100 percent, and have gone from one baccalaureate degree in 2007 to now offering 10 bachelor's programs and an MBA in Strategic Leadership, with an additional three anticipated. McGovern says that with all things in life, you have a right to be critical, as long as you seize the opportunity to lead the change when the opportunity presents itself, just as he did when the time was right at Fisher College.
Innovate: McGovern says that when it comes to being part of the solution, you must be willing to constantly poll others for advice and ideas. McGovern spends a considerable amount of time speaking with students, staff, and faculty, always looking for innovative solutions to improve the school. He says that there are plenty of larger universities and colleges in the area that can solve problems simply with money, but Fisher College is always very budget conscious, which means it's absolutely necessary to seek new and different ideas from the people who have a vested interest in the success of the school: the faculty, staff, and students. McGovern says that in order to do this, you have to make sure everyone feels comfortable enough to voice their opinions. He says that the school prides itself on their "Everyone-Knows-Your-Name" culture, and so McGovern plants himself firmly in the trenches so that he gets to know everyone. On move-in day at the College, McGovern, along with staff and faculty, shows up ready to help families move their students into the dorms. As well, McGovern steps in to teach an occasional class so he can get to know students. He says that innovation requires a culture where everyone feels comfortable providing input and making contributions coupled with a leadership team interested in remaining at the forefront of change.

Find Your Passion: McGovern began teaching at Fisher College 38 years ago when he joined as an adjunct professor teaching evening classes in business, management, and finance. By day, he was juggling a successful career in transportation management. So why take on an evening position? According to McGovern, he wanted to do something he enjoyed and wanted to make a difference. As a result, he landed in front of a classroom of students, many of whom were Vietnam-era veterans. As a veteran of the United States Army, McGovern said it was his ability to relate to his fellow veterans that made it an easy decision to begin teaching. McGovern says he's living his purpose by growing and improving the College while touching the lives of hundreds of students each year. In fact, McGovern feels that if anyone looks closely at what they do when there's nothing else to do, there's a good chance they will find their true passion and purpose in life. He says he feels fortunate that his passion for teaching and his affinity for the College is as much a part of who he is as his DNA, and turned into a lifelong career that has provided fulfillment, challenge, and personal growth.
Resonate: When the position for President of Fisher College became available in 2007, McGovern knew he would apply. He immediately went to work refining his resume and when it was complete he was looking at a multi-page report listing years of service in teaching, conference presentations, publications and transportation management. As he read through the resume, he noted that it was so full of career accolades that his passion for the school didn't come through. In other words, he says his resume didn't resonate, and so he stripped it of all that didn't matter and handed in an abbreviated version, which listed his work at the school, his Professor of the Year award from 2001, his 100 percent attendance record at the Fisher College basketball games in 2005, and that he was the 1990 commencement speaker. What he hoped to convey was his undying spirit and commitment to the college, while eliminating all that didn't matter. The lesson, explained McGovern, is that when you're going after any type of big job, huge opportunity, or massive dream, it's vitally important to step into the shoes of the decision maker to determine what matters to them, and then craft your message with that in mind. McGovern says it's all about the simple art of catching people's attention, because when you do, you and your message resonate, and you achieve your goal.
Being that McGovern is a sports fan, my time with him reminded me of a famous Michael Jordan quote; "Some people want it to happen, some wish it would happen, others make it happen." Dr. Thomas McGovern has spent more than half his life touching the lives of those who walk through the doors of Boston-based Fisher College. Instead of wishing for change in the world, he is making change, and the formula he shares with others is simple; seize the opportunity to lead, innovate, find your passion, and resonate. He's Thomas McGovern, a leader in change.
Popular in the Community