Maybe you've heard marriage isn't so much about finding the right person as it is being the right person.
The same is true for parties. It isn't so much about finding the perfect guests -- though that helps -- as it is being the perfect host.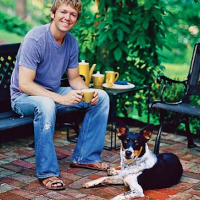 The perfect host, I suddenly realize as of talking with lifestyle expert Bruce Littlefield, is perfectly okay with not being perfect. The guests will have fun to the extent you kick back and do the same, and roll with whatever goes wrong.
Bruce says planning will help. Here's a checklist for a stress-free gathering for both guests and host...
Have something for people to do when they arrive.
Bruce says the first thing his guests see when they show up is a bar. If they want to mix a drink, they help themselves. If their favorite thirst quencher is Dr. Pepper, they'll find plenty on hand. "People naturally congregate around a bar," Bruce says. The ice has been broken.
Prepare as much food as you can in advance.
Bruce is throwing a clambake next month. One reason? He can roast the corn and make other preparations well before the party. The less time you have to spend in the kitchen, the more time you'll have to enjoy yourself and the people you love.
Don't forget the most important person on the guest list.
"If you invite fun people," Bruce says, "you'll have fun. The right group can make a wonderful memory just sprawled out on blankets on the lawn." Which reminds me of the talk show -- and life itself. Surround yourself with the right people and everything gets easier.
Don't be afraid to let whomever you've invited bring their friends. Bruce says they'll really appreciate it, especially if they have houseguests who don't want to miss out.
But the most important person on the guest list, Bruce says, is you. He doesn't mean that in an egotistical way. To the contrary. What the host feels is what the guests will feel. If you aren't having a good time no one else will, either. Don't clean up as you go along. Enjoy the festivities. If you're stressed about the red wine that just got spilled on a white carpet, more wine will be needed to compensate.
Play your favorite soundtrack, or invite a friend who's a guitarist to share his gift.
Remember that decorating doesn't have to be expensive.
Bruce says you can fill a wheelbarrow with ice, for example, to keep your wine and beer chilled. It's chic and different, and people will love it.
Turn the lights down. Bruce says a common mistake is having too many lights on. "Think of a nice restaurant," he says. "The lighting is low. Everyone looks better in candlelight. If you put thirty votives in a shack that shack is going to be the most fabulous shack ever. If you break out the Christmas lights for a summer party and string them over your porch, it'll signal to your guests they're about to have fun."
Your friends appreciate something to do besides eat and drink. A campfire's perfect, Bruce says. He has vintage s'more sticks on hand for an easy, fun dessert. But there's also something about a fire that's mesmerizing, and encourages people who otherwise find it difficult to socialize to relax and open up.
Themes make great parties, Bruce says: "I've done a cowboy and cowgirl party, I've done a hoedown, I've done a pajama party. Set up a badminton net, or have board games out. One of my best parties was a garage sale party. I literally set it up like a garage sale and when people came in I gave them twenty dollars in Monopoly money and said, 'Beyond that, you're on your own.' People still talk about that one, and they still show off their finds in their own homes."
What makes Bruce such a delightful party host is the same thing that makes him a perfect guest on the talk show. He isn't afraid of having fun -- which means occasionally being, shall we say, really honest. If you have a minute, listen to this excerpt from the show and see what I mean.
Related