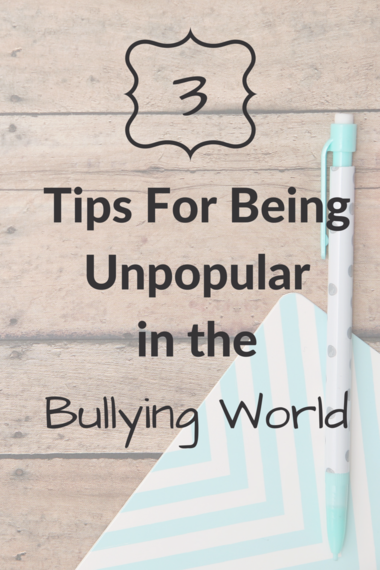 Turn on your TV to the elections, or check your Facebook feed with the hashtag #feelthebern #imwithher or #trump2016 and what do you find?
You definitely DON'T find people engaged in civil discourse about the future of the nation. Instead grown women and men are spilling lies, hate, and vitriol from their keyboards.
It's little wonder that bullying is an epidemic in our schools.
How can we expect children to behave kindly to one another when we as adults don't do the same. It's like telling your kid the dangers of smoking while taking a drag on a cigarette. They won't be listening to what you're saying, they'll be watching what you're doing.
The question for you is: How important is it show your kids (and your community) that bullying (of any form) isn't acceptable? If you're the type of person who enjoys yelling at others and writing long rants about the insanity of people you don't agree with, then there probably isn't much I'm going to say to change your mind.
But, if you're someone who's open to change, I have three ways you can become unpopular in the bullying world and hopefully make a positive difference in the kind world.
1. Don't Show Up to Every Fight You're Invited To.
This was one of my mom's favorite sayings when I was a kid, but I didn't really get it until I was in college. Just because someone is spouting lies and ignorance or saying things to or about you, that doesn't mean you have to get involved. You can choose to turn the other cheek, or take the high road, or just stay out of it. Sometimes there is just no up side to confronting a bully.
I'm not suggesting that this is going to get your bully to stop. She may or no may not stop. That's not the goal. The goal is to change your behavior and have one less person contributing to bully tactics.
2. Stand Up For Others, Even If You Don't Agree With Them.
This example comes from my own life, but there are millions of other examples out there: An online debate about parents disowning their kids for being gay led to a "pro-gay" woman telling an "anti-gay" (but anti-disowning) woman to kill herself. Although I disagree being gay is a sin, telling a woman to kill herself isn't a constructive contribution to the debate. I stepped in to say that we all have the right to our opinions without being threatened.
Just because a type of person (white, black, christian, straight, etc.) has bullied you in the past, doesn't mean that all people like that are bad. A little civil discourse can go a long way to understanding.
3. Respond to Bullies With Kindness
It's been years since I started either not responding, or responding with kindness and I still have to bite my tongue sometimes (and sometimes I still lose my temper). It's not easy. But I think sometimes the harder path is the right one.
Here is my trick to #3: Imagine a life where you would be acting like that. It can't be that good, right? Even if the person has money or fame or whatever, their brain is a pretty ugly place if they choose to spend their time spouting hatred.
So take a deep breath and let it go. If you need to respond, keep it short and polite. Correct any factual errors if you need to, and don't worry about it. The law of attraction says that like attracts like, so if you ignore bullies, the less they are going to try to engage with you.
Whether or not you plan on being "unpopular" in the bullying world or not, I hope you agree that teaching kids to deal with bullies and gain the confidence they need to stand up for themselves is important. If so, I invite you to sign up for YOU News (here) which offers a dose of positivity delivered to your mailbox each week (along with a free gift when you sign up).
Related