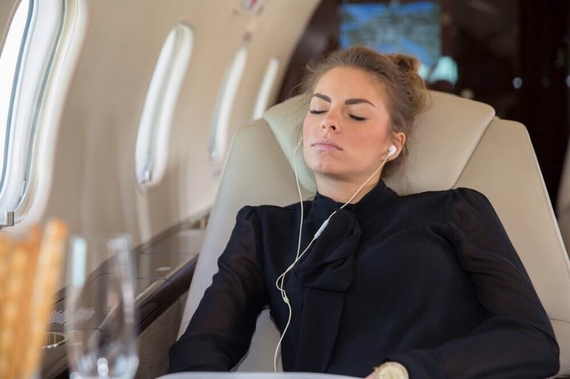 Whether you're traveling for work or fun, being stuck in an airplane for hours en route to your destination can be the least fun part of the trip. There is possibly nothing more boring than sitting still in a small space with nothing to do. Luckily, there are ways to stay productive and entertained so that the airplane time will "fly"! Here are some things to do on your long-haul flight that'll make it feel just a bit shorter:
Charge Your Travel Gadgets
It seems an obvious piece of advice, but make sure all your devices, such as your tablet, kindle, laptop, and iPhone, are fully charged and carry on a Mophie Powerstation to juice up prior to landing. There's nothing worse than realizing you're on 20% battery and ten hours of sounds of antsy children surrounding you to look forward to.
At times we've all felt less than impressed with the inflight selection of movies so download those shows, albums, or movies you've been wanting to see or listen to before you get on the flight and avoid having to watching the latest subpar Hollywood Blockbuster or bad Rom Com.
Invest in a pair of good quality headphones. Inflight headphones are not only uncomfortable, but they're often poor quality and sound like they're whispering the film into your ear. A pair of noise canceling earphones like BOSE will zone out all the airplane din like your snoring neighbor, and let you enjoy that show or podcast.
Learn In Leisure With Travel Apps
If you are flying to a destination where you don't speak the native tongue, those long hours on the flight are a great opportunity to teach yourself a few key words and phrases to make your stay more easy going. Some inflight entertainment systems actually have built in programs that will give you a few exercises in the language of the country you are traveling to. This might be especially helpful if you are flying to, let's say, Norway, the native language of which might not be as easy to find popular learning apps for.
If you're more of a reader than a watcher or have work to catch up on, have a great stock of reading material with you. Newspapers are great, magazines even better. For a fun read, choose a short novel that you can enjoy in a single sitting. A Kindle or iPad will let you bring a few options and you can use it even when the cabin lights are off and you don't want to annoy your neighbor with a reading light!
Pack Your Travel Sleep Set
Invest in a few accoutrements that will help you sleep. Earplugs are sanitary and effective. We would also suggest bringing your own eye mask that will help you relax. Try one scented with lavender for additional calming benefits. Holistic Silk has a beautiful selection that have you wanting to use them even when you flight is over.
Keep Games In Your Carry-On
If you are lucky enough to have a travel buddy, cook up some activities that you can enjoy together. This could be portable games like Bananagrams and travel sized Scrabble Folio Edition, or an endless array of multiplayer games for your tablets so your entertainment won't take up extra space in your carry on.
These should help turn that long flight into a more welcome "We're here already"!