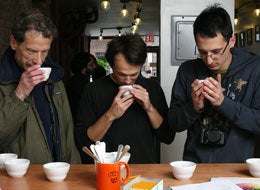 Time was when only coffee buyers, roasters and baristas cared to spend time sniffing grounds with patient dedication. But now cuppings at independent cafes like Joe attract connoisseurs who wouldn't be caught dead sipping an overroasted blend and regularly travel to another borough for superior beans.
Recently, Starbucks retrained baristas and introduced one-cup-at-a-time Clover brewing machines in select stores to boost quality. Still, some discerning New Yorkers would rather frequent so-called "third wave" cafes, where tattooed baristas not only know which far-flung farm grew their coffee, but also steer regulars to new arrivals in the same way a sommelier suggests a Bordeaux.
Starbucks may have "put an entire adult population through Coffee University," as the restaurateur Danny Meyer recently said. But third-wave coffee shops -- and their cuppings -- are the graduate schools.