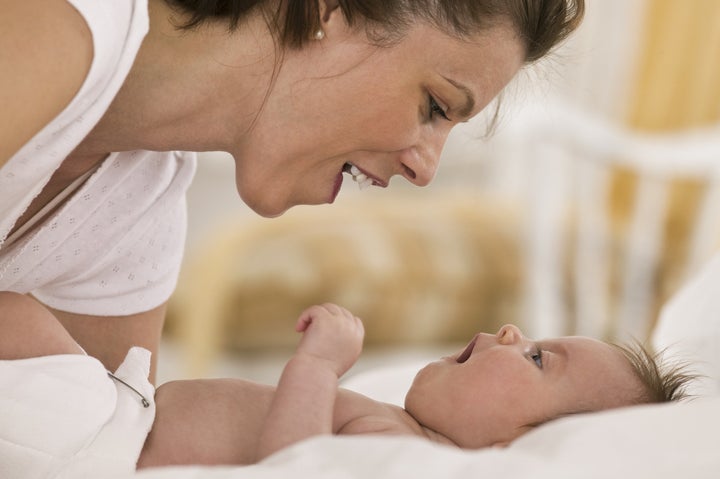 Americans believe in taking action to improve their health. They're into getting fit, quitting smoking, preventing disease and eating right, all part of the effort to live longer, happier and more fulfilling lives. But the one most fundamental step they can take has, somehow, fallen out of favor.
It's that little thing called breastfeeding. The majority of women are born with the tools to make the perfect food for their baby and the majority of babies are born designed to eat just that. But according to the most recent data available from the CDC, just 77 percent of women attempt to breastfeed. After six months, a mere 43 percent are still doing it. And at the one year mark, the number falls to 23 percent of moms.
The official recommendation from the American Academy of Pediatrics is that women breastfeed for at least six months exclusively, and for a full year supplementing with other foods. And those recommendations are not unfounded. If women who were able to breastfeed were able to meet those goals, the impact on the health of this nation would be significant.
Evidence-based research tells us that breastfeeding's implications for disease prevention are huge. In fact, a study published in Pediatrics found that the U.S. could save $13 billion on health care costs each year if 90 percent of women breastfed exclusively for six months. For the sake of future generations, we must think about the implications of breastfeeding and how it will help us attack the many health-related issues the U.S. faces.
According to research covered in the Agency for Health Care Research and Quality "Breastfeeding and Maternal and Infant Health Outcomes in Developing Countries," breastfeeding is associated with a reduction in babies' risk for a number of conditions and diseases including: obesity, acute otitis media (ear infections), non-specific gastroenteritis, severe lower respiratory tract infections, atopic dermatitis, asthma (in young children), type 1 and 2 diabetes, childhood leukemia, sudden infant death syndrome (SIDS) and necrotizing enterocolitis.
And moms have a lot to gain from breastfeeding as well. Research shows breastfeeding moms have a reduced risk of developing type 2 diabetes, breast cancer, and ovarian cancer. In May 2009, a study by published in Obstetrics & Gynecology found that postmenopausal women in their 60s who had breastfed for more than 12 months during their life were nearly 10 percent less likely to develop cardiovascular disease. They were also less likely to develop risk factors such as high blood pressure, diabetes, and high cholesterol.
In the same year, the journal Diabetes reported that breastfeeding for just a few months could lower the risk of metabolic syndrome, the name for a group of symptoms that occur together and promote the development of coronary artery disease, stroke, and type 2 diabetes. Breastfeeding for longer than nine months dropped the risk of metabolic syndrome by 86 percent in women with gestational diabetes, a temporary condition that 1 in 50 woman will develop during her pregnancy, which puts her at risk for developing type 2 diabetes.
Despite evidence that breastfeeding equals healthier moms and babies, doubts linger about the importance of supporting and promoting it. These doubts pit mom against mom, woman against woman, and, ultimately, society against its most vulnerable members -- babies.
We won't see any movement in the right direction until attitudes toward breastfeeding change. Considering the stories we've seen in the media, our society still has a way to go. Celebrities like Gisele are advocates for breastfeeding, but start a firestorm by offending moms who aren't able to nurse their babies. Reality stars like Kourtney Kardashian pump and breastfeed on TV, while her own sister complains about a woman breastfeeding in a restaurant. It seems that every other day we hear about a mom being fired for taking breaks to pump milk, while we're told that breastfeeding is a right, not a privilege. And we still hear of store managers telling breastfeeding moms to "please cover up."
Legislatively speaking, we are making some progress. The health care bill that the president has signed into law includes mandates on workplace accommodations for breastfeeding women. First Lady Michelle Obama has made breastfeeding a part of her Let's Move campaign to end childhood obesity.
But for every step forward, there are steps backward. Misconceptions about the value of breastfeeding have been perpetuated for decades by industries that would rather promote breast milk substitutes. So as a nation, we should be doing our best not only to educate everyone about the benefits of breastfeeding (i.e. the risks of not breastfeeding) but also to provide the necessary support to start and continue with it to reap those benefits. As we celebrate National Breastfeeding Awareness Month this August, we should remember the theme selected for 2010: "Breastfeeding: Just 10 Steps. The Baby-Friendly Way." These 10 steps are aimed at guiding the training of health care providers in providing breastfeeding support.

This year's theme reinforces how important basic health interventions are to increasing the incidence and duration of breastfeeding. Studies have shown that the implementation of these steps, paired with continued support, have an impact on breastfeeding. They contribute to higher initiation rates and promote exclusive breastfeeding for the first six months of life. But only 28 percent of all maternity facilities in the world have put these steps into action.

According to the CDC breastfeeding rates are on the rise, actually at their highest ever today. But we have a long way to go to keep moms breastfeeding beyond the first few days or weeks. Breastfeeding guru and longtime breastfeeding educator, Amy Spangler, RN, IBCLC has said: "While breastfeeding may not seem like the right choice for every parent, it is the right choice for every baby." It is so important that people are given the full breadth of information as to what the risks are of not breastfeeding so they can make an educated decision for themselves and for their babies.
Gina Ciagne is a Certified Lactation Counselor and La Leche International Trained Peer Counselor. She is the Director of Breastfeeding and Consumer Relations for Lansinoh Laboratories, Inc. She is a former breastfeeding and pumping mom of two and has written, spoken, and testified on breastfeeding and related topics. Before joining Lansinoh, she was a Public Affairs Specialist for the Office on Women's Health (OWH) in the U.S. Department of Health and Human Services where she co-managed the Health & Human Services/Advertising Council National Breastfeeding Awareness Campaign.