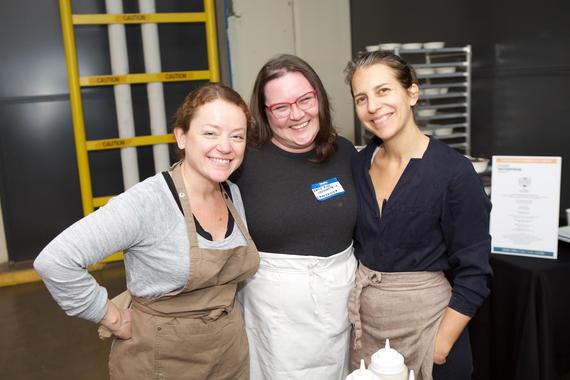 Earlier this month I was getting ready for a big annual conference: the Food+Enterprise Summit in Brooklyn. This event is a great place for local or regional food-related companies to meet potential clients and partners.
If you've attended any big conferences you know that just being in the room is not enough. At my first Food+Enterprise I sat on the sidelines, watched, said hello to a few people I knew and left. For all practical purposes (like building or growing a business) it was as if I wasn't even there.
Since then I've learned important skills that help me get the most out of networking events. You can take advantage of these too. The secret is to know whom you want to meet and how to find them. Here's how.
Before you go
1. Prepare: Think about the type of person you want to meet -- a customer, referral partner, or resource -- and be prepared with clear questions to start a conversation. Prepare questions to steer the conversation and help you figure out if each person you meet matches the type of person you want to meet.
Since I'm interested in finding potential clients whose businesses are past the start-up phase, I ask people not just what they do but also how long they've been operating. I also want to gather data about the challenges businesses face when they try to grow. So I frame questions that encourage people to talk about their obstacles.
At the event
2. Listen, connect: Think about what others tell you about their interests and needs. If you can, refer them to a key resource. Even if they don't fit your profile, you can probably be helpful to each other.
3. Share: When it's your turn to share, highlight your company's key benefit or the problem you solve. Let the person you are talking with ask follow-up questions and then talk about the results you bring, not how you do what you do.
4. Move on: If you've struck gold, congratulations! Whip out your phone or calendar and set a date for a longer conversation. If you run into someone interesting who's not your target, exchange cards and follow up later. Don't spend too much time in any single conversation. Remember, you're there to meet people and so is everyone else.

After the event
5. Follow up quickly! Follow up with any connections you make within 24 hours. Send follow-up materials or a simple thank-you email. This will remind new contacts who you are, bring your business to the top of their inboxes and ensure that they have your contact information.
A networking event can be marketing, professional development and business support all at once. Get the most out of it. Preparing ahead of time, staying on task and engaging in timely follow-up can help you transform from a networking newbie to a ninja.
Visit CFOonSpeedDial.com for more great tools, tips and ideas about how to grow profits and increase impact for your business.
REAL LIFE. REAL NEWS. REAL VOICES.
Help us tell more of the stories that matter from voices that too often remain unheard.