It was with a cheeky smile on his face that Kristoffer Gansing, the young director of the transmediale festival, announced the new title of next year's festival: BWPWAP, meaning Back When Pluto Was A Planet.
The announcement was made at reSource event 001: Trial Crack -- the first take of a new year-round initiative by transmediale festival -- held on May 11-12 at General Public, an independent project space where CTM/Disk is located.
In the Internet world, BWPWAP is a meme that points back to a forgotten era, symbolizing a world that no longer exists, when life was simple and idyllic. However, Pluto's reclassification from the status of planet to simple asteroid also provides a lesson about how even celebrities can fall from grace -- both in our solar system and in our private lives. So why not in our cultural framework?
Back to the transmediale festival, and its announcement for January 29-February 3, 2013 at the Haus der Kulturen der Welt in Berlin, Kristoffer Gansing explained that the theme and its related issues were about letting go of our obsession with imagining a new cultural scenario or ideas based on the impossible use -- or abuse -- or technology, something which has no relationship with time or place.
Instead, he wants to create a sort of upside-down world in which technology-mediated processes give us the chance to rethink categories and create an alternative network culture reminiscent of a poetic imagination -- because as Pluto's planetary demise shows, nothing is eternal.
I find this need to create new techno-cultural imageries very up to date in our time of worldwide crisis. I believe it reflects just how strongly technology-mediated change is transforming society. For those of you interested in participating in transmediale 2013, the deadline for submissions is June 30.
The transmediale announcement kicked-off the two-day program of the first reSource event, entitled Trial Crack." "reSource transmedial culture berlin," curated by Tatiana Bazzichelli and moderated collectively, is a networking project: a work in progress based on the interconnection of genres and practices.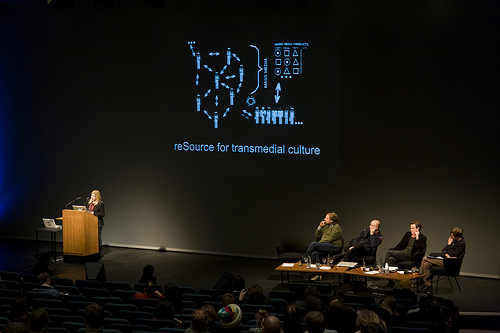 Launch of the reSource for transmedial culture 2011 © Genz, Lindner / transmediale
With: Tatiana Bazzichelli Stéphane Bauer, Oliver Baurhenn, Clemens Apprich, Oliver Lerone Schultz and Kristoffer Gansing.
Its aim is to create opportunities for sharing and reflecting by bringing together communities and individuals who take a critical approach in their work to art, technology, politics and identity. The initiative was developed in partnership with CTM/DISK, Kunstraum Kreuzberg/Bethanien, and the Post-Media Lab (Leuphana University of Leuneburg).
The first day of the event was an open discussion of networking methods used by curators, with a focus on what is happening in Berlin in the field of art production.
The discussion was introduced by Tatiana Bazzichelli and Kristoffer Gansing, Stéphane Bauer (Kunstraum Kreuzberg/Bethanien), Oliver Baurhenn (CTM/DISK), Clemens Apprich and Oliver Lerone Schultz (Post-Media Lab, Leuphana University of Leuneburg). The point of the discussion was to involve local artists, independent curators, hackers and activists in the debate and share ideas on how to build a working network in the city dedicated to critical media and activism.
As Tatiana Bazzichelli pointed out:
The purpose of the event was to reflect on the role and responsibility of cultural institutions that engage with art and digital technologies, to promote a more critical approach to cultural production. Our aim was to discuss our current thoughts on the field of art production and share ideas with the other participants on how to build a stronger connection between local -- and translocal -- agents in the fields of critical media, art and hactivism in the city.
Trial Crack was focused mainly on the local Berlin scene, but the reSource project as a whole aims to develop a translocal network of artists and cultural agents of potentially international scope.
The second day of the event was dedicated to three overarching themes: Sustainable Disruption, Post Privacy and Queer Shifts -- different topics involving different communities, from artists to hackers, to gender-situated communities.
The main goal was to create an interconnected network of people who work in a critical way with art, technology, politics and identity. Alexander Müller, a brilliant Berlin-based activist, introduced the concept of a new form of political disruption by describing the interventions of the collective project Hedonist International.
Hedonist International turns conventional activist strategies, like street protests, strikes and riots, on their heads, moving towards what Müller calls "sustainable activism." Starting from the premise that
he proposes not taking politicians seriously and using humor and irony to combat their madness. He showed lots of hilarious examples of activist campaigns.
One example was Naked Protest, a mobile sound system introduced into a major Berlin shopping mall shortly before Christmas to protest Christmas consumerism; very easy to produce, the system is also very useful for disarming police intervention, because they remain stunned, having no instructions on how to deal with naked people.
Other examples included Demonstrations For More War, a Pro-Nuke Lobby, and fake political campaigns calling for a return of the German monarchy and the reinstatement of disgraced former German defense minister Karl-Theodor Guttenberg. Through actions like these, Hedonist International has learned to construct disruptive situations in a humorous way that ridicules the powers that be. It is not a strategy for resistance but a sustainable way of expressing dissent in political intervention.
The Post Privacy session looked at pervasive control and centralized systems, as well as the consequences of user-generated content. Two hackers, known by their nicknames tante and @mspro opened the discussion by presenting the new sub-movement datenschutzkritische Spackeria -- an untranslatable German pun that is meant to mean something like "the privacy criticizing Spackeria." (More info in English here.)
In short, it reflects on the loss of control on the Internet and the consequent loss of privacy, raising a very central question for our day and age: Can people live without privacy? Or is the question of privacy just plain outdated in our data society? If you are part of the world then you are part of the data matrix formerly known as the Internet. Loss of control, explained @mspro
comes from three main conditions: ubiquitous computing; the Internet as a copy machine; and what data control will be tomorrow.
This is why the use of technology is always a political issue and a political choice.
Continuing this thread, Julian Oliver and Danja Vasiliev, two artists representing the Weise 7 Collective, exhibited their new work of art, consisting of a book that is a computer, or rather a server, but also a limited 100-copy edition catalog of The In/Compatible Laboratorium, one of the most interesting projects at last year's transmediale. I bought one of the books immediately -- I just can't resist hybrid stuff like this: a book, catalog and independent server functioning as a wireless device all in one.
As the artists put it, the main goal of is to rethink how we distribute information, offering an anti-panoptical work that is more of a comment than an answer, more a vision of the problem than a solution. It is also a hack into how to use a book while reinventing its function.
Queer Shifts: Sliding Visions into Queer Berlin
was given a very interesting cultural frame of reference by Francesco Macarone Palmieri, aka WARBEAR. Journalist, anthropologist, performance artist, curator, festival promoter, theorist, activist, DJ and cultural rioter, it's difficult to sum up Palmieri in all his different facets. He focused the panel's attention on the question:
How is queer theory a 'shifting' practice as an act of physical nomadism in Berlin cultural production?
The speakers, however, answered very much independently of the frame of reference, basically telling their own life stories, experiences and adventures, lending insight into what the gentrification of the city means. Lena Braun's story was particularly "queer," I found, as she told of her career managing the bar Barbie Deinhoff's as a cultural project, before becoming a cross-genre artist and now director of the Su de Coucou gallery.
If you're in Berlin towards the end of August, don't miss the next reSource 002 event on August 22-24 at the Kunstraum Kreuzberg/Bethanien. Check out the details about the reSource program here.
Popular in the Community