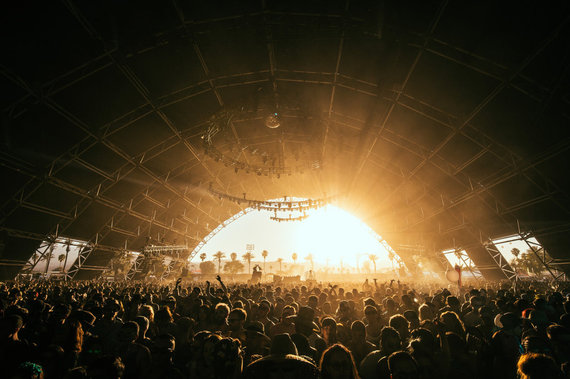 After experiencing an economic setback during in the late 2000s, the live entertainment industry now looks stronger than it ever has before. Just last week, World Series ticket prices on StubHub and eBay soared to new heights, with some tickets fetching over $20,000 a pop. For an eye-popping example in the music industry, Adele's world tour is rumored by some industry insiders to have grossed over $200 million.
Without a doubt, live entertainment is back. And ticket brokers all over the world are continuing to reap the benefits.
Ticket brokers play a very important middleman role for fans wanting to score premium seats to concerts, sporting events, award shows, or theater productions. Instead of having to stress out about playing the ticket lottery and settling for seats in the nosebleeds, services like StubHub give fans the option of choosing exactly where they'd like to sit for the show--no surprises, no disappointments.
If you'd like to learn how to become a ticket broker, don't pull out your credit card just yet. Just like starting any other business, you'll need to make some important preparations--both mental and financial.
Follow these six steps and you'll be well on your way to making a full-time income buying and selling tickets online.
1. Study the Industry
This is your first step, and it's probably the most important. Ticket brokering can be fun and extremely lucrative, but it's not for everyone. There are a lot of unpredictables, a lot of tough decisions, and a ton of organizational work that goes into this business. If you're just learning about ticket brokering and you need an introduction on how it all works, this is not the career where you can simply "learn on the job." What will end up happening is you'll buy thousands of dollars worth of tickets that you can't sell and you'll just get discouraged.
What you'll want to do instead is learn from the experience and past mistakes of those who are already successfully buying and sell tickets for a living. There is a wealth of information online about this industry, and it's all there for you to digest and grow wiser from.
The most popular and widely-respected resource on the business of ticket brokering is Ticket Broker Blueprint, written by professional ticket broker Brandon Baker. It is a complete step by step guide to becoming a professional ticket broker, and it has helped thousands of people get started in this industry. Although it was written in 2010, most of the important information you'll need is just as applicable today as it was when it was first published.
2. Secure Startup Capital
Just like starting any other business, you'll need startup capital if you expect to succeed as a ticket broker. When you consider that a pair of concert tickets can easily run you over $300, it's not that hard to spend $5000 before you're able to sell your tickets for a profit.
Before you get started, it's critical that you secure at least $5-10k in startup capital to give you a nice cushion when you're first learning the ropes. Rest assured, mistakes will be made and money will be lost at the very beginning. The last thing you need is to fall behind on your monthly bills just because you're waiting on someone to snatch up tickets that you've listed. Instead, make sure you have ample cash reserves to fund your venture from Day 1.
3. Get Organized
There are two major differences between ticket brokers who last in this industry and those that get wiped out. The first is preparation; the second is keeping good records.
Just think about it for a second. At any given time, you're going to have tickets on sale for dozens of different shows, all at different purchase prices, all at different sell prices, all in different seat locations, and all on different dates. If you think you're capable of keeping all this information in your head, think again. You're going to need a system.
Not only will keeping good records help you keep track of inventory, it will enable you to constantly improve your business by analyzing which tickets made money and which ones lost money. Over time you will begin to notice patterns and adjust your purchasing decisions accordingly.
4. Do Some Mock Sales
There is probably no better way to learn how to buy tickets effectively than doing mock sales.
A mock sale is simply going through all the motions of buying and selling tickets without actually buying and selling them.
Here's how you do it. Take a survey of upcoming music tours or sporting events that you have reason to believe will sell well in the ticket aftermarket. Perhaps you've seen this particular artist sell well in the past or it's an obvious one, like the NBA Finals.
Try to pull a pair of tickets to the event, and if you do finally score a pair of tickets that you think are hot, mark down how much they would have cost you.
After several weeks have passed of performing this exercise repeatedly, it's time to see how you would have fared. How much did your tickets (or a pair of very comparable tickets) sell for on StubHub? How much would you have made or lost, after all fees are taken into account?
If you're consistently pulling losing tickets, it's time to diagnose the issue. Are your tickets simply not attractive enough to merit a premium? Are your tickets too expensive at face value to turn a profit? Are your margins so small that fees are eating you up?
While mock sales aren't a replacement for real buys and sells, they are an excellent way to get your feet wet without taking on any unnecessary risk.
6. Make Your First Pulls
Once you've done several profitable mock pulls in a row and you're starting to develop an instinct for profitable buys, it's time to put your money where your mouth is and buy some real tickets.
Unless you've got a no-brainer on your hands like front row seats to Justin Bieber concert or you were able to somehow land Super Bowl, it's best to start with relatively inexpensive tickets and work your way up to the larger events. Even with a good amount of experience doing mock pulls, you'll inevitably make mistakes at the start and you don't want them to set you too far back right out of the gate. What you want to do is ease into it and only buy tickets that you are very confident you'll be able to sell for a decent sized profit.
As always, don't forget to keep thorough records of each and every purchase and sale that you make. After 15 buys and sells, you'll be glad you kept these records and you'll refer to them constantly in an effort to improve your game.
7. Learn How to Pull Tickets Like the Pros
I'm going to let you in on a little secret to scoring amazing seats on Ticketmaster:
There is no secret to scoring amazing seats on Ticketmaster.
Anti-climactic? Perhaps. But the sooner you realize this basic fact, the sooner you'll be on your way to learning how the pros really pull tickets: just like everyone else, just much smarter and on a much larger scale.
Without giving everything away, the biggest misconception in the ticket brokering industry is that professional ticket brokers have secret, backdoor techniques for scoring great tickets that are not available to the general public. Nothing could be further than the truth! (Ticketmaster would never allow this practice in the first place.)
What you need in order to score premium seats consistently is a systematic approach to purchasing tickets and the right infrastructure to get the job done. All this will come with enough experience combined with trial and error. There is no holy grail--just perseverance and know-how. The book mentioned above offers some excellent techniques and insights on pulling tickets that the average fan will probably not have thought of.
Conclusion
If you're looking for an independent, entrepreneurial career with limitless potential for growth and unlimited flexibility, there are few career choices that can top ticket brokering. The demand for live entertainment will probably never die, and so the job prospects for ticket brokers continues to look positive.
Best of all, you can tailor your ticket brokering venture to suit whatever schedule you happen to be on. Need to make a few extra bucks on the side while working a full time job? Ticket brokering can provide that. Want to earn six figures buying and selling tickets full time? You can do that too. It's all completely open ended, and you'll get out of it however much you put in.
If you're ready to get started, take the first step and read as much as you can about the ticket brokering industry before diving in. Soon you'll be well on your way to a successful career as a professional ticket broker.
Good luck and happy selling!
Related
Popular in the Community