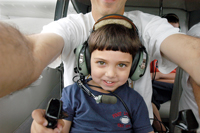 How do you become an activist? You become a parent of a child with challenges. You become homeless. You become inspired by your students. Or maybe something just smacks you between the eyes -- not a 2x4 necessarily, but something in life sends you reeling. I got a taste of this recently when viewing three films that won prizes at the recent Lights. Camera. Help. Film Festival in Austin, the world's first film festival celebrating nonprofit and cause-related films. Each film and its supporters came to the activist path in their own way.
Daraja Academy is a secondary school in Africa where Kenyan girls are given the chance to succeed and transcend poverty. A short film about the school called "Girls of Daraja" won best short at the Lights Camera Help festival. It was funded by a philanthropist named Deborah Santana.
"I became a supporter of Daraja because founder Jason Doherty came to speak with me in California about the school, and when he talked of the girls and the commitment he has to work with Kenyan teachers and staff, I felt a connection. Jason's passion for education is what I feel for educating girls; it is part of my mission statement for my nonprofit. He showed me a video about the school and we both cried. There is truth, love and power at this campus, which I experienced firsthand when I visited last February." - Deborah Santana
"Girls" has nearly six thousand hits on YouTube and the school has received some notice online. But it turns out the true power of the movie is as a fundraising tool for the Academy. A recent screening in California "raised more than $60,000 to help support the girls," Barbara Rick, director and producer of the film, wrote in an email.
That's the other link in the chain of events: First something happens to you, then you become an activist, then you become a filmmaker (or hire one) and then ... you have to find a way for people to see the movie. "Eco-Viva", which won best public service announcement at the Lights Camera Help Festival, is an beautifully shot and inspiring call to action. It's about a community movement in El Salvador promoting peace and sustainability and fighting poverty.
"I wanted people to realize that there is good news coming out of El Salvador, that it's not all gangs and violence and poverty," director Spencer Stoner emailed me. "I wanted to replicate the feelings of excitement and energy that I had upon leaving El Salvador and seeing that sustainable development is really possible." What about getting the film seen? Good news there, too, but not through the usual channels.
"Few nonprofits can afford the sort of media buys necessary to get their work on TV, so for most of my nonprofit clients, the internet and YouTube are now the new "conventional" forms of distribution. What's cool is how this form of distribution is altering the way we interact with media. Thanks to a new annotation feature for nonprofits on YouTube, I was able to link certain phrases and images in the video to concrete actions on EcoViva's website." - Spencer Stoner, director of EvoViva's PSA
Festivals like Lights Camera Help are key, says Spencer. "Although these festivals are small compared to Sundance or Cannes, they tend to have a very specific, cause-driven audience, meaning that what the audience lacks in size they make up for in quality. The video gets in front of precisely the right people who need to see it; as a result, they're much more in tune and receptive to the issues."
With his stories of shooting in El Salvador, downloading his footage at night while wrapped in mosquito netting, Spencer seems like a hero to me. Another hero is on display in the feature-length winner "Including Samuel." Dan Habib, the director of the film and a former newspaper photojournalist, is Samuel's father. Ten year old Samuel lives with cerebral palsy. He has been through many illnesses, including pneumonia following surgery. Dan remembers fearing for his son's life and how a doctor encouraged him to use his skills as a photojournalist in the midst of his fear. "You should document this," the doctor said. The film that came about captures the cultural barriers to inclusion for persons with disabilities.
"Creating this film forced me to look at my own prejudice. When I saw people who couldn't walk, or talk, I often saw them as less smart, less capable, and not worth getting to know. Is that how the world would see Samuel? I was determined to explore the cultural and systemic prejudice against people with disabilities -- and show how the full inclusion of kids with disabilities in typical classrooms could be an anecdote to this prejudice." - Dan Habib, Director of Including Samuel
"Including Samuel" wisely includes many characters, as Dan shows the experience of others with disabilities: Keith Jones, Alana Malfy, Nathaniel Orellana, and Emily Huff. Their personal stories become universal and the film has been widely seen -- broadcast on public television, featured in The Washington Post and Good Morning America, nominated for an Emmy. "I've personally presented the film and led discussions to more than 200 audiences and 40,000 people across the country over the past year, at universities, national and regional conferences, community gatherings and at middle and high schools," Dan wrote me.
Looks like getting a cause-driven movie seen is a hands-on, hit-the-road kind of thing, and to do it right, filmmakers and their supporters are reinventing the word "distribution." That's what's happening with The Kind Campaign and its documentary, and FilmSprout is leading the way in finding ways to have cause-driven films seen by the people who need to see them.

The nonprofit behind "Including Samuel" will be awarded $1,000 by the Lights. Camera. Help Festival, and the nonprofits behind "EcoViva", and "Daraja Academy" will each be awarded $500.
Photo Credit: Dan Habib/includingsamuel.com

Related
Popular in the Community