Not too long ago, a mother from my kids' school asked me about how I started my business, Nan and Company Properties. She mentioned that she was thinking of starting her own but had no idea where to even begin. Nan and Company has yet to reach its full potential of success, but in such short amount of time, we've become the industry leader for buying and selling luxury real estate in Houston.
It wasn't too long ago that my company started as a vague ambition mapped out on my kitchen table. People thought I was crazy. They'd ask, "Do you have any idea what you're getting yourself into?" Not every person understood my dream, but I refused to let it discourage me. I had a good network of family and friends who believed in my crazy idea; my husband was brave enough to allow me to use our savings. I didn't need everyone's approval, but it was comforting to have that support system. Luckily, all of it was enough to take my company off the ground.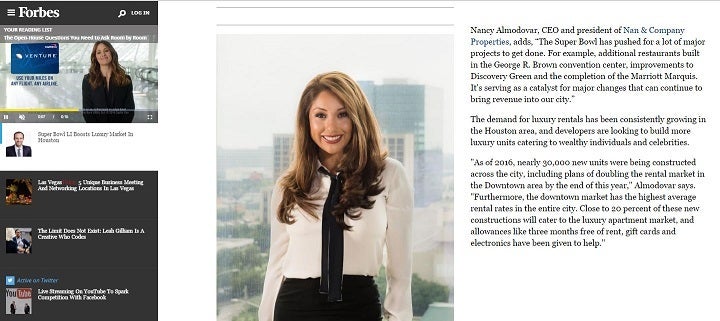 If you're thinking about becoming an entrepreneur yourself, try keeping these thoughts in mind when developing your business, and watch your dreams become reality.
Make a checklist. Keep your progress recorded. What are you going to accomplish for the week? Which people do you need to contact by the end of the day? Tracking what you've gotten down along with what still needs to get done is a great way to keep yourself accountable so that you never lose focus of the endgame.
Say your goals out loud. Repeat them over and over, and they will come true. Work on that confidence. "I'm going to get that contract."; "I'm going to be featured in some of the top business magazines in the country"; "One day I will be the go-to for luxury real estate in Houston". I used to tell myself repeatedly that one day I was going to write for the Huffington Post, and look at me now! I've achieved more than what I could have ever imagined just by convincing myself that I could. If it's in your heart, and YOU believe it, that's all you need to make it happen.
Think of a name and brand yourself on social media. Marketing your business and having the right push is incredibly important. The digital age is taking over our every waking hour, and we're constantly consuming information through social media these days. Get your business on Facebook, Twitter, Instagram and Snapchat. It's important to get your name out there as much as possible!
Have a mission and a vision. What are your objectives for the company? For your mission, think of what you want to accomplish now and HOW you're going to do it. For your vision, think where you see your business in the future. What inspires you and where do you aim to be?
Don't ever doubt yourself. This is the most important one. Believe in yourself. Believe in your abilities. You can do this. It's going to be a difficult journey, but hang in there. You may have to get through some rough patches before you see it all pay off.
The best thing I can suggest to you: JUST DO IT! Seriously. Don't talk yourself out of it. Don't convince yourself that you can't make it happen. Define your network of good people and lean on them for support. I've surrounded myself with powerful, capable women who have motivated each other to follow their biggest dreams.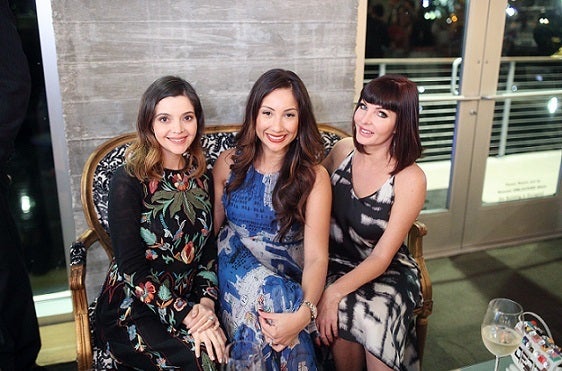 REAL LIFE. REAL NEWS. REAL VOICES.
Help us tell more of the stories that matter from voices that too often remain unheard.
This post was published on the now-closed HuffPost Contributor platform. Contributors control their own work and posted freely to our site. If you need to flag this entry as abusive,
send us an email
.