When entrepreneur Juan Diego Calle asked the Colombian government to let him sell their Internet real-estate, he knew it was a long shot. The Harvard-educated Colombian native was battling over only two letters of the alphabet, but his request was tall: Let me commercialize the nation's Internet identity.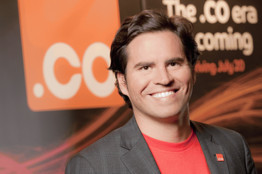 Juan Diego Calle
A top-level domain, or TLD, is the letter combination that comes after the final dot in a website address; .com - meaning "commercial" - is the most common. Most countries get their own TLD (For example Mexico is .mx; Australia is .au). Some TLDs, such as the islands of Tuvalu's .tv or Montenegro's .me, double as convenient English words or abbreviations, making them desirable electronic real-estate. Domains cost anywhere from a few dollars to a few hundred, depending on who's in charge; in secondary markets, valuable domain names can sell for hundreds of thousands.
Colombia was fortunate to own .co, but for years it had effectively prevented anyone from registering anything. Between "corporation," "company," and "commercial," entrepreneurs could almost smell the money ".co" could bring in if unleashed to the hungry Web.
So, in 2006, when Colombia passed a law giving its Ministry of Communications regulatory oversight of the .co TLD, a change in policy appeared imminent. Internet companies began petitioning the ministry to let them manage the TLD.
A serial entrepreneur from a young age, Calle started a stereo installation business as a teenager. At age 22 he founded TeRespondo, an Internet search advertising network for Latin America, which he sold to Yahoo in 2005. Calle then went to business school and started a "virtual real-estate" company called STRAAT investments. When Colombia shifted .co responsibilities in 2006, Calle began positioning himself to become a contender for the TLD management rights.
Calle, now 32 years old, was clearly an underdog in the bid war against companies like the $1.5 billion Verisign, which owns the rights to .com and .net. He assembled a team under a joint venture called .CO Internet SAS. In August 2009 they presented the Ministry with 1,165 pages explaining why Calle's team was right for the job, and then they crossed their fingers.
In February 2010, despite Verisign and the rest, the bureaucracy gave Calle - the local man - the contract. "Considering the caliber of companies that participated in the process and the opportunity to do something that would have a global impact on the internet, winning the bid was a surreal experience," Calle says.
"Part of our competitive advantage was the strong sense of national pride that fueled our team to work night and day to win the bid," says Lori Anne Wardi, Director of .CO Internet, "and to prepare a bid package and business plan that treated the .co domain as a valuable national asset and symbol of national pride - the export of which would only reflect positively on Colombia."
Calle's biggest concern after winning the contract was that nobody would actually buy the domains. Another was that spammy websites would buy .co domains hoping to capitalize on typos or to commit fraud.
Some businesses have complained that .co is another way for "domain squatters" to harm companies by buying domains for the sole purpose of selling them at an inflated price. However, according to the domain parking site Sedo, only 0.001% of parked or squatted domains get 10 or more unique visitors a day. The vast majority of Internet users use search rather than typing in domains. Even if 5% of type-in traffic (an implausibly high amount) were to mistype .com as .co, most companies would lose only a tiny fraction of potential visits each year if squatters bought their brand's corresponding .co domain.
To combat squatters and assuage fears, Calle's team began a marketing campaign that involved giving away some of the most valuable .co domains to the top 100 world brands, and letting entrepreneurs with great ideas register before anyone else. Though some companies have expressed annoyance at having to buy the $29-a-year .co version of their domain in order to "protect" their brand, for only about $2.50 a month, many of them did it anyway. (Of the revenue generated by .CO Internet SAS in domain sales, Colombia itself takes an average of 25%.).
As a result of .co's multi-phase rollout, companies like Twitter (t.co), Politico (politi.co), Overstock (o.co), and VentureHacks (angel.co) began spreading the word and lending credibility to the TLD. Even before .co's general availability, 39,000 domain applications were recorded.
On launch day, Calle and company still had their fingers crossed. One minute after opening the floodgates on July 20, 2010, people had registered 8,000 domains.
By 22 minutes, more 100,000 domains had been registered. After 24 hours, 233,000 domains. By the end of week one, 336,160 domains.
Six months after winning the Colombian Ministry of Communication's blessing, Calle is now an Internet real-estate mogul, with 469,519 domains sold, and counting. He has some catching up to do in order to compete with the 90-some million .coms out there, but Calle and his team say they're "thrilled" by the response to .co so far. The next step: keep "inspiring startups" to "create a future on their own little slice of the Internet."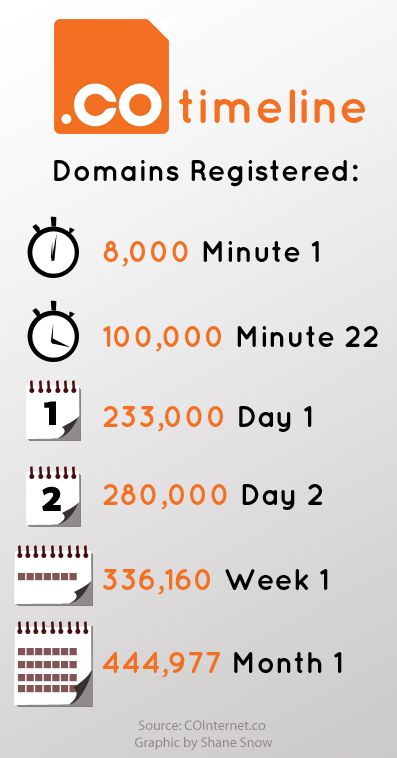 Shane Snow is a writer and web entrepreneur in New York City. He runs the online printing comparison site PrintingChoice.com and draws financial infographics for the CreditLoan network.
Related
Popular in the Community