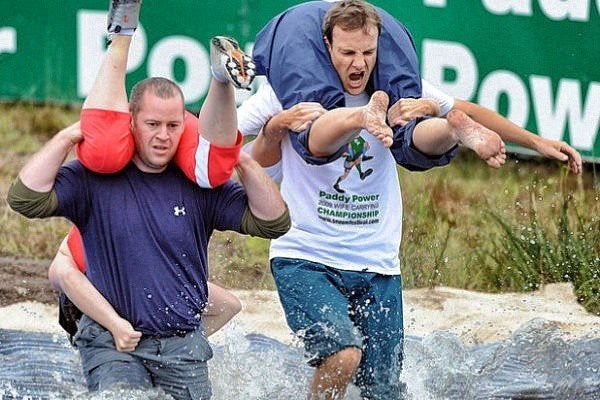 It is little surprise that most happy couples want to celebrate their marriage with an unforgettable honeymoon. Relaxing on a beach, being pampered at a five-star resort, sightseeing in far-flung destinations... but there are some couples who demand even more. They want a holiday that will not only live long in the memory but can even see them etch their names into the history books.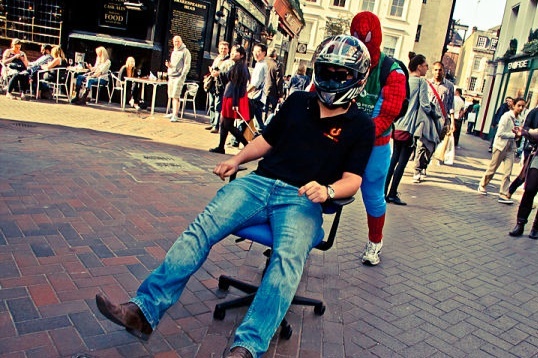 At Chillisauce we talk to hundreds of excited brides and grooms every day and are constantly impressed by the unique and often ambitious ideas they come up with for their own celebrations. Action-packed honeymoons are increasingly popular and the idea of jetting off to complete an endurance test, beat a personal milestone or even be crowned world champions is not unthinkable. Choose your battles wisely and you might just come back from your honeymoon with a trophy. Here are some suggestions:
Wife Carrying World Championships, Finland, every July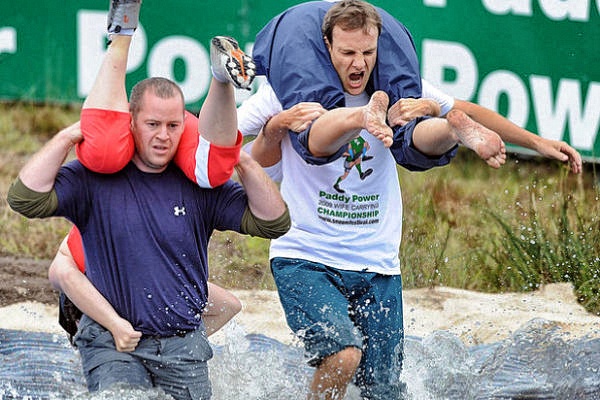 What better way to celebrate the fact that you now have a wife than by carrying her through a muddy assault course? In this twisted take on chivalry, a man carries his beloved over more than 250m of obstacles. You'll need some serious training if you have visions of victory though, and don't think crash dieting will give you an advantage either, a wife weighing less than 49kg is bulked up with a loaded rucksack.
Other attractions: A warm shower afterwards may be all you crave, so head 30km north to Club Herrala's hotel spa. Typical tourist attractions are few and far between in this remote part of Finland though, so if it's nightlife you're after then the five hour journey back to Helsinki may be the best bet.
World Burping Championships, New York, USA
Now that you're married does all the politeness immediately go out of the window? If that's true for you, get yourself to a burping contest and see which of you can smash the current 18.1-second record. Events are held regionally around the world with a recent New York gathering billed as the first burping world championships.
Other attractions: You're going to want some fuel for your burps, so explore New York's vibrant food scene. Try a hipster burger at Jay-Z-backed eatery The Spotted Pig in West Village.
Office Race Chair World Championships, Laichingen, Germany, every May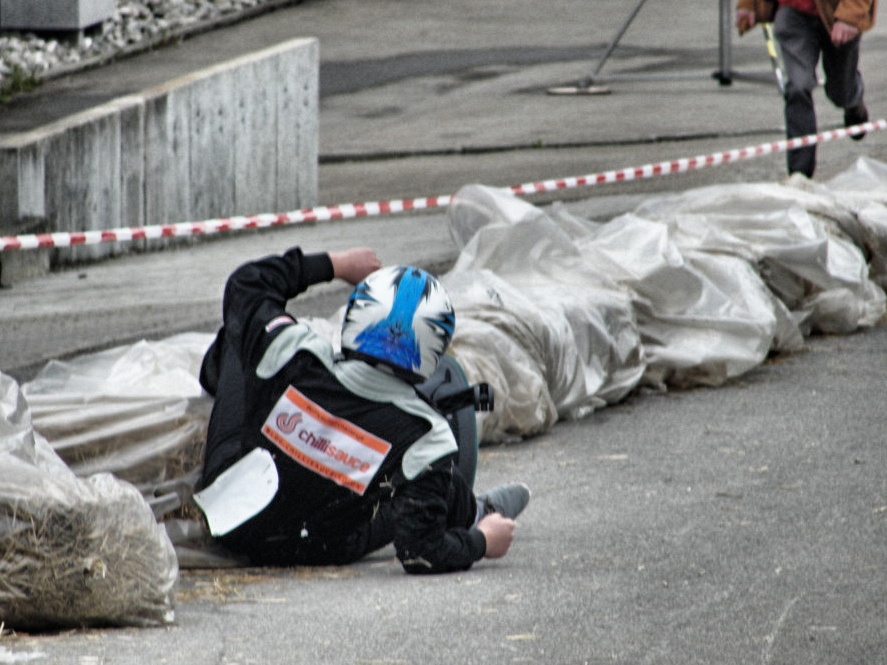 If you've got a taste for speed and a desire to rebel against that office chair that keeps you prisoner most days, then this is a great way to blow off some steam while all your colleagues are stuck at work. Just make sure you wear appropriate padding.
Other attractions: Laichingen is a small town in the heart of rural Germany, so expect timber-framed buildings, traditional food and some very relaxing countryside walks. You can read about our attempt at the office chair race here.
Mobile Phone Throwing Championships, Savonlinna, Finland
Ok, so sounds like you basically have to honeymoon in Finland if you want to win something bizarre. This contest, now in its 13th year, involves chucking old mobiles as far as you can, very symbolic if you're switching off for your holiday. You don't need to be the strongest as there are categories for choreography and aesthetics, plus a team category, perfect for couples.
Other attractions: While Savonlinna is a small town, it's set in a beautiful part of the world among the Saimaa lake region, perfect for nature lovers. It also boasts a stunning marina, an imposing medieval castle and an annual opera festival.
Air Guitar World Championships, Oulu, Northern Finland, every August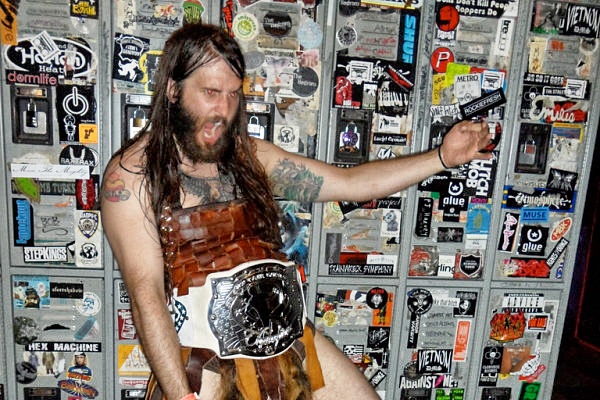 There was probably plenty of dodgy dancing, knee-slides and air guitar on your wedding day, so embrace it and go full throttle with your best imaginary guitar licks. Letting go of all inhibitions is the key to success in this one, as well as an outlandish outfit.
Other attractions: Oulu is known as the Capital of Northern Scandinavia and has a bustling entertainment scene thanks to its popularity as a university and conference destination.
World Kudu Dung Spitting Championships, South Africa
Putting crap in your mouth may not sound like the most tantalizing honeymoon treat, but you've got to do what you've got to do. In South Africa competitors gather to see who can spit dried kudu -- a type of antelope -- dung the furthest. The taste is washed away with plenty of Mampoer, a homemade brandy.
Other attractions: South Africa is a land blessed with natural beauty so a popular honeymooner spot, whether you want luxurious beaches or a breathtaking safari.
Crap Surfing World Championships, Devon, England, summer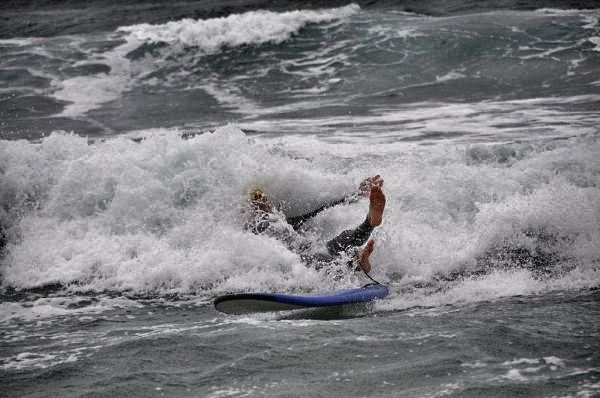 Now, this certainly sounds like an event that anyone can win -- we in fact proved as much when a Chillisauce employee took last year's title. If the two of you are happy to swallow your pride and thrash about like Mr. and Mrs. Bambi on a surf board then this could be right up your street.
Other attractions: Despite the dodgy surfing, the coastline is still stunning -- and you will find plenty of 'proper' surfers catching waves along Devon's beautiful beaches. A real outdoor paradise, Devon is great for foodies too, with an abundance of locally sourced, fresh ingredients.
Rock, Paper, Scissors World Championship, Toronto, Canada, every November
You may have had plenty of practice at this from deciding who won each argument during the wedding planning. A tense and strategic bout when played on the world stage, expect steely-eyed poker faces from your fellow competitors -- although the optional fancy dress lightens the mood.
Other attractions: Being held in a brewery means you'll find plenty of liquid refreshment, as well as lots of vibrant nightspots in bustling Toronto. Try the thrilling EdgeWalk at the top of the CN Tower for an exhilarating view of the city.
World Pooh Sticks Championships, Oxfordshire, every March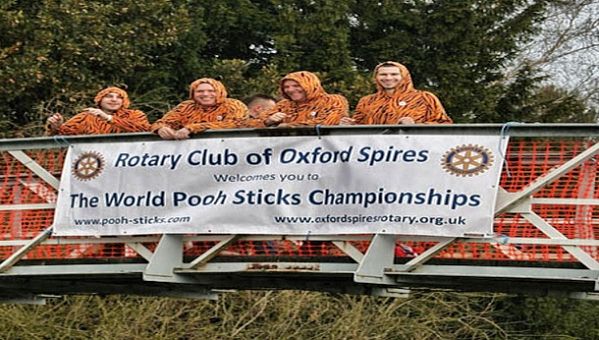 Ah, finally, a contest that requires little ability beyond being able to drop a stick off a bridge into a river. No matter how bad your wedding hangover, both of you should be able to manage that, right? You will have to prepare yourself for adverse weather conditions though, the recent 2013 contest had to be cancelled due to water levels.
Other attractions: This is traditional English charm at its finest, nestled along the banks of the River Thames in rural Oxfordshire. Quaint villages are perfect for exploring on bicycle -- try a tandem for extra honeymoon kudos.
World Gurning Championships, Cumbria, England, every September
Again, you need to be willing to let your new bride or groom see you in a less-than-flattering state, but plaudits galore await the gurner who can knock 14-time winner Tommy Mattinson off his perch. Male and female categories mean you can both have a go.
Other attractions: Set in the charming market town of Egremont, there are plenty of rural delights to explore, with its own castle, popular cycle paths and easy access to the beautiful waterways and hills of Cumbria.