Creating America's largest ski resort looks simple on paper. Take two ginormous ski areas -- Park City and Canyons -- build a connecting lift, and behold: America's biggest mountain destination!
It's not that simple in practice. Sure, you can add a quickie gondola, rebrand the mountain as One Park City and come up with a catchy slogan ("There is Only One"), but changing the way people think about these two popular Utah resorts will take more than a season or two.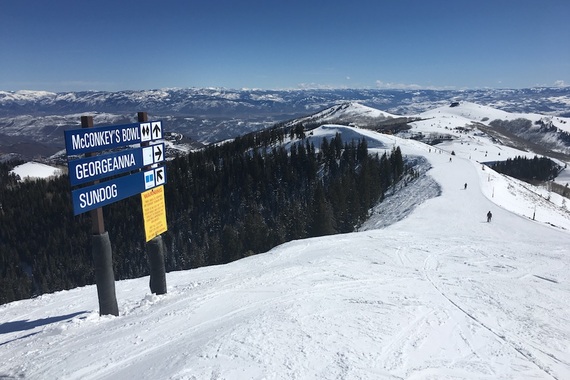 I visited this combined mountain resort with my family just after the two resorts had formally merged. I've been skiing here since the Canyons was still called Wolf Mountain in the mid-1990s and always thought of the resorts as two separate entities. Canyons has the multi-gazillion-dollar homes and perpetual gentle runs, while Park City has a grittier, Alpine village feel and more challenging terrain.
The verdict: "One" Park City is the same. But different.
Earlier this spring, we checked into a two-bedroom mountainside vacation rental overlooking the ice skating rink on the Park City side -- oops -- I mean, the side formerly known as Park City. An overnight snowstorm slammed the mountain hard, leaving half a foot of fresh powder. You could hear the early morning revelers as they unloaded from the bus and shuffled to the lifts. The crowd was rowdy and full of energy, and so were we.
The night before, we argued over which runs we wanted to explore, and finally agreed to disagree about everything. My sons, expert skiers, looked for anything marked by a black diamond or two, my daughter and I prefer groomed blues. Dad stayed in the room to get work done, an impartial observer of the "where to ski" debate.
Now that the resorts are combined, there are 41 lifts serving more than 300 trails, and 7,300 acres of interesting terrain.
How could we ever find consensus? I'll tell you our trick in a second.
If you want to be the biggest ski resort, you'll need to have enough transportation to get people up the mountains without long waits. Park City Resort kept the existing infrastructure, upgraded a few key conveyors, and moved some hardware to another slope. The result is a new flow that keeps the lines short and the runs wide open.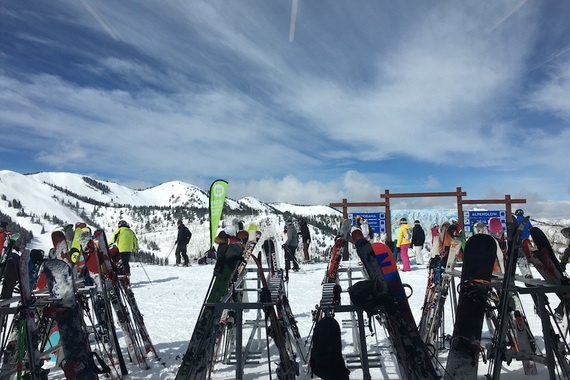 The Quicksilver Gondola was only one of the major builds over the summer. Improvements were made across the range, including digging up and moving a few lifts to serve new areas, plus significant upgrades on the two other chairlifts: Motherlode and King Con.
Park City's lift operators are the friendliest. My daughter, 9 years old, is usually uncomfortable getting on and off chair lifts, but we were always offered help when embarking and disembarking.
So here's our trick for enjoying ski time together: The distribution of runs is roughly 9 percent beginner, 51 percent intermediate, and 40 percent expert. Lifts clearly warn if they only serve expert and intermediate trailheads. Plus, they always highlight the easiest way down. What you might not know is that most expert and tree runs rejoin groomed blue runs on the way to the base. Picking trails that intersect on the new trail map gave us a chance to explore our limits and ski together most of the time.
Another perk was meeting up at the restaurants on either end of the lifts. We discovered a few secret menu items that made the waits worthwhile.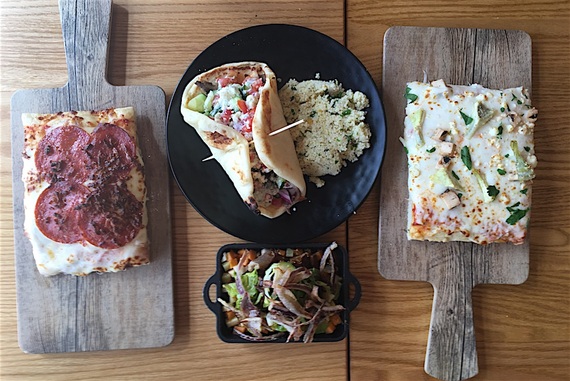 A slopeside culinary adventure
You might not expect to find crafted meals like sweet chili pork banh mi sandwiches, tuna salade niçoise, hand-stacked lamb gyro, or beehive cheddar fried cheese curds at elevation. That's why Park City Mountain Dining Executive Chef Alex Malmborg pulled together a team of creative culinary artists and placed them in kitchens between 7,000 and 10,000 feet elevation.
Cooking at altitude can be a challenge, especially anything with dough -- like pretzels, donuts, pizza or cakes. And how are you going to get fresh spring vegetables from farm to table? Let the experimentation begin.
The results, after a season of trial and error, are ten on-mountain dining facilities with distinct influences, from Mediterranean to Asian, and southern barbecue to Rocky Mountain mainstays. A definite improvement from previous mountain offerings without dropping family favorites like chicken fingers and burgers.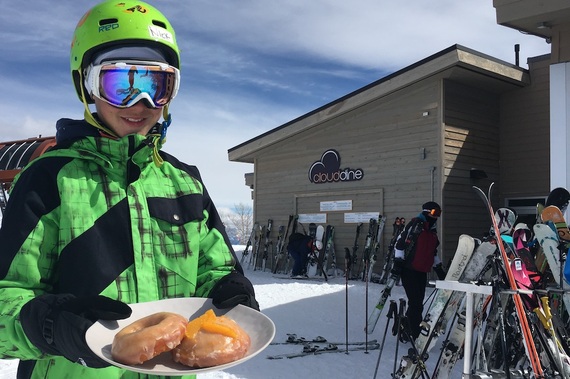 My 11 year-old son is our resident foodie. He pulled together a midday mountain tour that would give us a taste of the varied menus. Of course we started by taking DreamScape lift to the restaurant at the highest elevation, Cloud Dine, for donuts. They're not on the official menu, so you'll have to ask if they have any ready. Orange Creamsicle is my favorite, but their glazed rivals all others at 10,000 feet, or for that matter, at sea level.
Then we skied on to Tombstone Grill, at the base of the Tombstone and Timberline lifts, for our favorite on-mountain staple, buffalo chili. You can't miss it. The smell of roasting meat reaches halfway up the slope.
The chili is among the most popular fare, served at almost every dining option. I was shocked to learn that they had prepared thousands of gallons at the beginning of this season. They sold out before the end of February and needed to make more.
We also grabbed a few of their specialty smoked sausage and pulled pork sandwiches. The pork is slow-cooked and tender, falling apart on the fork. We paired it with their locally crafted Original and Mitch's Carolina barbecue sauces. Both are tangy with a hint of sweet.
Then we took Tombstone to Short Cut lift to reach Look Out for the requisite après ski cheese fondue. It's served with baby potatoes, bread cubes, and grapes, as well as pear and apple slices. If that's not your scene, they also make a dark chocolate fondue that pleases even the most discerning chocoholic.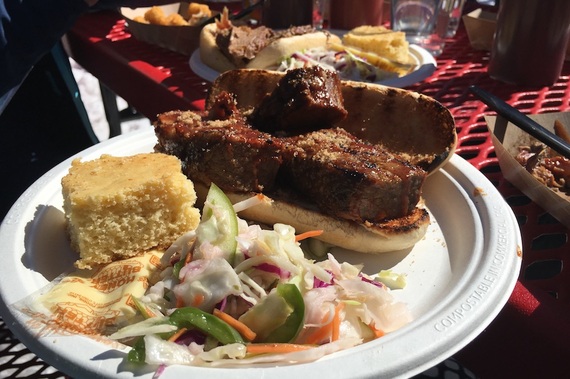 With all these improvements, we were surprised to hear some of the issues Park City faced in this climate of change.
Still, people refer to the two resort bases separately. At The Market we heard people talking in line, asking "Did you ski Canyons today?" Even social media are resisting the change. I tried posting on Instagram and continued to be prompted to use one or the other resort as my location. Because the mountains haven't really changed, and they continue to have their own personalities, it will likely take more time to adjust to "one" Park City.
Other concerns stem from food and ticket pricing, incorporating local volunteer staff, and drinking water access. The latter has been addressed in a very zen way. In addition to water fountains that have the nifty water bottle filling option, you can find strategically placed water coolers infused with spa favorites including cucumber, orange, strawberries, limes and lemons. I make a beeline to them because they're usually placed fairly close to the bathrooms and entry doors.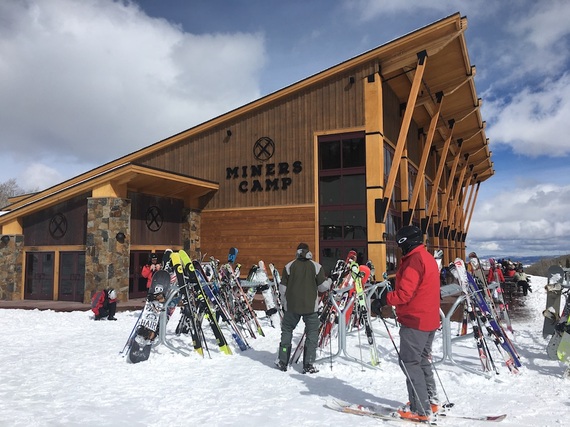 Pricing and community support is something that develops over time. You can't get everything right in the first season, no matter what your size.
Still, as far as we can tell, One Park City is ready for prime time. By updating mountain access and expanding the menu options, they can handle the crowds and keep them well fed. It may take time, but soon enough, we'll all be skiing as one.