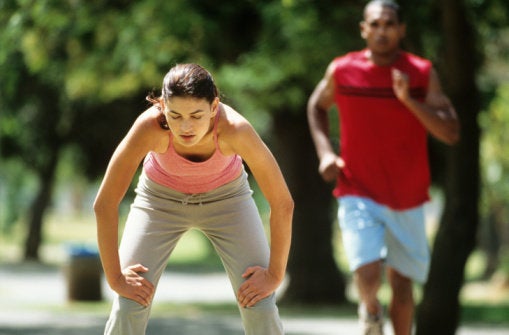 You know that exercise is good for your health. But how does exercise affect immunity?
For people who are sedentary or get very little exercise, moderate physical activity can enhance immune function. (1) Yet intense physical training, at any level of fitness, could actually decrease immunity. (2)
Although exercise has many benefits, the physical strain of strenuous exercise tends to depress the immune system, which can be a problem for people who exercise intensely, even professional athletes. (3)
Enhancing the benefits of exercise and diminishing the stress of exercise is a prolific area of scientific research. This includes finding dietary supplements that can help maintain immunity following strenuous workouts.
Some studies provide exciting results for how supplements can help restore immunity after strenuous exercise, while others are inconclusive. (4)
It should be noted that most of the research was done on athletes, and how intense physical activity and the use of supplements affects them.
And since drinking enough water is a key part of exercise, I included information from an interesting study on how water consumption can impact mental performance.
As an avid mountain biker and swimmer, I find the following research to be fascinating.
Amino Acids Boost Recovery
Recent research done at two universities in Japan looked at how intense physical exercise effects immunity, and the effects of taking amino acids supplements. These studies indicate that the amino acids cysteine and theanine could help boost immunity and prevent infections for people engaging in intense physical activity.
A study done at the prestigious University of Tokyo found that intense physical training reduced activity of natural killer (NK) cells, which are a vital part of immune function. When the scientists gave athletes the supplements cysteine (700 mg) and theanine (280 mg) once daily for two weeks, they found that this helped to restore activity of their natural killer (NK) cells. (5)
In another Japanese study of endurance athletes, the researchers found that ten days of distance running (about 7 to 8 miles a day) resulted in an increase in blood levels of C-reactive protein, a marker of inflammation, and a decrease in the blood lymphocyte count, a marker of immunity. (6)

In a double blind, placebo-controlled trial, a group of athletes was given the same amounts of cysteine and theanine as in the study mentioned above.
For the athletes in this trial, the amino acids cysteine and theanine helped to:
prevent exercised-induced inflammation,
maintain immune function,
prevent infections,
and reduce symptoms of infections. (7)
Workout Recovery Supplement
Another amino acid, L-citrulline, known as citrulline, has been researched for its potential benefits as a workout recovery supplement and to help boost immunity after exercise.

Researchers at a university in Spain have found that citrulline can help preserve immune function after strenuous exercise. (8) This is important because the drop in immune function after exercise is associated with weakened function of white blood cells called PMN's, which are the body's first line of defense against infection.
The research team in Spain studied the effect of citrulline on white blood cell function in elite cyclists before and after a race. The cyclists who were given six grams of L-citrulline malate avoided the decline in PMN function caused by a 3-hour race, when compared to those taking a placebo. (9)

In research from France, citrulline was shown to help prevent post-exercise fatigue and muscle soreness in untrained athletes, when taken after exercise. (10) This study indicates the potential beneficial use of citrulline as a workout recovery supplement.

However, a study done at the Human Performance Laboratory at East Carolina University found that the use of citrulline before exercise may impair performance of untrained athletes. (11)
And don't forget about water.
While we are on the topic of exercise, I wanted to share with you an interesting study I came across on the importance of staying well hydrated for your workouts.
Research from Tufts University looks at how mild dehydration can affect mood and mental performance. The results of this study pose an interesting question: what happens when you don't get enough water in your day? It turns out that mood and performance could suffer as a result of dehydration.
The Tufts researchers focused on mental performance--how dehydration impacts the mood and cognition of young athletes. They took student athletes and formed two groups, the dehydrated group and the control group, and tested them after exercise. In examining mental performance they discovered that dehydration was associated with negative mood and impaired attention. (12)

According to the authors of the study, the mild dehydration witnessed by the student athletes could be similar to the mild dehydration experienced by people who don't drink enough water.
Now I'd like to hear from you...
How do you feel after exercising?
What do you do to recover from workouts?
Where do you learn about nutritional supplements?
Please let me know your thoughts by posting a comment below.
P.S. Get my free email newsletter and discover how medications and supplements interact at pilladvised.com
1) Proc Nutr Soc. 2010 Aug;69(3):390-9. Epub 2010 Jun 23. "Physical activity, immunity and infection." Romeo J, Warnberg J, Pozo T, Marcos A.
2) Med Sci Sports Exerc. 2000 Jul;32(7 Suppl):S369-76.
"Chronic exercise training effects on immune function." Mackinnon LT.
3) Biosci Biotechnol Biochem. 2009 Apr 23;73(4):817-21. "Effects of oral supplementation with cysteine and theanine on the immune function of athletes in endurance exercise: randomized, double-blind, placebo-controlled trial." Murakami S, Kurihara S, Koikawa N, Nakamura A, Aoki K, Yosigi H, Sawaki K, Ohtani M.
4) Romeo J., et al., Proc Nutr Soc. 2010 Aug;69(3):390-9
5) Strength Cond Res. 2010 Mar;24(3):846-51. "Cystine and theanine supplementation restores high-intensity resistance exercise-induced attenuation of natural killer cell activity in well-trained men."
Kawada S, Kobayashi K, Ohtani M, Fukusaki C.
6) Murakami, S. et al. Biosci Biotechnol Biochem. 2009 Apr 23;73(4):817-21
8) Free Radic Res. 2009 Sep;43(9):828-35. Epub 2009 Jul 6. "Effects of L-citrulline oral supplementation on polymorphonuclear neutrophils oxidative burst and nitric oxide production after exercise. Sureda A, Cordova A, Ferrer MD, Tauler P, Perez G, Tur JA, Pons A.
10) Arzneimittelforschung. 1991 Jun;41(6):660-3. "Activity of citrulline malate on acid-base balance and blood ammonia and amino acid levels: Study in the animal and in man." Callis A, Magnan de Bornier B, Serrano JJ, Bellet H, Saumade R.
11) Med Sci Sports Exerc. 2006 Apr;38(4):660-6. "L-citrulline reduces time to exhaustion and insulin response to a graded exercise test." Hickner RC, Tanner CJ, Evans CA, Clark PD, Haddock A, Fortune C, Geddis H, Waugh W, McCammon M
12) Percept Mot Skills. 2009 Aug;109(1):251-69. "Voluntary dehydration and cognitive performance in trained college athletes." D'Anci KE, Vibhakar A, Kanter JH, Mahoney CR, Taylor HA.
This information is provided for general educational purposes only and is not intended to constitute (i) medical advice or counseling, (ii) the practice of medicine or the provision of health care diagnosis or treatment, (iii) or the creation of a physician--patient relationship. If you have or suspect that you have a medical problem, contact your doctor promptly.
Related