If you're looking to spruce up your hair routine, look no further. We've rounded up five unique braids that will leave your friends in awe of your styling skills... after a little practice, at least.
But don't worry, we walk you through with step-by-step tutorials below that will show you how to do a milkmaid braid, a reverse braid, a ponytail braid, a waterfall braid and a five-strand braid. Happy braiding, ya'll!
Need more guidance? Check out videos of these braid tutorials here.
1. If you have bangs, clip them out of the way unless you want to incorporate them into the braid.2. Take a vertical section of hair at the base of your neck and split it into three strands.3. To make the braid sit on top of the hair that's not braided (instead of blending in), weave the middle strand outward while adding hair to the outer sections.4. Continue braiding all the way around your head until you have no more hair to braid and secure the ends.5. Take the section of braid that's hanging down and loop it around your head.6. Use bobby pins to secure the braid and to tuck in any pieces of hair that are sticking out.7. Finish by unclipping your bangs and using hairspray to tame any flyaway hairs.
1. Take a triangular section of hair between your ear and your part.2. Split into three sections.3. Weave outer strands inward, only adding hair to the top strand.4. Whenever the middle strand becomes the bottom strand, split the piece in half. Then, leave half hanging down and continue braiding with the other half.5. Follow this braiding pattern about three-fourths of the way around your head.6. Then, braid down as if you were doing a standard braid without adding anymore hair.7. Secure the ends of braid and finish with hairspray.
1. Flip your hair forward.2. Take a small section of hair at the nape of your neck and split it into three strands.3. Weave the two outside strands inward while adding hair to each outside strand as you go.4. When you reach the crown of your head, secure the braid with an elastic ponytail holder.5. Gather the rest of your hair (including the tail of your braid), make a top knot and secure with bobby pins.
1. Take a triangular section from behind your ear and split it into three strands.2. Begin braid by weaving outside strands inward, adding hair as you go and following the natural curve of your head.3. Stop braiding behind opposite ear and secure end of braid.4. Gather remaining hair and loop it into a ponytail.5. Finish with a bit of hairspray to keep flyaway hairs down.
1. Brush hair over to the side you want your braid to sit.2. Split hair into five equal sections.3. With both hands, hold the outer four sections of hair while letting the middle section hang loose.4. The look is a basket weave, so take the farthest section of hair and weave it over the one next to it and under the middle section. Repeat this on the opposite side. (Tip: Keep your sections clean by always having a middle strand hanging down.)5. Continue weaving until you're one to two inches from your ends and secure end of braid.6. Use hairspray to hold the style in place.
Photography and GIFs by Raydene Salinas.
The more braids, the better: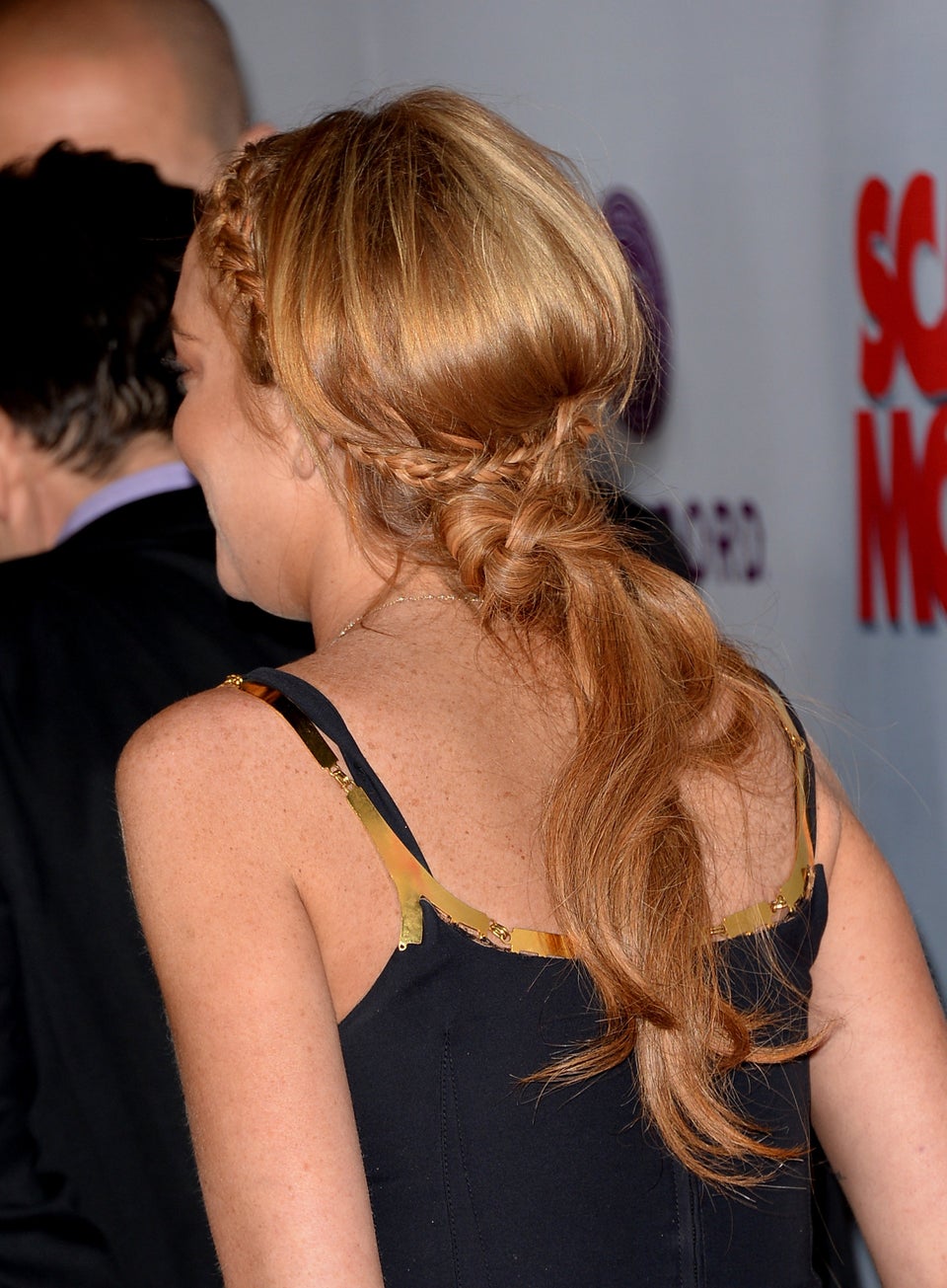 When Braid Meets Ponytail...