Let's talk turkey. If you're a zealot like myself, you've already planned out your Thanksgiving menu, tested any newcomers to your spread, and written a shopping list for when you head to the grocery store ready to throw elbows for the best bird. However, if you haven't given your holiday table any thought yet, not to worry. I've taken the initiative to break down how to get the juiciest, most golden turkey you've ever had.
Call it a brine of the times, but I challenge you to make this the year you brine your turkey. If you've never done it before, it's an easy way to add some much-welcomed flavor and moisture to your centerpiece dish. And if you have done it, I'm here to offer you my version, which I'm naturally inclined to say is the best.
So the first question you may have is, "what is a brine?" Simply put, it's a solution of salt water in which you submerge (typically lean) meats overnight. The salt allows the proteins in the meat to absorb water, which is then retained after it cooks to make for a juicier end product. But that's not all! Since it's a salt solution, the brine seasons your turkey inside and out ― no matter how much salt you rub on the outside, there's no other way to season the center of a 12-pound bird.
If you're up for the challenge, let's go through the process. My brine is a salt and sugar solution flavored with apple cider, lemon, rosemary, thyme and garlic. Adding aromatics to your brine helps take your turkey to the next level, letting all these holiday flavors infuse the meat. I add the salt, sugar and aromatics to a saucepan with the apple cider and a little water to dissolve, before adding ice water to cool it down (you don't want to cook your bird when you throw it in). All you need to do is throw your turkey in a tall stock pot with the brine fully covering the bird.
The next morning, you'll pull the turkey out and pat it dry with paper towels on a sheet tray. An important, often-overlooked step is to throw it back in the fridge uncovered to dry out the skin for a few hours. This is key to getting that crisp golden skin you crave. The final step is to pull out your bird at least an hour before cooking to let it come to room temperature (this helps it to cook evenly) and rub it down with butter.
Now you're ready to roast: I start the turkey in a roasting pan at 450 degrees Fahrenheit for 20 to 30 minutes to get golden and then drop the temperature to 350 degrees until it's cooked through. Foil is your friend during this process. The second you see that skin getting too dark, tent it with foil to preserve that precious poultry skin.
Dry turkey should now be a distant memory, never to return again to your holiday table — something your family can truly be thankful for.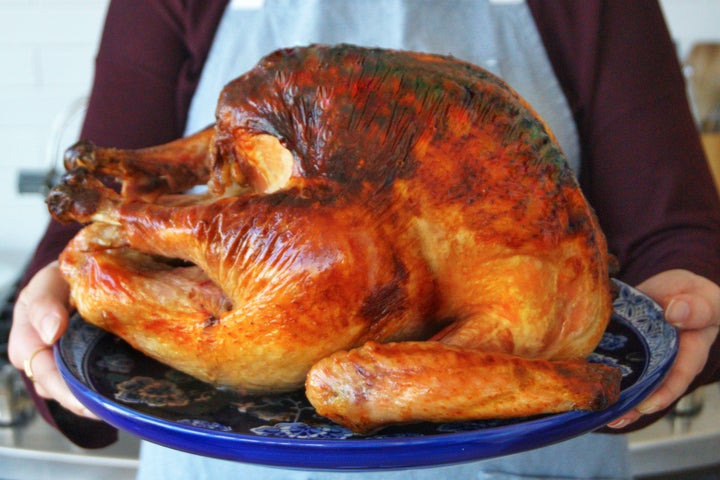 The Ultimate Brined Turkey
Prep Time: 30 minutes, plus overnight brining, drying and resting time
Total Time: 2 hours and 30 minutes, plus overnight brining, drying and resting time
18 cups cold water, divided

2 cups apple cider

1 1/2 cups kosher salt, plus more to taste

1 1/2 cups granulated sugar

6 sprigs rosemary

6 sprigs thyme

1 head garlic, halved

1 lemon, sliced

One 12-pound turkey, trussed

4 tablespoons unsalted butter, softened

2 tablespoons all-purpose flour

Freshly ground black pepper, to taste
1. In a small saucepan, heat 2 cups of water with apple cider, salt, sugar, rosemary, thyme, garlic and lemon over medium-high heat. Cook, stirring often, until the salt and sugar have dissolved, 3 to 4 minutes. Transfer to a large stock pot and stir in the remaining 16 cups cold water. Submerge the turkey and refrigerate overnight.
2. The next day, remove the turkey from the brine and dry well with paper towels. Place turkey on a sheet pan and refrigerate for 2 hours. Remove from the refrigerator and let temper at room temperature for 1 hour. Preheat the oven to 450 degrees Fahrenheit.
3. Rub the turkey liberally with the softened butter and place in a roasting pan. Roast, rotating halfway through until the breasts begin to get golden, 20 to 30 minutes. Reduce the heat to 350 degrees F and continue to cook, basting every 30 minutes, until golden and a thermometer reads 165 degrees F when inserted into the thigh, 1 1/2 to 2 hours. (If the breasts begin to get dark at any point, cover with foil and continue to cook.)
4. Remove from the oven and transfer to a large cutting board; let rest for 15 minutes.
5. To make the gravy, strain the pan drippings into a bowl and let sit for 5 minutes to let the fat rise to the top. Pour the fat into a small saucepan over medium heat. Whisk in the flour and cook until a blonde paste forms, 2 minutes. Slowly whisk in the remaining pan drippings and bring to a simmer. Cook until thickened, 5 minutes, then season with salt and pepper. Keep warm.
5. Carve the turkey (you can reserve the carcass for stock). Arrange on a platter and serve with gravy.