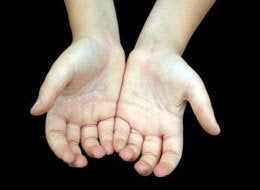 My friends, Andrea and Aryeh, were planning their daughter Shachar's Bat Mitzvah this past summer and wanted the event to be guided by their strong commitment to social and environmental justice. We, sadly, live in an era when Bar and Bat Mitzvahs have become night-clubs at shuls with too many stories of mega-black tie parties hosted by NFL cheerleaders, world famous musicians and budgets that could be used to purchase a McMansion. It was refreshing that Andrea and Aryeh chose to host a religious event that infused their social values throughout all aspects. What also makes this Bat Mitzvah so special is that the sustainable practices they chose to incorporate into Shachar's Bat Mitzvah can be used for any type of event. And, the greatest lesson that came of their planning is that it involved, engaged and helped to build an already thriving little community in the heart of the Los Angeles megalopolis. The family didn't do this on their own; all members of their tiny synagogue (myself included) pitched in. Here's a list of their inspiring, eco-friendly actions:
1. Invitations were sent via email.
2. All food was vegetarian and prepared by local restaurants.
3. Guests prepared and brought their favorite dessert.
4. All paper goods, cups and utensils were made of compostable materials.
5. All leftovers, plates, cups and utensils were composted.
6. The centerpieces were succulents and canned foods. The succulents were later planted in the neighborhood and the canned goods were given to two local food pantries.
7. Most decorative materials were made from recycled products and all were saved for future use.
8. Shachar's speech discussed local workers rights issues (namely the horrible treatment many endure at local car washes) and urged all participants to take action.
9. Decorative fabrics were hand-sewn by Andrea's mom.
10. The community was involved in every aspect, from set-up days in advance to clean-up. This gave everyone a sense of participation and was an opportunity for us to show our appreciation and love for a family that has done much for all of us.
Shachar's Bat Mitzvah didn't have million dollar floral arrangements, a professional comedian, scantily-clad women or any other tacky cultural icon that has nothing to do with this religious practice. Instead, it was deeply rooted in the intention of the day; a time to celebrate her rites of passage, reflection on the religious significance of it and a celebration of her and the community. Yes, we schvitzed (sweated) a bit in the August heat as we schlepped (lugged) stuff to the event but the richness of it made it most memorable and meaningful.

Sarah's Social Action Snapshot originally appeared on Takepart.com
Related
Popular in the Community