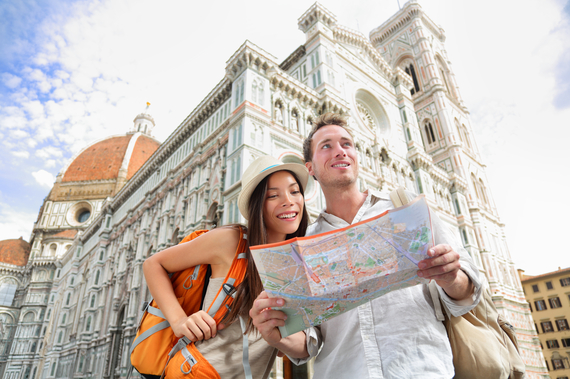 Do you dream of traveling around the world while building your professional reputation to be a highly-sought after employee or entrepreneur? Have you traveled around the world and wanted to know how to articulate your experiences in your professional portfolio?
Instead of being viewed as a frivolous activity reserved for retirees or dreamy-eyed college grads, traveling can help the motivated career achiever gain a competitive edge in today's marketplace. If you know how to articulate your experience properly on paper, traveling can be a professional development activity that can move your resume to the top of the interview pile and accelerate your career ambitions.
As globalization has increased the complexity of the business environment, employers are seeking candidates who are culturally aware and solution-focused in order to capitalize on the unique opportunities that diversity brings. Anyone can read about other cultures in a book or online, but there is nothing like immersing yourself in the culture of another country and experiencing trying to speak a foreign language to order food, being comfortable in an environment where your looks automatically force you to stand out as the country's tourist, or strategically planning how you are going to travel from Paris to London within 24 hours.
There is no need to follow traditional forms of professional development in order to climb the career ladder. You can do what you love while positioning yourself for endless career opportunities as an Up With People cast member.
If you are between the ages of 17-29, you have the opportunity to position yourself for success in the marketplace by traveling around the world as an "Up with People" (UWP) cast member. UWP is a global education program that combines international travel, service learning, leadership development, performing arts, and internship experiences in order to create global citizens who are ready to solve the human capital challenges of tomorrow.
I decided to travel around the world with Up with People for six months in order to gain skills needed to break into the consulting industry and position myself as an International Business Leader. I traveled on a world performance tour with one-hundred other individuals, and we participated in community-service projects, facilitated leadership activities, and lived with different host families every week as part of our cultural immersion experience.
While traveling around the world, I managed a blog, wrote for multiple publications, facilitated leadership workshops in schools, connected with industry leaders and political figures, studied new languages, worked in diverse teams, and started a resume, LinkedIn, and professional branding consulting business. These are all activities that illustrate the power of my traveling experience.
1. How Traveling With "Up with People" Translates into a Powerful Resume
Think about the new skills you'd gain while traveling around the world. For example, what knowledge would you acquire from creating a blog? Would it increase your knowledge of WordPress, search engine optimization (SEO), LinkedIn Pulse, affiliate marketing, blogging strategy, coding, and customer relationship management tools?
Start by keeping a list of all the things you have done while traveling the world. Don't be modest. Challenge yourself to write down a list of 25 tasks that you have completed as a volunteer, student, leader, or networker. After that, list all of the skills you had to obtain in order to successfully complete the tasks. What have you accomplished? Review this list in order to identify new core competencies that can be added to your resume.
3. Answer These Four Questions to Position Your Resume for Career Success
How did your international exploration expose you to different ways of living? How can you apply those new ways of thinking or living to advance business goals in your native country?
How did your traveling experience enhance your professional identity? What new words can you use to describe your contributions? Digital Entrepreneur? Diversity Thought Leader? Career Mentor?
What type of networking opportunities did you take advantage of, and how did these connections fuel your leadership potential?
What transferable skills did you gain through community action and volunteering? If you've ever had to speak in front of a group, you've had the chance to develop presentation skills.
Use these questions to help you communicate in writing about how your international traveling positioned you for success in any industry. A stellar resume speaks to employers about your ability to work well in a team, communicate effectively, solve problems, and lead assignments. Think about all of the situations in which you have had to demonstrate these traits while traveling around the world. These experiences will take your resume from the bottom of the list to the top very quickly.