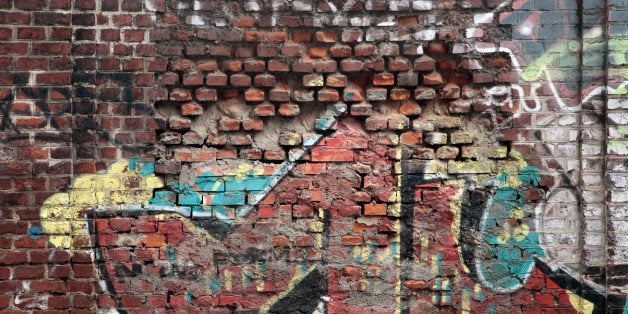 There's something about the art world that makes building a career as a professional artist an evasive subject. It's easy to tell a young person, "Follow your dreams," but there's not enough explanation around how to pay your bills. The path to becoming a full-time artist is not as clear cut as the path to other careers, like becoming a doctor.
"I can go to art school but that doesn't get you a job as an artist, it just teaches you the techniques of an artist," said Brooklyn-based graffiti writer + illustrator, See One. "The field is wide open. The question is how do you make money, to pay rent. How do I not work at McDonalds?"
As someone who grew up painting and saying, "I want to be an artist when I grow up," I had no clue what to do, and I still don't. For season two of my docuseries, "Maker's Lane," I wanted to feature a prominent Brooklyn-based graffiti writer and illustrator who has dedicated his life to making it happen for himself. Just like other careers, being a professional artist requires business sense, strategic economical thinking, a dedication to the craft & creative versatility.
Watch the full episode above to gain insight into See One's upbringing and creative hustle in New York. Below are some words of advice pulled from our entire interview (some of which did not make it into the episode):

Find your signature style
"I have an abstract style, illustrative style, and a flagship character [Miru the Dragon]. I don't have to sign a wall, I can draw [Miru] and people will know it's me. I've drawn many, many characters, but I think that it's important to choose one that you want to do something with. And with [Miru], I'm moving him into comic books."
Practice, practice, practice
"So one of the major things I did was really take my drawing seriously. Practice -- developing my anatomy, developing my cartoon style. When I was going out and I was trying to paint characters and everything, they didn't always come out perfect. But you have to sketch, you have to figure out, 'Where does my anatomy go?' It doesn't matter if you're painting big or small, your image properties and sketch lines and the way you have the body contoured to your character -- they all matter. That goes back to you at home drawing and practicing your anatomy."
Pursue personal projects constantly, not just a paycheck
"I need to keep creating in between [my study & practice] in order to stay motivated and move [my art] into different projects in different areas.You need to have enough passion to see your [personal] projects through. You can't just create something for the basis of getting a paycheck, you need to actually be inspired by what you're doing and that doesn't always mean doing a corporate project. You need to love what you're doing before you take on corporate jobs."
"I think that brands really find me by momentum and what I mean by that is I try to paint as often as possible, and I love to paint walls. I think that any success I've been able to accumulate doing this has really come from me putting a lot of time and effort into what I'm doing and coming out to paint a lot. Because in the end, since I'm painting in a public setting -- my work has legs. So what I mean by that is if I paint more, more people see it, more people post it, share it, retweet it -- all that stuff."
Get out there & find a wall
"Number 1 -- find a wall, not your mom's house, not your friend's house, find a wall that no one's gonna hassle you over. Just like anything you do in life, you have to apply yourself. I didn't just up and start painting these giant murals -- it doesn't just happen. I started out bombing, I started out painting on crappy walls that I didn't wanna paint on. But you take every single opportunity that you can that's given to you and you make something happen. So you carry paint when you don't even think you gonna be able to paint, you find places where you can paint, where it's cool. You're gonna find friends who also paint, you're gonna find older writers who also paint. All of these things are different sources of knowledge and inspiration for you.
When I was a kid and I wanted to paint a wall, well, first go around where other people are painting. Soak it up, go have a conversation with people. If you draw, show them. These are people you may one day work alongside in the same industry."
"I saw this quote the other day -- 'The distance between your dreams and reality is action.' That's the realest quote I've ever heard in my life. You can't just talk about something, you have to just do it."
--
Discover more art from See One: www.seeoneart.com
Watch all episodes of Maker's Lane: www.makers-lane.com
Follow on Instagram & Twitter: @oneouncegold
--
Maker's Lane is a documentary series about entrepreneurs in the trendsetting capital of the world, New York City. Each episode profiles a different creative hustler carving their own path. Focusing on trailblazers across different industries and backgrounds, Maker's Lane seeks to inspire all those who defy norms, challenge convention and live beyond the margins. In the DIY digital age, these stories capture the spirit of the new American Dream.
Popular in the Community