When my girls were little I had high expectations for myself -- to be a calm, patient, loving mom all the time, to make healthy meals all the time, to never lose my temper, feel bored, frustrated, anxious or depressed, to be organized and have a more or less clean house. I'm not a perfectionist but as a mother, I harassed myself to be as close to perfect as I could be. My girls had to behave and not bicker in public -- fat chance! Dinner had to be healthy -- and they had to eat it! Someone was coming over -- quick clean up!
I also noticed how my priorities changed.
"Mommy can you read to me?"
"No honey I have to do the dishes."
"Mommy I don't want to go to camp."
"Hurry up, get in the car I have a meeting!"
"Mommy, can I..."
"Um what? I'll talk to you after I answer this email."
Trying so hard in every department was impossible.
And what was the result? Instead of being happy, I was miserable. And were my girls happier? Nope. If I am on a treadmill, trying to be perfect, then so are they.
Sitting in a MotherWoman group many years ago, I had a revelation that I would like to share. When you build a house, you don't start with the roof, right? You start with the foundation. Building mine and my family's well-being based on high expectations is like building a house from the roof down. Taking care of what is most important is building a firm foundation.
I learned to identify what was most important to me as a mom. That was the foundation, and I started there. For me, it was paying personal, sensitive attention to my children, showing them how important they are to me. I found I could do that in many different ways throughout the day. It was also important to me that I felt good and well taken care of too. And if that was "all" I accomplished, then I was successful!

How did that look in real life? Lowering my expectations. Really paying attention to my children at breakfast. The texts and clean up can wait. Taking deep breaths while feeding my baby and looking into her eyes. The dishes can wait. Napping or going to bed at the same time as my baby. The emails can wait. Noticing that I needed a healthy meal and a rest. The TV can be my friend. Needing a change of scenery and some adult stimulation. Calling a mom friend for a walk. Other obligations can wait. Letting my boss know what is realistic to expect from me right now. Prioritizing myself and my family.
No one can build an entire house by herself on a ridiculous timeline. It takes time, patience, and attention to detail. And remember, if the something is going wrong, call someone to help. Think of a therapist like you would think of a plumber! There are experts who can help.
Mothering is a lifelong journey. Envision a beautiful, safe, and strong home, and start with the basics.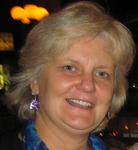 Annette Cycon is the founder of MotherWoman, a non-profit dedicated to supporting and empowering mothers to create personal and social change. She develops and offers professional trainings on perinatal emotional complications to build community-based perinatal safety nets for moms and families. She has been leading mothers' support groups for over 20 years, and believes that speaking the truth about motherhood is revolutionary! She is the mother of two daughters, ages 23 and 21.