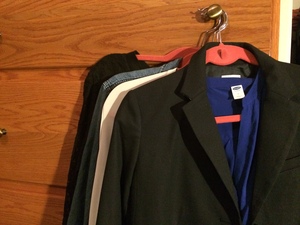 In the months between accepting an internship offer and your first day, there are many important things to do to prepare. Follow these steps to build your internship wardrobe and be ready for the real world.
Step 1: Determine Your Company's Dress StandardsGet a feel for the company's office standards by researching company culture online and recalling observations of other employees during your interview. Here are the three most common kinds of office dress codes you will find:
Business Casual: Most common in areas such as PR, journalism, logistics, and real estate, this means that your wardrobe should be professional, but a suit is not necessary. Stick to classic silhouettes but experiment carefully. Having a good assortment of pullovers, cardigans, button downs, and blouses to pair with trousers or skirts will be helpful.
Creative Business Casual: Found in the design, retail, advertising, and technology industries, this is similar to business casual but allows for more imagination. Let your personality shine a bit more by trying patterns, brighter colors, and less traditional shapes. Dresses, two piece ensembles, skinny work pants, and statement necklaces will make you polished yet original.
Business Professional: You will find this more conservative dress code in fields such as finance, accounting, law, and marketing. Suits and separates in various neutral colors will be your go-to and will allow you to mix and match throughout your internship.
Step 2: Fill Your Closet With Versatile PiecesYour closet should be a mix of basics and accent pieces. Basics should be the more expensive part of your wardrobe, as they will last a long time. Choose neutral colors for basics, and add color and patterns with accent pieces like blouses and dresses. Make sure you have the following:
Suits: Most important in conservative environments, suits can also be used for networking or other professional events.
Separates to mix and match: Useful in any field, separates can be dressed up or down and rarely go out of style. Blazers, trousers and pencils will be the foundation of your wardrobe for years to come.
Blouses and button downs: Great for layering, great separately, and can be added to any outfit.
Dresses: Simple shifts or shirtdresses are essential for days when putting together an outfit seems impossible.
Cardigans: Cute, but more importantly, easy to throw on in a chilly office.
Step 3: Accent Your WardrobeAccessories can be used to add subtle personality. Follow these guidelines for accessorizing in the workplace:
Shoes should never be too high, and think carefully before showing an open toe. Nude and black pumps are essentials for every working girl. Paint those toes if they show and never wear heels if you cannot walk comfortably in them.
The right bag will be professional and make you feel good. It should last a long time and be in a timeless shape that will not go out of style.
Jewelry such as watches, rings, and small, signature necklaces accent an outfit but are still professional. As a general rule, stick to smaller earrings closer to the earlobe. In some industries, statement necklaces and earrings can be worn successfully.
Step 4: Plan Outfits for Easy MorningsBefore your first day, photograph outfit ideas to wear throughout the internship. That way, you will be ready for tough mornings that lack outfit inspiration and can easily navigate your closet.
And some last minute tips on dressing professionally:
Be appropriate. Nothing should be too short, low cut, or tight. No cleavage! Work clothes should be an inch or two longer than you are used to. When in doubt, tuck in your shirt!
Take care of your clothes. Always make sure work clothes are clean. Iron when needed and hang them up.
Tailor to fit you. No matter how expensive, clothes look better if they fit correctly. It will not go unnoticed!
Shop around. You may not find the perfect blazer or work dress right away. Take the time to find the brands that fit you best. My favorite places to shop are outlet malls because they have stores such as J.Crew, Gap, and BCBG where you can find good quality basics on a budget. Also outlets they have so many bags!
Overall, whatever you decide to wear should make you feel confident and ready to rock your internship! If you take the time to build your wardrobe, you will be the best dressed intern on your first day in the office and will have a smooth semester. Good luck!
Related
Popular in the Community