A business' reputation is essential to its survival.
In the modern age where social networking and other online tools are so prevalent, businesses need to be conscious of their reputation online.
It is important to manage your business' online reputation to give your business a competitive advantage against others in your industry, build your reputation as a thought leader and expert in your industry and drive engagement and credibility for your business.
There are a number of ways you can manage and build your online reputation. Here are my top four tips.
Develop a robust social media strategy.
Developing a comprehensive social media strategy will help you manage your online reputation effectively, as well as ensure you are using the right platforms, engaging with your target audience and monitoring your accounts appropriately.
No matter which social media platform you choose to use, following these four rules in your strategy will held you succeed:
Be focused: It is important to define your niche and focus the majority of your social media activity on that area of focus. Seek to understand your target audience and what interests them by looking into their demographics, behaviours and interests.
Be authentic: Don't view social media as a marketing platform, imagine you are talking to someone in real life. What would you say to them?
Be meaningful: The content you publish must be useful and meaningful to your target audience or there is no reason for them to read or engage with it.
Be aware: Listen to the conversations happening through social media about your business and your industry, you will be amazed at the insights it will bring.
Pick the right social media platforms.
When starting out on social media, select one platform that is the most appropriate for your business. As you become familiar with social media, start integrating other social media tools.
Major platforms such as Facebook, Twitter and LinkedIn can be an excellent place to start. However, the most important thing to consider is which social networks your target audience are accessing.
LinkedIn for example, is an excellent platform for B2B professionals wishing to become an expert in a specific industry. Tools such as LinkedIn groups allow you to interact with people from specific professions, industries or interest areas by either starting, or responding to discussions.
Social media allows you to exchange ideas and form relationships with your target audience. Posting unique and interesting content instead of blasting promotional messages to users will help build and establish your business' reputation.
Try posting interesting articles, blog posts, videos, photos or curate content from other experts in your field.
If you are running out of ideas of things to post, some helpful tips include:
Put your fans first. People love posts they can identify with, such as the approaching weekend or holiday plans.
Tell your success stories. Success stories are interesting to read, whilst clearly demonstrating the value you can offer. Ask your customers for feedback and testimonials.
Share news and events updates.
Give a behind the scenes look into your business.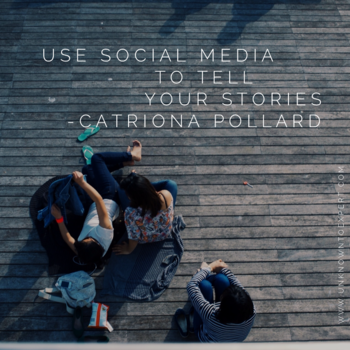 Having a blog will build your profile as an industry expert and leader, allow you to share information with your clients and customers and will also attract more traffic to your site through better SEO.
Blogs are extremely easy to start up and use, making them an ideal platform for your business to publish quality and interesting content.
What you write is up to you, but try to spark discussion and share experiences, ideas and relevant information. To build traffic, read other blogs and comment so that it links back to your own blog.
If you find yourself running out of interesting content for your blog, curating content from other experts is an excellent way of ensuring you have a steady stream of quality material.
Using social media is an excellent way to build your online reputation, engage with current and potential clients or customers and build your business' credibility.
Catriona Pollard is the author of 'From Unknown To Expert', a step by step framework designed to help entrepreneurs develop effective PR and social media strategies to become recognised as thought leaders and influencers in their field. www.UnknownToExpert.com. Catriona is also the director of CP Communications, which merges traditional PR tactics with cutting-edge social media strategies that engage consumers as well as business.
Popular in the Community