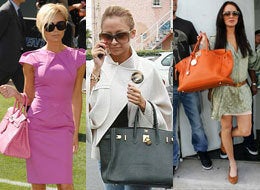 You've all heard of the oh-so-elusive Hermes Birkin bag. Carried by A-List celebs everywhere and knocked off by Canal Street vendors on every corner, a Birkin is the ultimate elitist symbol.
The elusive Birkin bag made by Hermes is so sought after as a status symbol by women worldwide that the French fashion house has a two year waiting list for potential owners...

The elusiveness of the Birkin has ensured it has remained one of the world's most coveted bags since Hermes named it after British actress Jane Birkin in 1984, with prices starting at about $9,000 and rising to about $34,000 for a crocodile skin bag.
However, HuffPost blogger Michael Tonello uncovers the mystery behind the Birkin and in the fashion equivalent of a tell-all book called Bringing Home The Birkin shows the masses of the world how they, too, can by-pass the marketing-ploy waiting list.
"I would go into a store with a list in my Hermes Ulysse notebook and pile up scarves, shawls, bracelets, worth about $2,000. This made me seem a regular Hermes client," Tonello told Reuters in a telephone interview.

"Once I had that pile ready to buy at the last moment I'd ask for a Birkin and they would usually produce one of the back room. In 2005 I bought 130 Birkins in a three-month period -- and you tell me there is a waiting list?"
So there you have it. The one-step, one-stop shop guide to buying a Birkin. Do, however, learn from his mistakes and don't buy too many, too quickly:
"In the store in Paris I went in maybe once too often and they checked the computer and discovered how many bags I had bought. They sent me a fax saying essentially they would no longer sell me any bags."