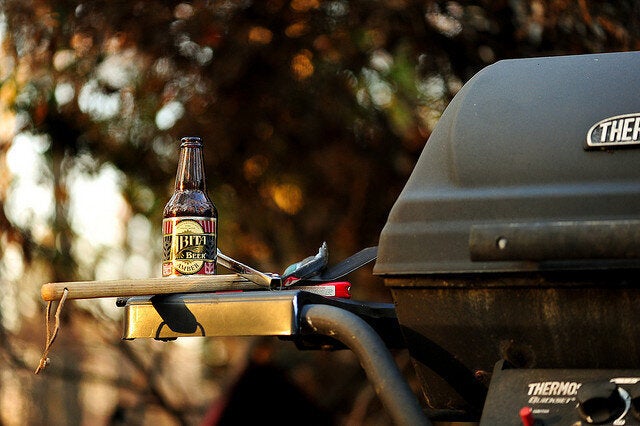 Fuel. Decide if you want gas, charcoal, wood pellet, or electric. Let's do a process of elimination.
are the most sophisticated with digital thermostat controls. They are great for smoking, although the smoke flavor is delicate and not as powerful as charcoal fueled smokers. On the down side, they give everything a smoke flavor, and sometimes you just don't want it. Nor do they get hot enough for a great sear on steaks. I recommend them as a second grill to people who love smoked foods. Click the link for more on the subject. This is a hot new category.
The best grills are cast aluminum, cast iron, enamel bonded steel, and stainless steel. Quality stainless steel and aluminum will not rust, but they do discolor with use and age. Your shiny new stainless grill will never look as good as the day you bought it. Cast iron can rust if it is not painted properly. Enamel will not rust unless you chip it. How well is it painted? How heavy is the metal? Heavy steel holds and distributes heat better than thin steel. Is the metal thick enough that it will not warp? How are the welds? Does it have sharp edges? Sturdy legs? Big hinges and latches? A lot of plastic parts? Do the moving parts look like they'll last? Stainless is all the rage, but it shows dirt, dust, grease, and rainspots. If you are a neat freak you'll go crazy polishing your stainless grill. Also, stainless tends to be thinner and provides less heat retention. Not all stainless is the same. Some are thicker, and some have more chromium and nickel in the alloy, both desirable contents. Look for 304 or lower number stainless. Magnetic stainless will pit and corrode faster so bring a magnet when you shop and use a cover. Stainless is also more expensive. I prefer steel or cast aluminum. They hold heat better, are cheaper, and are not such a pain to clean.
Would it drive the price too high for you to ship an extra screw or washer or two for klutzes like me who drop them between the boards on their deck?
What kind of grill do you have, how old is it, and when do you think you'll be buying another?
Related