Saying "yes" to a marriage proposal takes major guts. It arguably takes equal guts to call off your wedding and notify family, friends and guests of the change in plans.
To guide readers in this sticky situation, we turned to Amber Harrison, Wedding Papers Divas' resident etiquette expert, and Diane Gottsman, author of Modern Manners for a Better Life, for their best advice for canceling a wedding like an adult.
1. Keep calm and don't panic.
Believe it or not, your situation isn't that unique. Harrison says most wedding planners will tell you that it isn't unusual to have at least a few cancellations each year. With that knowledge, take a deep breath and ready yourself for the job of notifying loved ones and guests.
"While it can feel overwhelming to think of cancelling a wedding, especially once guests have been invited, it is absolutely possible and may be a better option than going through with a marriage you are not feeling confident about," Harrison said.
2. Do it sooner than later.
Don't put off the inevitable. As soon as you know your relationship is donezo ― or that the wedding is not going to happen on schedule ― reach out to your guests to notify them.
"When a couple cancels their wedding, there is no time to delay," Gottsman said. "If it's definite, start letting the guest know as soon as possible, especially if the wedding was a destination wedding and travel and lodging plans need to be changed."
3. Designate a proxy to make the calls.
OK, so you're not exactly looking forward to letting everyone ― your judgmental sophomore year roommate included ― know what happened. That's fine. Gottsman reassured us that it's totally kosher to designate a caller or two to get the word out.
"It's seldom the couple that makes the call, actually," she said. "Ask a trusted friend or family member to go through the guest list and contact each guest, in person when possible. For a large ceremony, it may take several people. Just make sure the let them know how much or little they should divulge."
4. If the invitations have already been sent, you may want to followup with a formal announcement.
If the invites have already been delivered, Harrison recommends sending a more official announcement by mail.
"The wording can be quite simple and mirror your invitation," she said. "Something like 'Mr. and Mrs. Wiliam Layton announce that the marriage of their daughter, Jessy Layton, to Taylor Morgan will not take place.'"
5. There's no need to divulge too much to your guests. Just give them the info they need.
Save the drama for phone calls with your mama. Share exactly what guests need to know, and nothing more.
"This is the time to inform guests about the change of plans, not get into a 30-minute conversation about what happened," Gottsman said. "If asked, let the guests know they will be informed as to how the wedding and shower gifts will be returned in the future. That's something they need to know."
6. Don't forget to notify the vendors!
You need to get word out to your guests ASAP, but don't forget to let your vendors know in the process, Gottsman said.
"It's equally important to inform all the people who are counting on providing services," she said. "Start with the officiant, the hotel, caterer, DJ and gift registries. Take careful notes of penalties and refund protocol!"
7. Oh, and if you think there's half a chance the wedding will happen, let your guests know.
Modern relationships are complicated. If you and your S.O. just need some time before tying the knot or intend to reschedule, just let your guests know that, Harrison said.
"If you are still planning to get married to the same person sometime in the future, make sure you communicate that the wedding has been postponed, rather than cancelled," she said.
Calling off a wedding: That wasn't so hard, was it?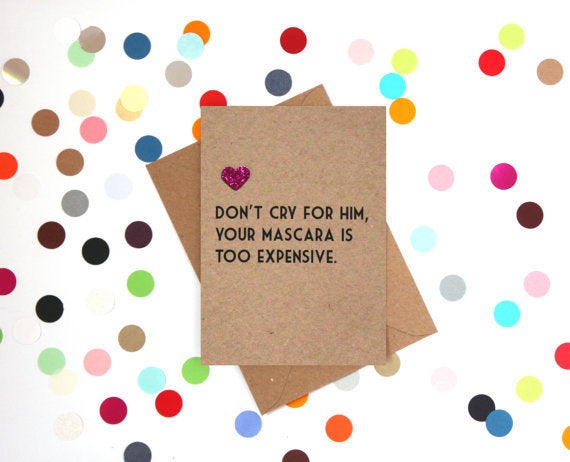 15 Hilarious Cards To Keep Your Newly Single Friend Smiling