April 22, or more commonly known as Earth Day, is the friendly reminder the world sends us once a year to think about the impact we are making on this beautiful planet. How much do you value the environment around you? How often to do you take a break to step outside? When was the last time you spent time exploring the outdoors?
My past three months abroad of discovering new places and wonders of this world has given me a much greater appreciation for Mother Nature, and I am constantly trying to keep my head up to realize just how beautiful our surroundings are. Something as simple as a walk through the woods or a stroll around your local park can open your eyes up to something new. I feel a great sense of peace and serenity when I allow myself to be completely immersed in the nature around me - when I take the time to intentionally step away from the distractions of my newsfeed, put down my phone, and just step outside for even a few minutes each day.
Today, I encourage all of you to take some time to look around at the world you live in and realize just how remarkable it is. Spend some time outside and learn how to become comfortable when it's just you and God's work. Leave all your gadgets behind and give yourself time to breath and reflect. Take it all in - breathe in the freshly cut grass, marvel at the fact that spring is a new beginning bringing to life to plants and flowers that were buried for months. Give yourself the same opportunity for new beginnings.
And while you're taking the time to step outside and disconnect, do a little good for this Earth. As I'm writing this post, I just donated a two full day's worth of drinking water to a child in need. TWO WHOLE days in the matter of minutes.
How? It's easy - I put down my phone.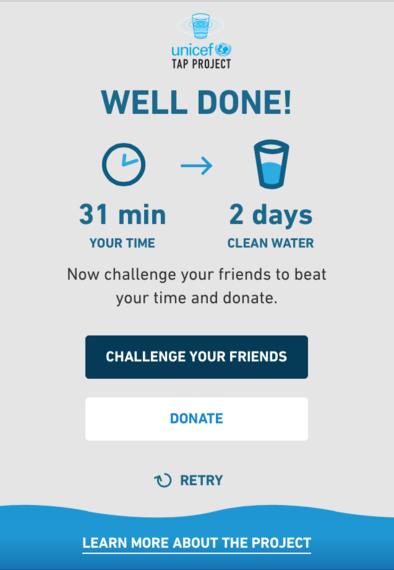 For every 15 minutes that you don't use your smartphone, the sponsors and donors of the UNICEF Tap Project will fund one full day of clean drinking water for a child in need. All you have to do is go to uniceftapproject.org on your cell phone and commit to not using your phone for at least 15 minutes. The longer you disconnect, the greater amount of clean water can be provided.
Celebrate Earth Day and help those in need all at the same time - and don't let it stop today.
This article was originally published on Quarter for Your Crisis, a community for Millennials to reconnect with themselves, their faith, and the world around them.
REAL LIFE. REAL NEWS. REAL VOICES.
Help us tell more of the stories that matter from voices that too often remain unheard.