With Mother's Day quickly approaching, it's time to up your gift game and give mom a day she'll never forget. Mother's Day is all about spending quality time, so treat mom to a unique experience that you know she'll love, from a wine and paint night to skydiving. Here are just a few ideas for mom to get your creative juices flowing. Don't forget to capture the day's memories with an acrylic block or metal print from Tiny Prints to cherish the quality time spent together!
For the Crafty Mom...
If your mom loves to spend her free time painting, DIY-ing or reclaiming antiques, planning a fun artsy date with mom is a great way to create something together and make lasting memories along the way.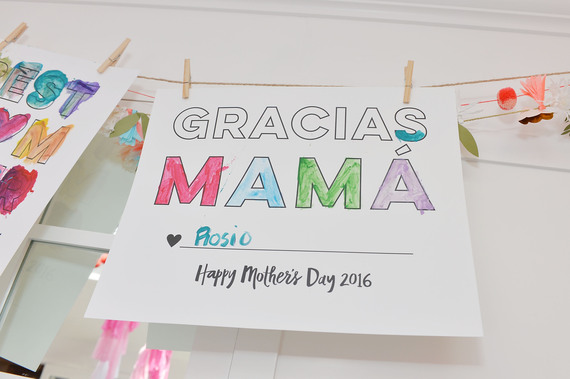 A fun Mother's Day card from a craft station at the Baby2Baby Mother's Day Playdate presented by Tiny Prints on April 27, 2016.

For the Foodie Mom...
Whether she likes to get creative in the kitchen or try the hottest new restaurants, make this mom a meal to remember with a custom recipe of your own. Even better--write it down for her as a sweet keepsake.
For the Adventure Seeking Mom...
Surprise mom early in the morning with a blind mother-daughter/son date to fulfill that crazy item that's been sitting on her bucket list for years. Whether it's sky-diving, bungee jumping, scuba diving or racecar driving, the adventurous mom will have an unforgettable experience (and keeping it a surprise will make it extra special).

For the Fashionista Mom...
For the mom that loves to shop 'til she drops and experiment with her style, take mom on a fun vintage shopping date. Try going to a nearby small town you've never been to before. You never know what unique (and often eccentric) items you'll find.


For the Everyday Mom...
What every mom will really love is just some quality time where she feels appreciated for all her hard work. You really can't go wrong with something as simple as a brunch or a spa day where she's treated like a queen. Don't forget to take some fun selfies!
Sometimes unforgettable experiences make the best gift.