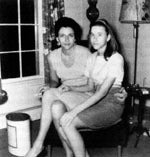 Mother's Day is less than a week away now. This particular holiday always makes me a little bit sad. I remember my mother and wonder how we would have celebrated it this coming Sunday, when she would have been eighty-nine years old just as I round the corner of sixty-four.
My mother, the late poet Anne Sexton, never saw her twenty-first Mother's Day. In October of 1974, on a day marked by the leaves of the swamp maples behind our home turning brilliant orange and red, and under a sky the color of a robin's egg, she took her own life. She was not quite forty-five.
It is perhaps somewhat ironic that I feel a little blue about Mother's Day, considering that my Mom thought that to observe it as a holiday was silly. "Hallmark invented Mother's Day," she used to declare. "It's just an excuse to make money on a bunch of sappy cards." Despite this, she always enjoyed the breakfast in bed that my sister and I cooked when we were children and the handmade cards over which we labored. She was a mercurial and often inconsistent woman.
Perhaps her disillusionment with this particular holiday came from her conflict over being a mother to begin with. She always felt inadequate, unable to cope, and was hard on herself. The reality was that she suffered from an undiagnosed and totally uncontrolled bipolar disorder that sometimes made the selflessness parenting requires very difficult. Now I wish I could just reassure her: how great a mother she was when illness moved over to let love in.
She took the time to spend an hour or two away from her writing each day after the school bus had dropped me off in the afternoon. She stood by the riding ring for countless horse shows in the worst weather, cheering for both my sister and me as we jumped over fences big enough to scare even the most intrepid mother—and in spite of the fact that she both hated and feared the beasts that towered over her.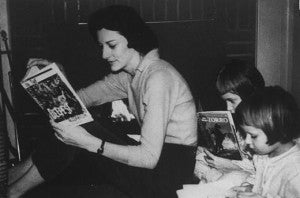 She comforted me with intense empathy when I lost a girl or boy friend I depended on or loved, and was always there with a hug and kiss that brought true solace. She had a great sense of adventure, and when I was a high school sophomore even bleached my hair blond because it was the most desired color among the popular girls; I'll never forget the two of us bent over the bathroom sink with rubber gloves and Miss Clairol. She never made a single comment about my early attempts at poetry that was not kind and generous, and so created a strong and unbreakable bond between us through our love of writing.
When her bipolar disorder was controlled, she was a great Mom. If I'd known enough then to tell her that, perhaps then she would have enjoyed Mother's Day more.
In the end, her self-destructive urges overcame her and she succumbed to an overwhelming depression. In despair, she died alone. What really haunts me is that neither my sister nor I were at her side as she faced down life's last minutes. We weren't able to rescue her. But, as Anna Quindlen says in her novel, Miller's Valley: "It's a lot harder to save people than you think it is."
I have reminded myself of exactly this over the last forty-one years since her suicide. I couldn't save her. So, this year I shake off that sense of guilt and try not to be too sad on Mother's Day. I try to remember instead the wonderful gifts Mom gave me, and all she continues to mean to me.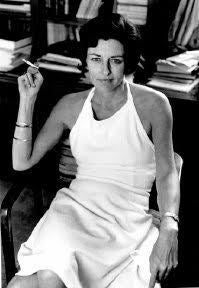 In the years since 1983, when my first son was born, I have spent this holiday thinking about my own children, as well. They, too, made me cards when they were kids and brought me breakfast in bed. Now, in their thirties, they remember to phone and wish me a happy Mother's Day. I hope they've found me to be as good a Mom as mine was.
And so I'll celebrate my mother this coming Sunday, remembering all we shared, but disagreeing at last with her declaration that the holiday is just a gimmick. Maybe, instead, it's a time to be cherished—having become over the years a celebration of the complicated mother, and woman, Mom really was. I'll lift a glass of champagne in her name and remember how lucky I am to be her daughter.
A version of this post originally appeared in this newsletter by Linda Gray Sexton.
Linda Gray Sexton was born in Newton, Massachusetts in 1953. She is the daughter of the Pulitzer-Prize winning poet, Anne Sexton, and graduated from Harvard in 1975 with a degree in literature. She has published four novels: Rituals; Mirror Images; Points of Light; and Private Acts. Her three memoirs include: Searching for Mercy Street: My Journey Back to My Mother, Anne Sexton; Half in Love: Surviving the Legacy of Suicide; and Bespotted: My Family's Love Affair With Thirty-Eight Dalmatians. Linda is now at work on a fifth novel, and writes a bi-weekly newsletter/blog, which is available on her website. There you can also read more about her, as well as excerpts of her books. Linda lives in California with her husband and their three Dalmatians.
Copyright 2017 Linda Gray Sexton