Here's the thing about birthdays: When they go as planned, they can be a day full of celebrations, fresh starts and warm and fuzzy Facebook notifications. But they can also be a crushing disappointment when expectations are too high -- not to mention, admitting another year has flown by is anxiety-inducing enough. So this year, instead of putting myself through the entirely self-generated cycle of hype versus reality, I decided to just leave the country.
My best friend and I booked a birthday trip to Greece, land of luxurious beaches, gorgeous sunsets and more than a little history. There's no way expectations can't be exceeded when you're in a country like Greece -- and out of your typical routine. Here's how we made the most of it: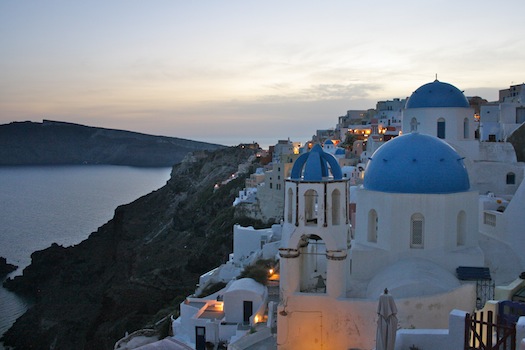 1. Skip the planning.
When I travel somewhere new, every second should count -- I want to see it all and experience each city and country like a local. So I'm the kind of traveler who color-codes her packing list and spends weeks researching and Pinning all the must-see sites and restaurants at any given destination. But on the night of my birthday, which we spent in Santorini, we ditched the guidebook in our hotel room (at the simple yet homey Rena's Suites) and opted for wandering the white-walled town of Oia on our own. We ended up watching a stunning sunset over the Aegean Sea and stumbled across the restaurant Skala (which actually did come recommended in my trusty Lonely Planet book) for a delicious calamari and souvlaki dinner. I couldn't have planned it any better -- no highlighters necessary.
2. Splurge on something -- anything.
I'm also the kind of vacationer who prefers hostels to four-star hotels, and eats appetizers as entrees to save my money for the bigger flights and adventures. But it's worth it to shell out a few extra bucks to make the night feel extra special. We kept our breakfasts and lunches small to splurge on decadent dinners at places like Strogili. The euro doesn't do the American dollar any favors, but we still managed to eat like queens -- and we always had a few extra euros for the country's amazing gelato. On my best friend's birthday, we upgraded from regular seats to VIP on our six-hour Blue Star ferry ride from Mykonos to Athens -- the luxury of meals delivered straight to our seats and full couches to stretch out on was well worth the price increase.
3. Make time to unwind.
The whirlwind of adventure is fun in its own way, but when you're abroad for a special occasion, relishing in that fact is just as important. I constantly have to remind myself that it's a vacation, which means it should be a break from the craziness of my day to day routine. Lounging by our pool in Santorini and lazing around the Mykonos Palace Hotel were perfect for unwinding, but just as relaxing were the moments when we watched dusk settle in over Oia from a residential path the homeowner was kind enough not to kick us off of; or got lost practically a hundred times in the winding maze that is Plaka, in Athens, as we tried to find the restaurant we'd eaten dinner at once before; or as we took in the view from atop of the still active volcano, Nea Kameni, that created Santorini's caldera nearly 4,000 years ago. In those moments, we may not have been poolside or sleeping in, and yet those were the moments I felt most at ease -- and the ones that made being so far from home on a day typically meant for friends and family so worth it.