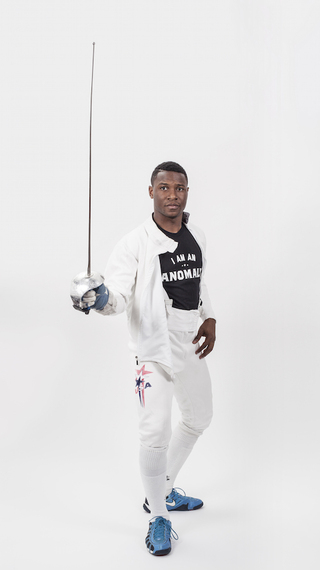 When interviewed about the ingredients of success, music great Quincy Jones put "addiction" at the top of the list. "The people who make it to the top," he observed, "whether they're musicians, or great chefs, or corporate honchos - are addicted to their calling....[They] are the ones who'd be doing whatever it is they love, even if they weren't being paid."
The kind of addiction to calling that Jones describes may well be a key to success--but it's also a pretty risky business. And no one knows better the risks and rewards of following a consuming passion than an Olympic athlete. The average Olympian will live below the poverty line throughout his or her training--and will return to "normal life" after the games facing daunting questions about how to make a living and jumpstart a delayed career.
Moreover, the drive for athletic excellence on the world stage will exist, for most Olympians, in a sort of parallel universe. As peers finish degrees, carve out career paths, find professional mentors, and tackle long-term savings goals-- the world's elite amateur athletes will dedicate their focus to the right now. To performance in the moment. This heat, this match, this next formidable opponent.
After all (the reasoning goes), the Olympics won't wait--and an athlete's career is pretty much finished by the age 32. If the addiction to this calling is to blaze and burn, long-term career goals must simmer quietly on the back burner.
Challenging the "Present vs. Future" Dichotomy
But America's number-one-men's sabre fencer is slashing his way past that either-or paradigm. Rejecting a model that leads to all-out training now and "flattened bank accounts" later, 24-year-old Daryl Homer, a 2012 Olympian, is pioneering a new model of training while full-time employed. His goal is to give his all to training for the 2016 Olympics, while continuing to follow a full-time professional career path he began in 2013.
He's doing it with the support of his employer--and not as a worker on sabbatical. Rather, he is, as he terms it, "a participant in the hybrid economy" that prioritizes the blending of calling and passion with innovative professional contributions.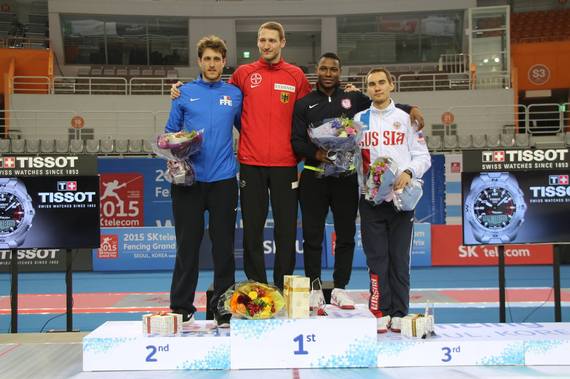 Innovating the "Hybrid Economy"
What does the hybrid economy look like? In Homer's case, while he pursues a full training schedule, he will also continue to work full-time for Anomaly, an international advertising and marketing agency that represents the national athletic retailer and USOC sponsor Dicks Sporting Goods and major athletic and culture brands like Nike and Converse (as well as other giants like Budweiser, Procter and Gamble and Johnnie Walker).
Whereas most marketers dream up taglines and campaigns for a world of performance they will never actually experience--Anomaly (true to a corporate philosophy of exploring new forms of connection and collaboration) is putting Homer to work in the ultimate immersive market research project. His job as he trains is to provide insider knowledge of the needs, desires, challenges, and culture of the world's most elite amateurs.
Homer says he set his sights on working for Anomaly three years ago after competing the 2012 Olympics--and from his first interview emphasized the value a champion athlete could bring to the firm's clientele. Anomaly liked Homer's creative blending of athletics with marketing sensibility and offered him a job. Since then, he has worked the 55-60-hour weeks typical of those proving themselves at their dream job.
But when decision time came to either train for Rio in 2016 or continue with full focus on his work for Anomaly, Homer wondered whether there might be a solution that would combine the two.
"When I leave the sport, I want to know I gave it my best," he says. "And at the same time, I love my work and don't want to leave my job."
Anomaly offered him the chance to have both: "They had the foresight to see that there's value in getting strategic insights about being an Olympic athlete."
An Outlier's Journey--from the Bronx to Rio
While fencing has been Homer's guiding passion since he first became fascinated with the sport as a five-year-old growing up in the Bronx--he says he never planned to "just be a fencer." Instead, he imagined finding ways somehow to to marry his love of the sport with a lifelong career path.
For Homer, thinking outside the box is nothing new--and neither is sensitivity to economic realities. He dominates a sport that is famous for being the province of the wealthy and the white. Moreover, he's campaigned for years to democratize fencing and bring more diversity into the sport that's given him world travel, friendships, great teachers, and the chance to be his best. (That work includes speaking to youth in inner cities and offering fencing classes through the nonprofit Fencing in the Schools.)
He takes pride in challenging every kid who says, "I'll never be able to afford that."
On an even more personal level, America's number-one fencer has also been shaped, as few in his sport have, by financial challenges--as well as by opportunities made possible by philanthropic programs.
Homer, born in the Virgin Islands, came as a young child to the Bronx with his mother and sister. He never knew his father, he says, and his mother worked hard to support the family. When he expressed serious interest in fencing, his mother took him to the Peter Westbrook Foundation in New York City--a program founded by six-time Olympian and 1984 bronze medalist Peter Westbrook and dedicated to exposing kids in the inner city to fencing.
Homer excelled in the sport and was quickly identified as a promising young athlete.
He also saw the opportunities fencing offered him as keys to education and all that would come after fencing--including his financial future.
What the 9-5 Has to Offer a Top Athlete (and Anyone Else)
"Maybe it has something to do with growing up in a family that didn't have much money," he says. "I was always interested in how to save and how to plan for the future."
Issues like savings strategies and retirement planning, he adds, are foreign to most top athletes. With the spotlight on today's training or tomorrow's, a majority of Olympic athletes wait on financial planning. And when you're putting off career and regular paychecks, "it's not as though you're going to have a lot of financial options anyway."
But maintaining a foothold in the professional world, he maintains, is about more than having the set of spending and savings options a paycheck provides. It's about being pushed to hone your skills, so that you become more valuable as an employee.
"I see people around my age interviewing for jobs saying, 'Well, you should hire me because I have a successful blog.'" But, he reflects, you learn from serving clients how much more there is to being valuable in your field than being able to point to solitary successes like a blog.
For Homer, staying employed is also about having access to a culture that includes the possibility of financial mentoring--the day-to-day conversations with people who will push you to think about your financial future.
"When you look up to the people you're working for," he remarks. "It's just natural to ask them for advice on 401K contributions. Or what a Roth IRA is. Getting that education came from just being around two or three people at my job who were close mentors"
So now, the young man who might be considered Anomaly's greatest anomaly, is embarking on a professional journey to explore what athletes need most from the brands that serve them, as they pour themselves into breaking records and winning gold. And he will conduct that research as he prepares to smash past more barriers in his own sport, on his way to Rio.
How do you pursue a great addiction to an unpaid athletic vocation? The answer that jumps to the tip of nearly every athlete's tongue, " You 'just do it.'"
Daryl Homer might add: On your own terms, in your own voice. With an eye to the future. And, with the help of great mentors.
(Want to follow along with Daryl Homer's journey to Rio? He'll be tweeting and Instagramming his behind-the-scenes Olympic training insights under the handle @DarylDHomer.)