'To cherry blossom' may not be an actual verb phrase but it should since blossom viewing actually requires a lot of action. Whether you're in Japan already or contemplating a future trip, here's how to get your hanami (blossom viewing) on like a local.
Assemble your picnic.
Tradition calls for eating and drinking under the blossoms either during the day or in the evening by the light of colorful lanterns. Whether with your work mates, your family, your friends, or just on your own, food is an integral part of the celebration.
Japanese have always prepared beautifully handcrafted sushi rolls and homemade treats for such outings. These days, though, an equal number stop by the supermarket to pick up ready-made food -- especially when it's an office party. Supermarkets and convenience stores have thoughtfully prepared all sorts of grab-and-go treats.
This is the time of year you can consume alcohol in public at your picnic as long as you don't walk around with an open container. So pick up some beer or wine or just a bottle of cold Japanese green tea if you prefer.
Remember that shrines and temples do not allow picnicking usually.
Get a picnic mat
Japanese hate to get their clothes wet or dirty and will not sit on the ground without a plastic sheet, newspaper, handkerchief, something between them and mother earth. Everyone, young or old, either has a picnic mat at home or knows where to get one on short notice.
Hundred yen stores -- the local equivalent of the dollar store -- stock picnic mats year round. They call them 'leisure sheets' or 'leisure mats'. If you can't find a mat, or just can't be bothered, a newspaper will do. (All convenience stores have newspapers.)
There are strict rules regarding leisure mat protocol. Do not wear your shoes on your mat. That's the sign of a barbarian. Remove them and place them alongside. Also, try not to step on other people's mats while settling in.
Pick your spot
The crowds at well-known viewing spots like Ueno and Shinjuku Gyoen parks are legendary. More people than blossoms per square foot on prime viewing days, or so it seems.
If you want to experience the season like a native, you'll dive right in. Japanese love group activities. For them, there's actually a happy sense of belonging in these kinds of crowds. A feeling that, 'Yes, we too are Japanese'. People are good natured about the congestion and no one is really in a hurry anyway.
Nevertheless, everyone wants a prime spot right under one of the trees. These can be hard to find by mid-afternoon. Companies large and small often send one of the junior staff to stake out a place until the rest of the crew can get away. You'll see them, bored, on their phones, in a suit, shoes off, sitting on the mat on guard duty for hour after hour.
Hint: If you hate crowd scenes, get up early in the morning before the rush. Although temples and shrines don't open before nine a.m. generally, you can hit the Meguro River, the area around Chidorigafuchi (Imperial moat) or Ueno Park at dawn! The Starbucks in the center of Ueno Park opens at eight a.m. So, instead of a picnic, go for breakfast.
Party on:
For the average Japanese, hanami is not about sitting in quiet contemplation and writing haiku on the ephemeral quality of life. Not that there aren't people who still do this, of course. Just not in Ueno Park. There are a lot of revels going right up until evening. Don't be surprised if the noise escalates along with everyone's blood alcohol levels.
Spread out your mat and your picnic. Be friendly to your neighbors. If they offer you a drink or a bite of their picnic, be sure to offer some back. As a visitor, watching the crowds stroll by is almost as entertaining as looking at the trees. Oh, and just because others are getting drunk, doesn't mean you should as well.
Clean up
People here are a neat and tidy bunch for the most part. All the parks popular for hanami have designated trash areas for burnables and non-burnables.
Where to go
Visitors will be surprised at the sheer number of cherry trees around Tokyo and indeed all of Japan. It's hard not to see a cherry tree in bloom in early April. There are stands of trees bordering little streets and busy boulevards and in the most unexpected places.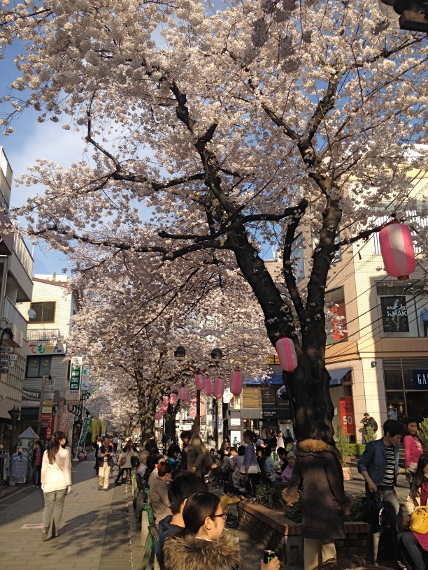 Honestly, people will picnic anywhere. This is a little shopping street with blossom-lovers camped out between the Gap and a supermarket.
Ueno Park, despite the crowd is one of the locals' favorite spots for picnics. (Ueno Station on the JR or metro lines.) Nighttime illumination is on until just 8 p.m. With April 12th the last day.
Chidorgafuchi, isn't a picnic spot but a beautiful stroll with massive trees on both sides of the moat. You can also rent row boats to get right up to the branches hanging over the water. The lanterns are turned on until 10 p.m. to April 12th. Really the best place for night viewing in my opinion. (Kudanshita Metro Station. Follow the moat to your right for the long promenade. Make a U-turn and come back when you're done.)
For more detailed info on the best cherry blossom viewing spots around town and how to get there, have a look at my guide in Huffington Post.
Related