You've seen stunning homes where the interior design blows you away. The design isn't always in keeping with the architectural style of the home – but it looks so amazing and seems to work just right. How do they do it?
Thoughtfully integrating intricate details of a Queen Anne Victorian for example, with clean modern lines and sleek sophisticated furnishings is a challenge. But it can be done! And with the right approach you can create a stylish result that is both impressive and welcoming. Don't let the architecture of your home constrain your interior design style. Make it your own, and be fearless. But plan carefully so the final result is cohesive and intentional - rather than a mish-mash that doesn't honor the architecture or your personal style successfully. Let's talk about how its done.
Combining design styles is a challenging feat to pull off, but definitely a common one that can be conquered. This is one of the biggest challenges of interior design, and one that's important to explore with a professional if you want a polished result. I'm constantly asked how best to go about choosing a design style that works in harmony with a home's structure and how to ensure taste and aesthetic preferences of its owner are met at the same time. My background as an architect and an interior designer provides a great combination of expertise to draw on, in order to share advice that works.
This can be tricky, but asking yourself the right questions along the way will deliver a result you're thrilled with. Do you love Traditional, Transitional or Modern style? Or is Victorian, Colonial or Cottage more your taste? Cape, Colonial, Antique Historic, Farmhouse, New Englander, New Construction, Four-Square, Ranch, Split or Modern. Before you can map out a plan to determine what needs to happen if your taste in interior design doesn't match the architecture of your home - you need to define your interior design style.
Based on my experience with the full gamut of client preferences, as long as you blend elements thoughtfully with a specific, unified vision in mind from start to finish, departing from the architectural aesthetic of a home in order to indulge your interior design preferences can be achieved gracefully. And this is how the home of your dreams is created:
Victorian: If you own a Victorian era home with a lot of trim work and detail, but you prefer clean lines, you're not stuck using intricate patterns and detailed furnishings throughout. Just because that was the fashion of the day when your home was constructed, doesn't mean you need to follow that through in your own interior design. First, be decisive about your interior design style. And then carry that out throughout the home. French Provencal style is a great option in a Victorian structure to utilize a neutral color palate, curvilinear lines and subtle tones in a way that works fantastically in harmony with the architecture and not against it. You can even use clean lines in your interior design style, with whites, greys or other neutral tones and enjoy plenty of dimension thanks to the architecture, which creates depth and interest.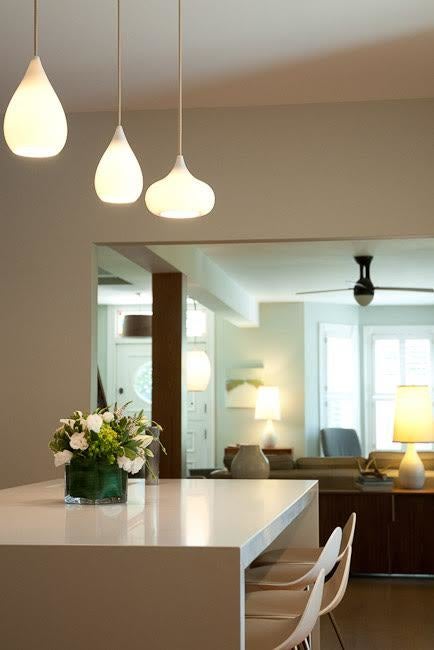 Cottage: Many clients love the idea of creating a casually elegant cottage style or beach cottage look. But their homes are an architectural departure from a true cottage. Easy enough. Just think about a light, bright and white approach with interior colors that draw from nature. White and blues evoke ocean and sky. And you can transform the feeling of your space by painting dark interior wood white to create a light, airy feeling. Interesting rugs with intricate patterns and textures, solid furniture, white cabinetry and splashes of vibrant color bring this concept to life.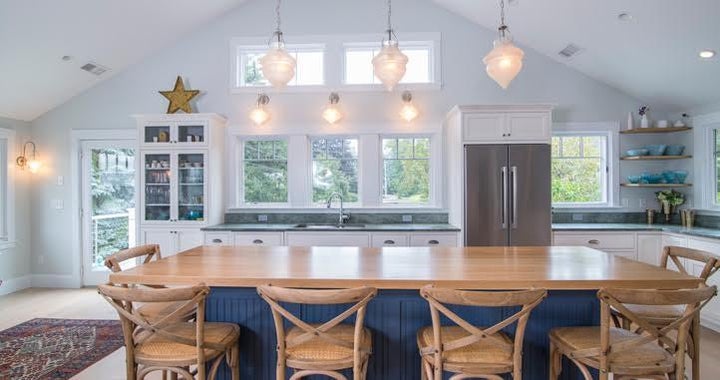 Historic or Antique: If you live in an historic home but you tend to gravitate towards modern or transitional interior design, I recommend blending the styles gracefully with reclaimed wood and subtly patterned, modern rugs. Complemented with simple-lined furniture and white or neutral walls, the result can be gorgeous.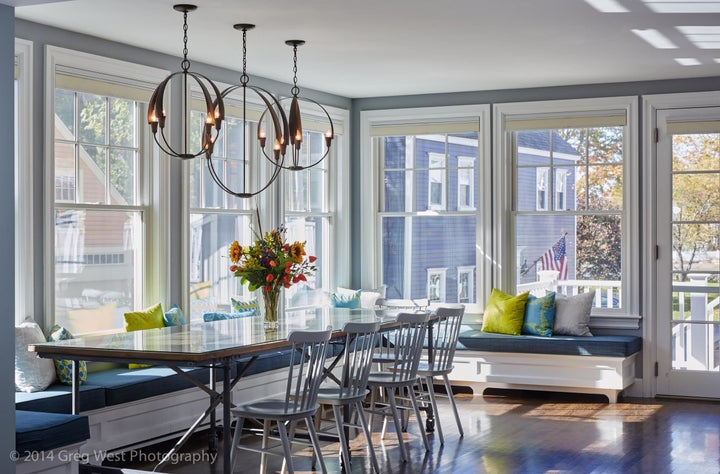 Overall, being sensitive to the blending of existing architectural elements with your desired interior design style will take you far when it comes to creating a cohesive look that doesn't look like an accidental combination of styles that contrast in jarring ways.
Ignoring the elements of your home's architecture when you select an interior design style can create a result that is surprising – and not necessarily in a good way. The most important advice I can impart, is to be thoughtful and decisive about the look you're going for. Especially if it isn't in keeping with the architecture of the home.
Allow your style to shine throughout your home with key elements that unify your chosen look, such as side tables, lighting and accessories. Living in a home that reflects an interior design style that feels perfect to you, also creates a welcoming and happy space that is enjoyable and inviting for guests. If you have questions about how to make this happen, talk with an architectural and interior design professional. You don't have to be married to the era or the architectural style your home was built in. When it comes to interior design, the possibilities are truly endless and the most satisfying results are achieved when you map-out a plan that matches your personal interior design style. This is the way to create a house that is truly where you feel most at home.