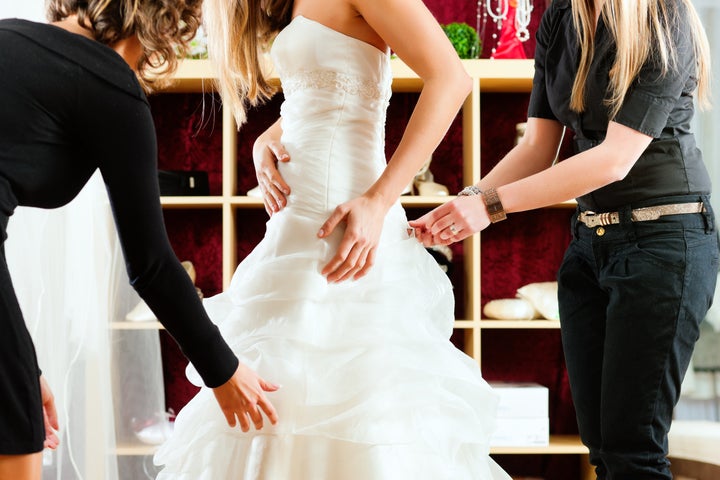 What's the one thing you must FORGET about when you're deciding what to wear on your wedding day?

Fashion.

Follow fashion when you're choosing your bridal gown and the chances are that in a few years, you'll be shuddering every time you look at your wedding photographs.

Have great legs? Want to show them off in an on-trend mini dress? Well, go ahead but you're going to look as dated as Mrs. Brady in "The Brady Bunch" in a few years' time.

What else should you avoid? Well, halter necks might be having a Halston retro moment just now but the same rule applies -- they aren't a classic look. Neither are Dynasty-era puffy sleeves.

So who gets wedding attire right every time? Whose wedding photographs have never dated and which 50-year old bridal frocks could still be worn today without looking old-fashioned?

According to top wedding dress designer Sassi Holford, you should look to Britain's Royal Family for guidance. (Sassi dressed Autumn Kelly for her wedding to Queen Elizabeth's grandson Peter Phillips.)

Kate Middleton's lace wedding dress is a classic, as was Zara Phillips' gown. In fact the only Royal bride who really put a foot wrong was Diana, Princess of Wales, in an overfussy frock that swamped her slight frame.

On behalf of brides-to-be, I asked Sassi to share how brides can choose a wedding dress they'll love forever based on her years of experience. Here's what she had to say:

"Firstly, don't impulse buy. Like any purchase, do some research beforehand. Think about your personal style and how you want to feel on your big day and bear in mind that your starting point won't necessarily be where you finish. You could wear a slinky red carpet dress but it might not make you feel like a bride. You're looking for a final silhouette that makes you feel fabulous -- slim hips with broader shoulders. "

Another wedding guru I consulted was award-winning bridal stylist Ellie Sanderson, who runs two successful bridal boutiques and has helped countless brides choose their dream wedding dresses. Ellie had this interesting comment to make about celebrities:

"With all the resources celebs have, they can get their wedding dresses very wrong. It's because they are trying to achieve the unachievable and be everything all at once. As a bride you need to have a clear vision and make a choice -- are you going to be traditional or fashionable? You can make a 'nod' to current fashion but don't take anything to extremes."

So what's a nod to current fashion? Well, Kate Middleton has certainly put lace on the wedding map and a lace wedding dress is the perfect blend of fashion and classic bridal style.

Choosing your wedding dress is probably one of the first things you'll be doing when planning your wedding and you should try on as many gowns as possible before making any decisions.

I asked Sassi and Ellie whether they thought brides should cover up or show off their figures. The pair agreed unanimously that it's much classier to cover up, they suggested brides hint at something rather than brag. They also suggested uncovering little by little as the day wears on. So at the ceremony wear your veil and a matching lace shrug or jacket if you're in a strapless dress. Then when your reception is underway you can remove whatever is covering your shoulders and work a more 'glamorous' look.

I wish I'd had this advice when I chose my wedding dress. I picked out an overstyled, off-the-shoulder number, which featured enormous silk roses (very en vogue at the time) and yes, I do wince when I look at myself in my wedding photographs. If I could choose my dress again I'd have something much more classic and simple, as Sassi and Ellie advise.

So girls -- go wedding dress shopping, enjoy every minute of trying on gorgeous gowns but bear in mind the invaluable advice of the experts and you'll love the dress you choose forever.
Support HuffPost
A No-B.S. Guide To Life
Related
Popular in the Community