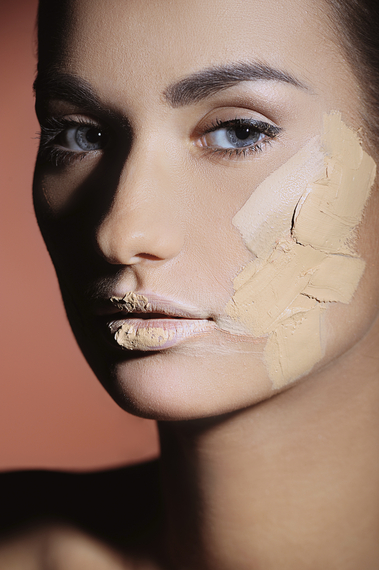 How often have we heard that "your face is a canvas"? Really?! Who said it was a compliment to think of our face as a flat surface made for painting? I don't know about you, but the faces I work with (including my own) have many different dimensions, shades, sensitivities and needs. Why then, do we think one color or type of foundation will be able to provide an all in one solution?
First, let's decide how much coverage you want. Sheer Coverage is good for light minimal balancing needs, more like a Tinted Moisturizer. Moderate Coverage is a good choice for discoloration, minor redness, light freckles, some acne and evening out the skin tone. Liquids and creams would be ideal to hydrate and balance. Full Coverage is good for covering discoloration, hyper pigmentation, acne, scars, burns, birthmarks, bruising, sun/age spots, and more. Creams would be the ideal choice for coverage and versatility to balance.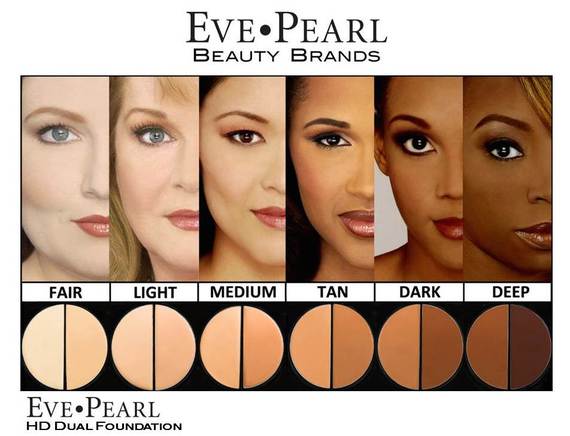 We've all grown up seeing women (could have even been you) testing the shade of a foundation on the back of the hand. When was the last time you held up your hand to your face? It is rarely the same shade. The best place to test the color of a foundation is on the side of your face between your cheek and jaw line. Your goal when you apply the foundation on the lower part of your face is to find the color foundation that appears the same shade as your neck. We've all seen women with a face one shade and the rest of the body a different shade (it could have happened to you).
It usually takes a darker shade to cover discoloration issues. A shade that matches your skin tone (on the lighter side) is best to have on the lower jawline, as this is the closest place to your neck. When possible, having 2 shades of foundation is the best way to achieve "natural" looking coverage. This is also the ideal way to create contouring. (Contouring Blog)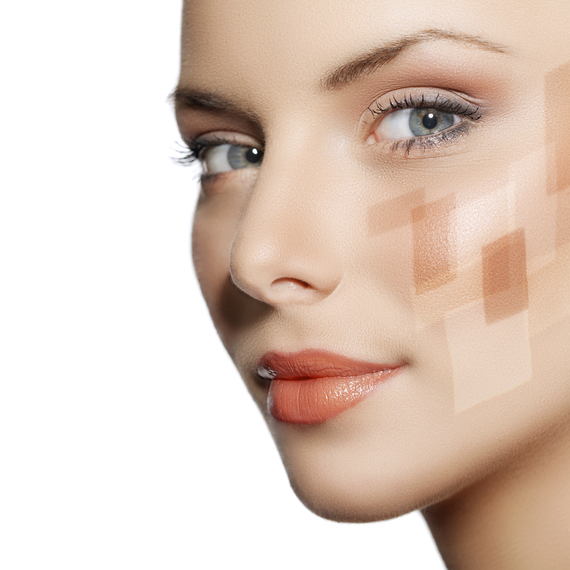 Caucasian skin tones have a tendency toward discoloration and red pigmentation in the face, which is the cause to flush and skin can become red and blotchy. A foundation with some yellow/beige pigment to balance out the redness is ideal for this skin type. Stay away from too light, pink or orangey tones...they will get chalky, pasty or create a makeup ring around the face.
Mediterranean/Latin/Asian skin has a tendency to have discoloration and a more olive tone to the skin. Beige/neutral toned foundations work best. These skin types should avoid anything too yellow, which can make the skin look sallow and pasty.
Women of color can have a tendency for discoloration and at times oilier skin, which can turn the foundation darker with time. Choosing shades with warm honey tones and avoiding overly yellow or olive shades will prevent the foundation to turn ashy and grey.
Foundation can be applied with a brush, your fingers, a non-latex makeup sponge, or a combination of the three. When using liquid foundation, dot on your T-zone (across the forehead, down and around the nose to your chin) and using your fingers or a makeup sponge to blend the makeup out toward the hair line, cheeks, and jaw line. When using a cream or wet/dry foundation, glide a brush over the foundation to pick up the product and apply to your face. You can dab it in the proper places. (a brush will help you with the placement). Then, using a non-latex makeup sponge, glide lightly over the foundation (and concealer) with outward strokes for best blending. By making the non-latex sponge slightly damp, you can control the amount of coverage you are left with. The more damp the sponge, the more sheer the coverage.
When applying foundation, don't forget to blend down to your jawline...you should not need to put makeup on your neck. If your foundation combination is correct your face and neck should match.
When you are buying products at a cosmetic counter, carry a mirror with you. Go outside and check your face with your neck in the natural light before making a purchase--that's the true test.
When applying foundation, don't forget your eyelids, in the corners of your nose and over your lips (it will make anything you apply over it stay and last better.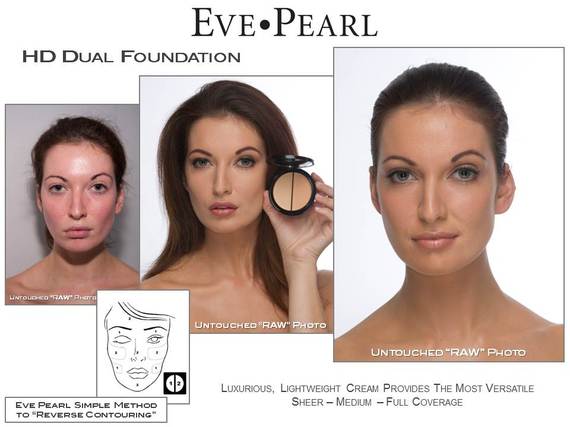 After applying foundation, if you feel that there might be too much on, simply blot with a tissue. This will eliminate excess oil or moisture from the foundation. You can also take a damp sponge and gently go over your makeup that will help sheer things down.
Try not to get stuck with using the same color or texture for your foundation all year round. Your skin changes with the seasons. At times it's dry or oily. It also gets slightly darker/redder in the summer and paler in the winter. Try to adjust your makeup to your skin.
During summer months, you might need to add some color to your neck and under your chin. It's the one area that seems to miss the sun. So, your face and chest might be one shade and your throat area another. Usually, I suggest matching your face to your neck. However, in these cases, try to apply a blush or bronzer to your neck area with a fan brush with a light dusting.
Try experimenting with different products. We sometimes spend more time shopping for things we put on our feet or under our clothes than we do for products which go right on our faces.
The most important thing to remember when choosing a foundation is that is it supposed to make us look better and feel good. It should not make us look or feel pasty, cakey or uncomfortable. It is not a shield to cover us or camouflage us. It is there to help balance out our skin tone and help us feel our best selves. Keep in mind, less is more...and you can do it. Look perfectly natural and flawless...with a little help from a good foundation.
The descriptions above are a general guideline.