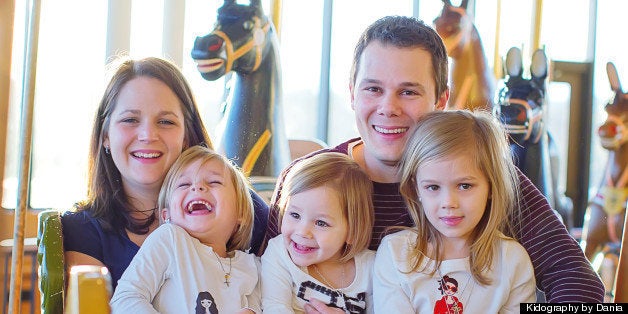 In this life we have choices, so many choices. We can choose to smile when we wake up, we can choose to laugh when our heart hurts and we can choose to stay mad and hard when someone hurts us. We choose.
On February 3, 2012, my lovely, kind and compassionate 5-and-a-half-year-old daughter, Madeline, was diagnosed with Diffuse Intrinsic Pontine Glioma, known in the medical world as DIPG. We learned that day that Madeline had a rare, inoperable and basically untreatable brain stem tumor that would take her life in weeks, months, or even, as we learned, days.
As we got the diagnosis, I was sure a doctor would run around the corner and tell us, "Wait, I am so sorry. We were wrong. Maddie has..." I don't know what I hoped for -- anemia, treatable brain tumor, anything else but this. But in our story there was no doctor running up to change her diagnosis. It was terrifying. It was unreal. I think in a lot of ways it is not possible, still, for my brain to fully understand.
I remember my husband, Matt, and I standing in the hall talking to the pediatric neurosurgeon. He was talking about scans and medical terms and the fact that Madeline would die. I remember feeling very scared and shocked. But his next words changed everything for us. He told us, "Enjoy this time, even though it is hard, make the best of it. You will have a long time later to grieve and be sad."
That moment stays in my brain to this day, and was the focus for the rest of Madeline's unbearably short life. In the days left, we would live life in the way that Maddie loved. We would enjoy our time, and use our "forever" to miss her. She was here now and needed her little sisters, Amelia and Lucy, her family, her friends and lots of fun.
We left the hospital to pick up a prescription at Target, what would be my last Target date with Maddie. I kept thinking how ridiculous it was that I found out my lovely had cancer today when really all that she needs is a little steroid from Target.
I went to the pharmacy while Matt and Maddie went to buy a camera for her to take her own scrapbook pictures (she took 573 pictures in 5 days). We met in the middle and Maddie picked out a new shirt and sparkly Hello Kitty shoes that didn't need to be tied because she wanted to be able to put on her own shoes.
In the car ride home I said to Matt, "What are we going to do?" Matt told me, "Don't worry, Erin, Madeline will tell us what she wants." And in so many ways she did.
Our families were already in town. They had travelled in from all over, trickling into the hospital all day, working on Maddie's Valentines, cutting pictures for her "100 Days of Kindergarten" project and painting fingernails. We went home to a welcoming party of our family happy to see Madeline home. We were honest with our family and asked them to keep their spirits up and enjoy Madeline. She was here and needed happy, full and simple.
I loved being surrounded by our people. I really treasure the moments that it was just our little clan -- myself, Matthew, Madeline, Amelia, Lucy and Maddie's trusty sidekick, our dog, Sparky. Waking up those mornings to quiet and normal are something I miss so much. Amelia and Lucy, 4 and 2 at the time, didn't understand what was coming, but they knew Madeline was sick and we were all in this together.
My girls were unique in their bond. Maybe it was the fact that in less than three years we were insane enough to squeeze in three lovely ladies. Maybe it was just the way God made them. They were so close. They slept together on one bed for most of their childhood. Madeline was made to be Amelia's big sister and she was definitely Lucy's little mommy. She was always making sure everyone was OK, and fed and happy. Madeline seemed to be preparing all of us, in some way, for what was to come.
The day after we received the diagnosis, the world started moving mountains for our family. Our incredible friends and family made our little adventures and living simple, perfect and exactly how Maddie needed them. I told everybody that the next few days we needed a retreat, somewhere they would all come up and be with us. In those moments friends and family contacted each other and coordinated and setup and made miracles.
She really wanted her very own room with a TV in it, just like the cottage we stay in when we vacation on Lake Ontario. So the mountain-movers got to work and Madeline's very own room was set up in one afternoon, in our house, in the old nursery, with a new bed, desk, chair, decorations and, of course, a TV. That night, she hosted a slumber-party movie-night for her sisters and cousins, complete with candy and popcorn in bed. I remember her waking up the next morning. Matt had slept on the floor next to Maddie. I could see her making her bed all proud, telling Matt, "Meme and Lucy can't mess this up. It's my own bed."
That day Madeline made her first communion and confirmation, with a lovely white gown, gloves and Hello Kitty barrette. After, our friends pulled together a beautiful celebration with a fancy two-layer cake and catering and decorations (mountain moved). After Maddie's celebration, we headed to Lake Placid to enjoy a little family reunion in an 8-bedroom house donated to us for those days by friends.
We wandered Lake Placid, made pottery, explored the ice castle and simply spent time together. It was the last place Madeline smiled, swam or saw most of her family before she became an angel. It was the home of her very last "Best Day Ever."
I had no idea that Madeline would be gone so soon. I didn't pray that Madeline would live. I knew she wasn't going to. I prayed that Madeline would stay Madeline for as long as she could, and that God would take care of her. I was scared for all the pain and hardship and disappointment she would have to live through with this disease. I was angry that her last days, weeks or months could be full of vertigo, nausea and loss of her senses and functions. The doctors had said that eventually she wouldn't be herself, and I hated that part the most.
I feel that our miracle was just that, that Madeline was Madeline, the one we knew and loved, right up until she became an angel.
Do I wish I had more time and hugs and moments? Every single second. Do I wish God let me take care of her instead? I do, with every bit of my being. Do I know that she is OK, at peace and even happy? I do.
How do you prepare your child to die? I think she was prepared, and I know that she was ready. We didn't have time to tell Madeline what was coming -- we had no idea really what was coming or that it would be so soon. I think in the end it was less about preparing her as it was facing the fact that we were -- and in many ways, still are -- so thoroughly unprepared for her to go. I think it is harder for us to continue our living journey knowing what we are missing. I think I have the most amazing person to miss.
Keeping Maddie in Our Lives
Amelia and Lucy were with Madeline when she passed away. They understood. They miss her like crazy. They have hard days. They understand life so differently than most kids. They are the reason our family continues to live, move, breathe, cry and enjoy. They are a gift in this crazy, hard and messy story. They talk about death and loss and living like other kids talk about friends and cool shoes and lunchroom chat. Amelia and Lucy's new normal is that they have an angel, that Madeline is in Heaven and that she is in their hearts and constantly bugging them.
They love to have picnics at Maddie's spot and send balloons with kisses and love to Mads. They love to share treats with her and to tell her which stones have bird poop on the tops for her to make sure they get cleaned. They are not normal kids. Their life so far has been extraordinary. They are full of openness and compassion and bluntness, things that even adults forget about. They are honest about their feelings and ask questions when they wonder. They are amazing, the way that they are finding and keeping Maddie in their lives, hearts and futures.
In this past year so many days go by that we could have chosen to give up, to go back to bed, or chosen to not see an amazing, simple and small sign that God is taking care of us. We could choose to be angry, or bitter or jealous of other families. Instead, we choose to follow our journey and create our adventures. We choose to live. And in these choices, we bring Madeline along. In these choices, we honor her.
Two months after Madeline died, we founded Maddie's Mark, a not-for-profit foundation dedicated to helping families with sick children enjoy "best days ever." It is one way our family works to share Madeline's spirit and carry on the life-affirming lessons she taught us.
The act of building and supporting this foundation has helped my family start to heal, work toward a common goal and share Madeline's story with so many people. It has given us a reason to function on days that we didn't want to. It has introduced us to families that I know we were supposed to meet. And it has allowed us to show people the importance of living life in the simple, creative and joyful ways Maddie so loved.
No person knows what paths we must take on this journey. No person knows what tomorrow or next month will bring. But every person should live like Madeline. Every person should do the best they can to enjoy the time they have. Every person should choose to enjoy -- to breathe, laugh, smile, cry, run, watch, play, walk, think, create.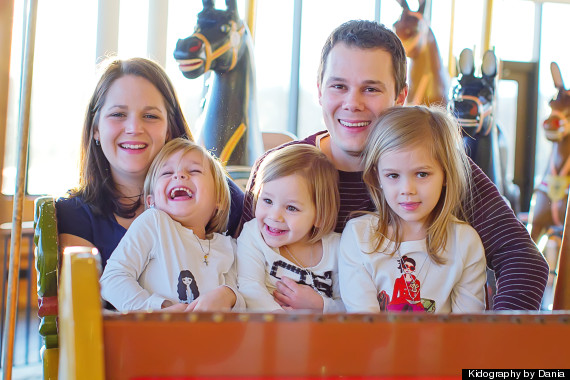 Related