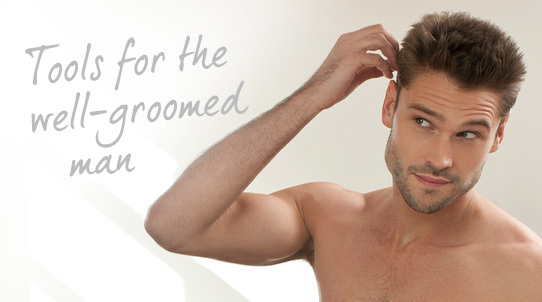 The grooming industry for men is booming and all signs indicate it's going to continue growing. It wasn't that long ago that men grooming was generally seen as being less macho, but today those opinions are largely gone and the act of men grooming has become mainstream. As a result there are countless grooming products being created for men.
Whether it is hair or skin care products, more and more men are choosing to make grooming a part of their daily routine. Men are now shopping for these products by themselves instead of relying on their significant others to guide them in the right direction.
Why is it important for men to carefully choose grooming products? The answer is simple: ingredients. The majority of hair products, fragrances and skin care creams contain harmful chemicals that actually cause damage over time. Some skin care products advertised to moisturize and revitalize feel great at first, but users eventually find themselves experiencing skin irritation.
Here are some top ingredients to avoid when choosing grooming products for men:

• Acetylated Lanolin
• Butyl Stearate
• Octyl Palmitate
• Dimethicone
• Cyclomethicone
• Sodium Lauryl
• Sodium Laureth Sulfate
• Parabens
• Sulfates
• Propylene Glycol (PG)
• Polyethylene Glycol (PEG)
• Ethylene Glycol (EG)
• Diethanolmine (DEA)
• Triethanolamine (TEA
Why Choose V76 by Vaughn
V76 by Vaughn grooming products consist of natural ingredients that do not harm your hair or skin. It is difficult to find hair and skin care lines for men that don't include these harmful ingredients, but buyers can rest assured when they choose to purchase any of V76 by Vaughn's products. In addition to being made with the healthiest ingredients, V76 by Vaughn products feel and smell great. You will definitely feel refreshed after using the products.
According to studies conducted by market research firm NPD Group, about 25 percent of men are using some form of facial skin care product. Whether it's facial wash, moisturizer, after shave lotion, or something as simple as lip balm, more men are choosing to invest in daily grooming routines. When you consider the number of men that also invest in hair products, you can imagine the percentage being even higher.
Education is a big part of grooming so make sure to fully understand the products you're buying and be aware of the ingredients you're using on your hair and skin.
Mickey Colon from On-Site Studio Hair Salon provided this article. He is a licenses barber and specializes in Men's Grooming.
Mickey Colon from On-Site Studio Hair Salon provided this article. He is a licenses barber and specializes in Men's Grooming.