Once he pops the question, the planning begins and before you know it, it is your turn to pop the question to your bridesmaids. Deciding who will be standing next to you on your special day is a difficult decision that has no universal set criteria. Choosing how many bridesmaids you want and who they are going to be is entirely up to you. Deciding can be overwhelming, but there are a couple things to think about that can make your decision a little easier.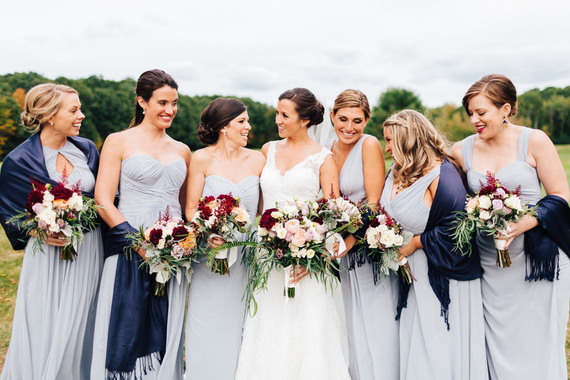 (Photo by Nicole Baas, Bridesmaid dresses via After Six, Floral Design by Lorina L'Heureux)
Personally, I think there should be a limit on how many bridesmaids you choose. At what number does it become too much? 10? 12? 14? One thing to consider is as you get older, your friendships change and your close friends evolve over time -- they move away, get new jobs, get married and have families, etc.. and that's normal! Don't feel obligated to have everyone you've ever known throughout your life in your wedding. Take some time and think about the women (or men) that are there for you when you need them the most. Are these the true friends and relatives that have been there through the ups and downs and will continue to be? When planning a wedding it is easy to get excited at the thought of including everyone, and we forget that sometimes less is more. Remember, that being a bridesmaid is a lot to ask of your friends -- dress, shoes, hair, makeup, attending all wedding events, travel fares for those who live out of town -- it starts to add up!
There are alternative ways to include your friends in the wedding process other than having them stand next to you in matching dresses! Have a friend you want to be involved help assemble favors, read a poem during the ceremony, or usher wedding guests. There are ways to have them be a part of the wedding without being a part of the wedding party.
Your wedding day is one of the most important days of your life, and when you look back on your wedding pictures 10 years from now you want to still be close to the people standing up there with you. Not only are your bridesmaids there to help you out on your day, but they also represent the people that are going to be there for you throughout your marriage so it's important to choose carefully.