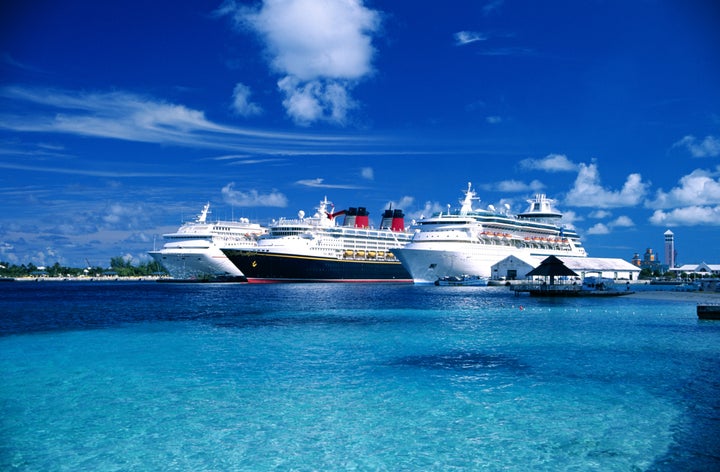 For Naples, Florida residents Jayne and Jack Lahti, picking a cruise is no easy feat.
"We're not your typical cruisers," Jayne told HuffPost. "We've tried a few different (cruise) lines, and you really start to figure out what you like and don't like. We mostly cruise because we like the itinerary. It's a great way to see a lot of places, or even places we may have been but want to see another side of."
According to a study conducted by Cruise Lines International Association, 26 million passengers from around the world will be vacationing on the high seas in 2017, a figure that has seen a steady rise over the last several years. More than a quarter of those cruises are between the ages 60 to 74, and another quarter are 50 to 59.

While there are a number of contributing factors associated with this upswing in cruising ― what with an ever-increasing number of cruisers, hundreds of cruise ships and thousands of destinations and itineraries to choose from ― there's no one size fits all when it comes to choosing the best cruise for you.
We've done a little legwork to help you get started.
Depending on the destination and the time of year, there are a number of things that determine the cost of a cruise. Like when booking a hotel room, holidays tend to drive up the cost of a cruise, as does the length of stay and the cruise line. A good rule of thumb when it comes to the price of a cruise is the smaller the ship, the higher the cost. And vice versa. While this isn't an exact science, the point is, the fewer passengers there are will likely mean the more exclusive the ship will be. Each ship you choose from comes with its own unique set of features, perks and amenities.
When it comes to your budget, mid-size ships—anywhere from 1,000-2,000 guests ― and larger ships generally offer a great monetary value, but may be lacking the personal touches and higher standard of service you'd find in a smaller ship. It's important to note that smaller does not necessarily mean better. For example, smaller ships can lack the on-board entertainment offerings and culinary options you might find on a mid-size or large ship.
There are a few size categories to keep in mind when it comes to cruise liners. Larger ships like those from Royal Caribbean or Norwegian Cruise Lines can hold anywhere from 2,000 to 6,000+ passengers, whereas a smaller expedition-type ship from Lindblad or Quark can hold up to 150 passengers.
Voted by Travel + Leisure's 2017 World's Best survey, passengers ranked Princess Cruises as one of the top ten mid-sized ocean liners due to their competitive rates and high quality service. With a total of 17 ships, including recently renovated cabins fleet wide, everything from the food to the quality of authentic shore excursions (including the local connections program) make Princess one of the most attractive overall mid-sized cruise lines to choose from. Likewise, Holland America Line, whose mid-size ships historically attract a more mature cruising audience, is consistently ranked among the best mid-sized ships in its class. For the second year in a row, Viking Cruises, which debuted their ocean liner Viking Star in 2015 and has been taking the high seas by storm ever since, was ranked the number one cruise liner due to its world class cuisine, innovative design and Scandinavian inspired décor, entertainment and inclusive value (more on this later) that includes stateroom, complimentary shore excursion and wifi.
3. See what's included (and what's not)
Typically, booking passage on a cruise will include the cost of your cabin, food in the main dining rooms and buffet and basic drinks. It's becoming more commonplace for cruise lines to offer special deals like drink packages or onboard credit at the time of booking or once you get onboard. There are a few cruise lines, however, that offer an all-inclusive package that go far beyond the basics.
Year over year, Regent Cruise Line seems to offer the most competitive all-inclusive deal pre-trip, including flights, gratuities, open bar (and en-suite mini bar), specialty restaurants, shore excursions, unlimited Wi-Fi, 24-hour room service, car transfers and hotel packages.
4. Opt for itinerary focused
Whether you're looking for an activity-packed itinerary or a variety of well-curated on-shore offerings, one of the most important things to consider before booking a cruise is the itinerary. And when it comes to cultural offerings, it doesn't get much better than Viking.
Viking Cruises—whose tagline is The Thinking Person's Cruise—has set the bar in terms of high-quality cultural immersion experiences. Viking's "Culture Curriculum" includes world-class lectures on history and art, personalized opportunities for learning with the Viking Resident Historian program, vintage wine tasting and menus inspired by local cuisines, and onboard cooking school allowing guests to learn how to prepare local specialties.
Azamara Club Cruises also focuses on destination immersion with Azamara Club Cruises on Azamara Journey. Azamara Quest offers more overnight stays and late departures than any other cruise line, a nice option for those who want to get a deeper more comprehensive look into any given destination.
Cruise food often gets a bad rap, but from the culinary arts kitchen program on Regent's Seven Seas Explorer to the Chef's Table experience on Caribbean Princess to a Cirque du Soleil dinner show experience onboard the MSC Meraviglia, dining on the high seas has come a long way over recent years.
Considered one of the world's premiere adult-focused cruise lines, Oceania Cruises was voted "Best Cuisine" in TravelWeekly's 2016 Readers Choice awards, and continues to be an industry leader in the category.
The latest trend in cruise food innovation seems to be celebrity chef partnerships. From Princess Cruise's partnership with Australian chef Curtis Stone to Seabourne's culinary offerings from American chef and restauranteur Thomas Keller, the midnight buffet has become a thing of the past only to be replaced by high-end gastronomic cuisine.
6. Or the all around luxury
When it comes to luxury, there's no shortage of options to choose from. Among the luxury stalwart ranks, Seabourne, Crystal Cruises, Windstar Cruises, Silversea and Regent are perennially lauded as the best in the business. Luxury, of course, is in the eye of the beholder, and it's important to read between the lines when it comes to cruise ships.
European-based and family-owned cruise line MSC Cruises now offers an exclusive Yacht Club—a self-contained private club area specifically designed for cruisers eager to enjoy the amenities that come with a larger ship coupled with the luxuries of smaller 'ship within a ship' feel. Staterooms are limited but include butler service, complimentary wine and spirits, a private restaurant, pools and spa access.
Launched in 2016, Regent Cruise Lines 750-passenger Seven Seas Explorer is being lauded as 'the most luxurious ship ever built' thanks to its spacious all-suites cabins replete with in-room caviar service, Versace place settings (standard across all Regent ships) and over the top décor.
Michelle Gross is a freelance travel, food and culture reporter based in Jersey City. In addition to The Huffington Post, her writing and photographs have appeared in Vogue, Travel+Leisure and Food&Wine. Keep up with Michelle's travel adventures on Instagram and Twitter @MtoTheGNYC