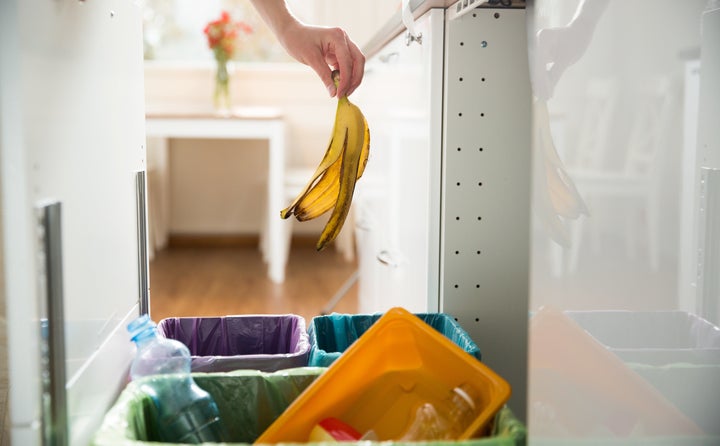 But dealing with a tiny kitchen becomes particularly frustrating if you're a homebody who enjoys making your home a space that's functional, practical and inviting. Hostess essentials are often ditched in favor of everyday crockery, kitchen decor is limited to your funky mugs and eccentric collage of refrigerator magnets, and your ability to collect recycling and food scraps is hindered. What's an apartment dweller to do?
This was my precise problem when moved from a spacious, multi-room apartment in Chicago into a 250-square-foot studio in New York City. My kitchen has two lower cabinets, and I needed a smart way to use one of them to store my trash bin (when you live in 250 square feet, keeping your garbage and its various smells out of the way is essential), my recycling bin, and my compost collection.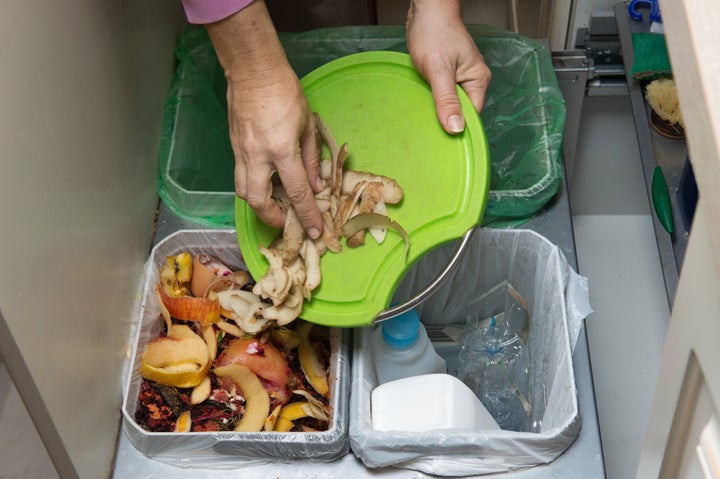 Though there are incredibly innovative solutions out there, like this combo trash can with built-in recycling and compost unit, or this multi-compartment trash can, neither would work as an in-cabinet fix like I needed. Sliding and pull-out waste containers seemed like a better solution, but many were too big for the unique challenge that NYC kitchens, with their tiny cabinets and awkward angles, present. There are table-top compost bins, but countertops are expensive real estate in small apartments. Plus, most of these solutions were more than I wanted to spend on devices meant to, well, hold garbage.
Instead, the best solution I found involved my freezer, not my cabinets. Rather than purchasing a complex in-cabinet contraption, I instead invested in these inexpensive $15 silicone reusable storage bags to keep my food scraps in my freezer. Plus, freezing food scraps cuts down on the smell. Win, win.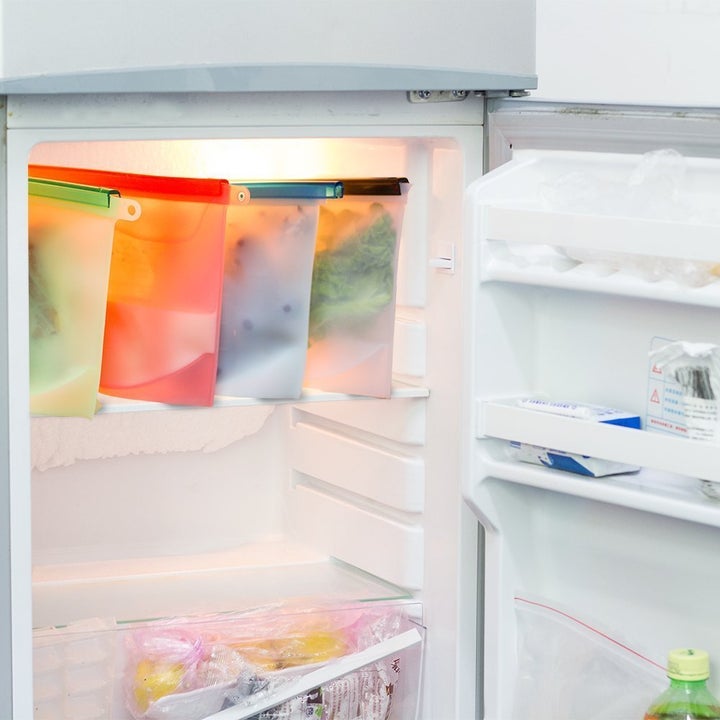 These silicone bags are an inexpensive alternative to plastic bags, and they're microwave, refrigerator, freezer and dish washer safe. All I do is pop one into my freezer, collect my week's food scraps, carry it in a tote bag to my neighborhood compost collection site, and bring it back home to rewash and use again for the next week.
Whether you drop off your compost at a collection site, or need an easy way to store food scraps between trips to your back garden, these reusable bags are an inexpensive solution for small kitchens.
What hacks have you found to make the most of your tiny kitchen?
HuffPost may receive a share from purchases made via links on this page.