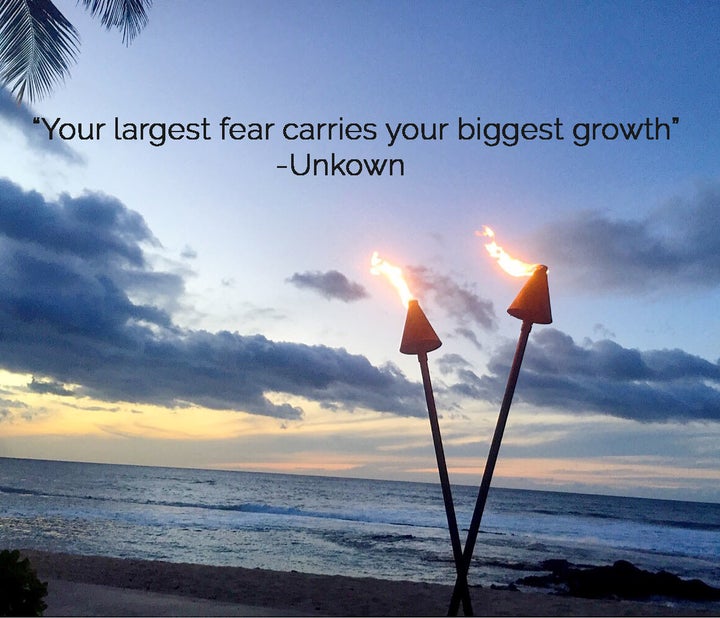 I often hear people saying 'I am not lucky' or 'If only I was luckier, my life would be so much better'. Well, I have to admit, I don't believe in luck and I never had. I think luck has to do with your own preparation for the opportunities you get in life; and if you are not prepared, those opportunities will pass you by. How do you prepare yourself? You do this by constantly working on yourself, finding what blocks you, and then directly confronting your fear by facing it. What is the most common barrier that stops us from having these opportunities? It's our fear and the story we tell ourselves about why we can't have something.
"IF YOU KEEP TELLING THE SAME, SAD SMALL STORY, YOU WILL KEEP LIVING THE SAME, SAD, SMALL LIFE." -Jean Houston
I think that there is no bigger enemy to human's growth than fear. Fear paralyses you; just like poison; it kills all of your dreams immediately. Fear puts your desires, passions and motivations to sleep and it makes you doubt and question everything. Does fear run the show in your life? If you are not living the life of your dreams, it probably does.
F.E.A.R. has two meanings:
Forget Everything And Run
When I was in my early twenties, I was diagnosed with Crohn's disease; it wasn't exactly the best news I've heard. I remember all the terrified faces of the people, friends, and family who were paralyzed by fear; thinking that my future is probably destroyed. If I had allowed that story to become my life, my future would have been destroyed. However; even though I was very young; I never let that energy affect me, that just wasn't going to be my story. My story was 'Crohn will not run my life.'
I continued to live as if I'd never heard this information, and I increased my already large desire for a healthy lifestyle, I fell in love with organic food and I started saying to myself jokingly that my stomach filters only the best, healthy food. I adopted the attitude that God is simply giving me extra strength for everything he has prepared for me in life.
I stopped talking about it and listening to everyone who has 'something' to say and was treating me as if I were sick. I've created 'My story' and in that story I've turned my fear into courage; and I still don't care if someone understands my story or not.
I just never allowed the fear of Crohn to limit me or my possibilities. I didn't allow fear to dominate my thoughts and actions or to be ruled by 'what if…'.Instead of that, I firmly believed I'm going to cure myself; and my belief was stronger than my fear. My belief took the power of my fear away.
"YOU BECOME FEARLESS ONCE FEAR DOESN'T FEAR YOU ANYMORE." -Unkown
And today, regardless of occasional obstacles provoked by health, I am and I do feel as healthy and grateful as ever. I do Cross Fit 6 times a week; even though everyone told me not to work out; I am still a journalist who is in love with her profession more than anything in the world, even though everyone told me to change my profession because it's stressful. The most important thing is that I am a happy person who is grateful for all the good and bad that happened in my life. No bad situation ever killed my positivity, my passion or my attitude. Instead of counting excuses, I started counting opportunities.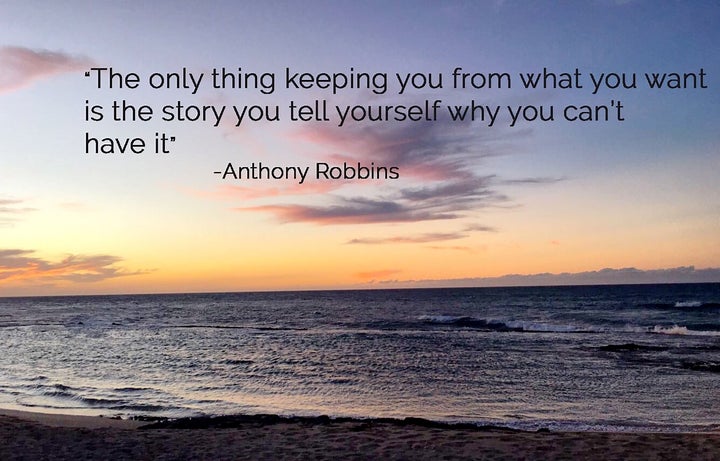 What is your story? Have you found a thousand reasons why you shouldn't succeed or have you found one good reason why you will? We don't become what we say or think, we become what we believe. And if we don't have something, it's because we don't think we deserve it.
So how do you break the old patterns that are stopping you, how do you break your fear?
It's basically like creating a new personality:
1. DO ONE THING EVERY DAY THAT SCARES YOU
What you are most afraid of, you should do. The more difficult it is, the bigger the hidden blessing and the more you will grow. Face and confront your fears. Once you face them, you become limitless.
"THE FEARS WE DON'T FACE BECOME OUR LIMITS." -Robin Sharma
Live your own truth! Don't say yes if you mean no and don't settle! Once you stop caring what other people think, once you are not 'scared', once you start living your own truth you become free and unstoppable. And that freedom gives you the life you want.
3. LET GO THE NEED TO CONTROL
Confidence can only grow if you lose the fear of the unknown! Allow yourself to fail because that's the only way you can grow. Give yourself the gift of compassion, know that you are learning. Surrender to the flow of life, that's when life really becomes fun!
"I'VE LEARNED WHEN YOU TRY TO CONTROL EVERYTHING, YOU ENJOY NOTHING." -Unkown
4. FIND OUT WHERE YOUR FEAR COMES FROM
Examine your weaknesses, get to know yourself. Isolate yourself, identify them, and study them. Make a list of your fears and identify where they come from. Fear usually comes from ego; once you kill your ego; there will be nothing else stopping you from your dream.
5. GO OUTSIDE OF YOUR COMFORT ZONE
Are you really happy, or just comfortable? It's much easier to remain within the boundaries of where you feel comfortable than facing the fear of overcoming them. Step out of your comfort zone and into something new, the unknown is a place where the magic of your growth will happen. Take risks! And most importantly, take the first step.
"IF YOU WANT SOMETHING YOU NEVER HAD, YOU HAVE TO DO SOMETHING YOU NEVER HAD." -Thomas Jefferson
Please share with your experiences, I would love to experience our growth together. Let's meet at the end of our comfort zone.
Related
Popular in the Community