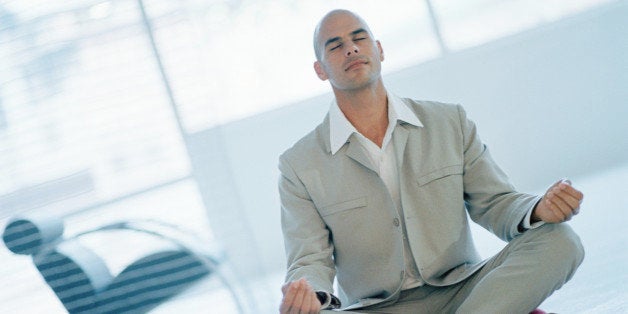 Many office spaces are changing: people are working in spaces free of cubicles, complete with a pingpong table and other perks to keep workers happy. If you're lucky, you get a nap room, and often, yoga or other fitness activities happen during your week. Companies are getting savvy about how bringing yoga and meditation into the workplace helps to both increase employee happiness and help their bottom line.
However, not all companies have evolved in this way. Often, it takes some work to make a change in your workplace. Here are some steps you can take to help transform your workplace into a space for wellness through yoga and meditation.
Be specific about what you are looking for, and be willing to compromise. If you think that having a mat yoga class at your office just won't happen, look into other potential activities, such as seated meditation or chair yoga at the office. Perhaps your company would be willing to finance an off-site to a yoga or meditation center if the office really can't be used.
Talk to HR: People in HR are there to help you stay happy and healthy. Before approaching them about starting a yoga or meditation program in the office, talk to office mates and gauge interest. Come armed with these numbers, and be prepared to show evidence as to why you want to bring yoga and meditation into your workplace.
Be open to paying for it yourself. Unfortunately, not all companies will see the value in bringing yoga into the workplace, and may ask you and your colleagues to foot the bill for yoga and meditation. Many companies or individual yoga teachers can work with your budget to make this possible, so don't give up!
When it comes to your work life, take charge and ask for what you want. If the answer remains a no, look into other ways of bringing yoga and meditation into your work day.