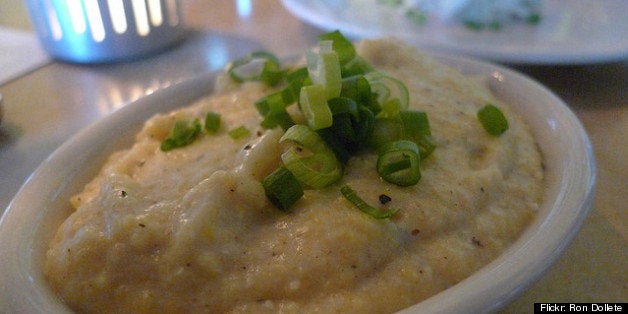 Because were not all lucky enough to be born in the South, we're here to talk about how to cook grits. Grits were weirdly considered gross for an incredibly long time, but thankfully, are finally starting to get their due respect in the food world. We like our grits coarsely ground, and as fresh as we can get them. Anson Mills and Geechie Boy Market & Mill make some of our favorite grits -- their resilient texture and actual corn flavor beat anything else we've ever tried. Both producers recommend keeping your grits fresh between uses by storing them in the fridge.
Grits are usually eaten at breakfast, either as a side dish or topped with gravy, cheese, sausage ragout, etc. The iconic Southern dish of shrimp and grits has finally made its way north as well. We've taken to treating grits the same way we'd treat polenta, cooking them low and slow, whisking in butter and creme fraiche (or an immoderate amount of cheese) and topping them with stewed vegetables, tomato sauce, or anything else we happen to have around. Like cooking barley, we always remember the basic idea, but can never commit the ratio to memory. Here's a simple recipe for grits to bookmark, so they come out perfectly every time.
1 cup coarsely-ground grits
5 cups water or stock (4 1/2 if you want thicker grits)
1 teaspoon salt
4 tablespoons butter (or to taste, go with your heart)
In a large, heavy-bottomed saucepan, bring the water to a boil. Bring the heat down to medium, so that the water simmers, then slowly whisk in the grits, stirring constantly until they begin to thicken (3-5 minutes).
Reduce the heat to low, so that the grits bubble once or twice every few seconds, but aren't rolling. Cook for 40-50 minutes (the coarser your grits are, the longer they need to cook), stirring frequently to make sure the grits aren't scorching on the bottom of the pan.
Once the grits are tender and cooked through, beat in the butter and salt and serve hot.