By Heidi Singer, The New York Public Library
Traditional Sri Lankan cuisine is a wondrous mix of tropical produce, freshly pounded spices, and curries cooked slowly in clay pots over an open fire. Flavor comes with spare time and energy - two factors in short supply in the big city. As a result, photojournalist Sri Walpola became interested in how his fellow countrywomen manage to recreate the tastes of home on Staten Island.
Last year, Walpola photographed several women in the Sri Lankan enclave of Tompkinsville, Staten Island, documenting the way they adapt traditional cuisine to their new home. Two dozen of his photographs are now on display through February in the St. George branch of The New York Public Library (visit nypl.org for hours and directions).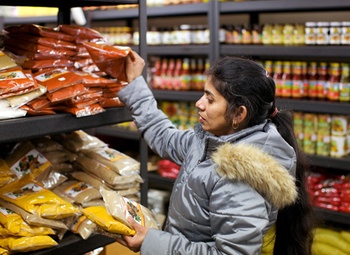 Mrs. Chithra Balasuriya chooses spices at Meth Lanka Grocery, Victory Blvd., Staten Island
Photo: Sriyantha Walpola

"The daily ritual of shopping for fresh vegetables, selecting and mixing spices and preparing curries is a focus of family life in Sri Lanka," said Walpola. "In New York, replicating the familiar act of finding and making food without the bounty of fresh tropical ingredients has become its own art."
Essential ingredients, many of which can now be found on Staten Island, include curry leaves, lemongrass, rampe, and coconut served up every which way, from creams to powders to vinegar made from the fermented juice of coconut palm leaves.
Then there are the flavors that can never be replicated, such as the goraka.
"It's a beautiful red fruit," recalled Walpola. "Once it falls out of the tree, we open it. After that, you take the skin, which looks like a little pumpkin, and dry it under an extremely hot sun until it becomes pitch black."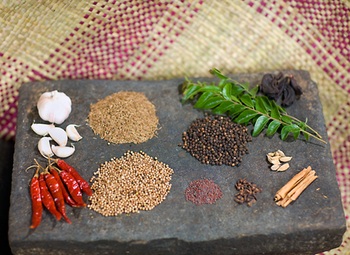 Spices to prepare Sri Lankan Chicken Stew.
That fruit, unique to Sri Lanka, isn't the only thing expats miss. Walpola's subjects have had to substitute cabbage for traditional greens, blenders for grinding stones, and metal pots over gas stoves instead of clay pots and fire. Unable to find the tiny, tropical fish they're accustomed to, the home cooks "have totally given up on fish," he said.
Walpola, a dedicated home cook who has worked for the New York Times and the BBC, intends to publish a book of his photographs along with recipes from his own and his subjects' families. In the recipe below, he has toned down the spices for American taste buds, but kept the distinctive ingredients.
As they say in Sinhalese, Sathutu Wenna (Enjoy)!
Chicken Stew Sri Lankan Style

6 chicken parts or a full chicken
(organic chicken taste better)
2 big onions
2 big tomatoes
2 green peppers
2 red peppers
2 large potatoes, peeled and cut
1 large carrot, peeled and cut

8 black pepper corns,
4 cloves
4 cardamom pods
4 garlic cloves
2 inch stick cinnamon
2 branches of curry leaves (available in Indian groceries)

1/2 to 1 teaspoon black pepper
1 teaspoon turmeric
2 tablespoons Sri Lankan coconut vinegar
Salt to taste

Boil the chicken in water, black paper powder, turmeric, Goraka or Sri Lankan coconut vinegar, until the water dries.

Boil the potatoes and carrots separately and cut them into pieces.

Use the same chicken fat or two spoons of vegetable oil in medium saucepan, add mustard seeds, coriander powder, garlic crushed, pepper corns, cloves, cardamoms, cinnamon, curry leaves.

Add big onion rings, chopped bell peppers.
Add chopped potatoes and carrots.
Season with salt, fry 15 to 20 seconds, stirring constantly.
Add chicken pieces and fry 30 to 40 seconds.
Turn off heat, turn pieces over, add tomatoes at last.
Adjust salt and pepper.
Cover and simmer on moderate heat for 20 minutes.

serves 4-6 people
Popular in the Community