Most savvy business owners are aware of a simple truth: It takes money to make money. When you're bootstrapping your startup, every penny counts.
What you invest in, what business expense you decide on, what platform you choose for your online presence -- all that money counts when you need to stick to a budget.
But in this day and age, it's important to invest in things that help grow your business.
Many understand that growth is more than just an increase in income. It's also an increase of aware; building a brand that can be recognized.
Establish your brand takes a lot of effort, time, and often, money to get it to a point where many people know about it.
One important aspect of branding is to have a logo associated with your business.
You can see proof of this everywhere:
When you think of Instagram, don't you picture the camera icon?
If you think of Starbucks, don't you instantly think of the white and green Siren that's on every item you purchase from the food chain?
Facebook. Snapchat. McDonalds.

The list is endless.
Therefore, it's reasonable to conclude that your business should have a logo associated with it.
However, there is a common question that befuddles more than a few bootstrapped startups: Can you afford it?
Design agencies can cost thousands, and graphic designers may also charge quite a bit more than you were expecting to have a logo made for your business.
And while they are sure to create a design befitting your brand, you'll still be out quite a bit of money when your business may need to apply those funds elsewhere for the time being.
So how can you have the best of both worlds? Is there a way to create an appealing logo for your business without it costing you too much?
Here are a few suggestions to help you get started with finding a way to create a logo when on a budget.
Create a Logo for Your Startup with an Online Logo Maker
Online Logo Makers are abundant on the internet. Some are better than others and offer you attractive designs that could be exactly what you've been looking for.
Here are three to get you started.
Spaces has quite a few business-centric tools to help your budding startup.
One of the nice tools they've come out with is their free-to-use Logo Maker.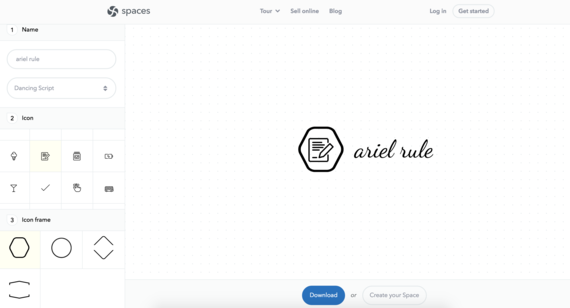 The logos you can create are very clean, and the platform is very simple to use:
Enter your business name.
Choose a simple logo.
Add a frame.
Boom! You have a logo for your business, and you're done.
The mockup above took me less than five minutes to put together.
I really like the less-is-more approach. In a world of noise, simplicity always stands out.
If you want something a little more robust with options like flat design icons, then try out GraphicSprings.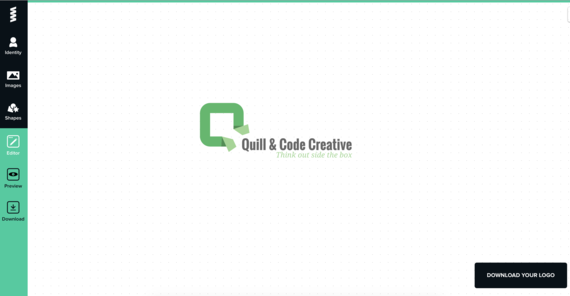 The logo maker here has quite a few options, but you don't lose the ease of design a logo.
Add your business name. (And a tagline if you like.)
Search images that you can use for your logo.
Add shapes.
Move around the placement of the elements to get things just right
After you've managed to create a design you love, simply download and start using.
If your brand needs something fun and current, then the Hipster Logo Generator could be perfect logo creator for you.
The name tells you exactly what it does:
Creates a hipster-styled logo.
This could be great for a coffee shop, vintage clothing line, or any other business that wants to give off the retro/hipster vibe.
You start by picking a shape.
Add some very hipster design elements.
Add your business name.
And, ta-dah! You're done.
If you haven't played around with this thing yet, you really should.
Bonus Tip: Take a Look on Instagram
If after you've looked through these logo builders and found nothing, then turn your attention to Instagram.
There are thousands of graphic designers and graphic design-centric profiles on this platform. And while they might not post about it every day, many of them take work on commission, and some are really not that expensive.
If you find a designer that creates work you truly like, simply send them a message within Instagram to inquire about their design fee and if you will own the rights to the logo they create.
This method takes more time, but if you really know exactly what you want and can have that made, then it can be an excellent option.
As mentioned before, when you're bootstrapped and/or on a budget, it's important to spend your money in the areas you deem most important.
Branding is important, and so a logo is also important. Hopefully, these options will help you create a design that helps your startup grow.
Are you a bootstrapped startup? How did you decide when and where to spend money on branding?
Calling all HuffPost superfans!
Sign up for membership to become a founding member and help shape HuffPost's next chapter