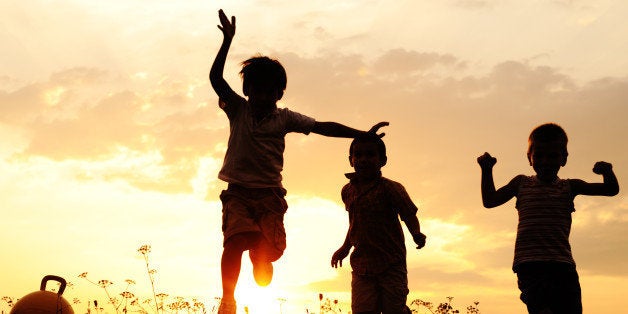 If you're a working (or even non-working) parent of school-age kids, your children are registered and ready to enjoy the combination of sleepover-sports-arts-theatre-park-district-specialty-religious-and-other camps you've engineered to provide them with a structured, safe and stimulating place for the summer.
That means it's time to start creating a magical summer the entire family can savor...long after the setting of the late-August sun.
What's so magical about summer?
Imagine this: You and the kids are done with your daytime responsibilities or activities. What's on the docket?
• A full 3 hours of daylight to spend as you please
What don't you have?
• Reams of homework to oversee
• Unexpected runs to the office-supply store for due-tomorrow school projects
• Last-minute class snacks to bake or buy
• School clothes to prepare
• Recitals, school plays, and teacher conferences to attend
I'll admit that even in summer, there will be weeknights with an activity you or your kids must attend. And trust me... I know all about summer sports leagues! But for most parents on most weekdays -- and especially on weekends -- summer delivers two priceless commodities that are in exceedingly short supply during the school year: Freedom and Flexibility.
That's why I wholeheartedly advocate intentionally creating a summer that gives you and your kids time to reconnect... reenergize... and re-whatever your particular family wants and needs.
Enjoy the benefits of free and unstructured time for you and your kids.
While modern parents must cover work hours with activities (or childcare) for their kids, there is tons of evidence touting the multiple benefits of languid, self-directed, even day-dreamed-filled free play. The American Academy of Pediatrics -- a decidedly pro-kid organization -- maintains that free play is critical for healthy child development.
Then there's the fact that summertime free play is simply a delightful way for families to spend precious time together.
Indulge me this short trip down memory lane. When my kids were small, I'd pack or pick up sandwiches after work and camp were done, and we'd saunter to the park and have a picnic dinner and play. Weekends, they'd have a ball collecting stones at the beach then return home to paint them, sans "kit." Some nights we'd read their bedtime stories -- outside! Yes, I was one of those parents who, when the school year loomed, grieved in advance the lack of unstructured time with and for my kids.
Summer is also a time to indulge your own passions and interests and ask your kids to give them a whirl. We all know how important physical activity is for kids, right? Luckily, there are many fun family runs and walks to participate in, many raising money for good causes.
But let's say you're not the athletic type. Don't force yourself to participate in a family 5K -- that won't be fun for anyone. Do you like yoga? Are you an art lover? An avid bird-watcher? Invite your kids to join you. You may not a devotee make, but exposing them to a variety of activities can only expand their worldview.
For a fresh take on summer fun, why not put your kids tech-savvy to work and have them do the research and planning? Give them a budget and a time allotment and challenge them come up with a personal Top Ten list of things to do relatively close to home. They can even research bus/train schedules, available parking and event select some places to eat or picnic nearby.
The outcomes are numerous:
• You have their complete buy-in and enthusiasm for those activities
• You've enhanced their self-directed executive functioning skills (a "powerful predictor of academic performance and other positive life outcomes")
• You've off-loaded a significant to-do
• Everyone enjoys superb family outings
Summertime is a gift -- one you give your family. Enjoy it!