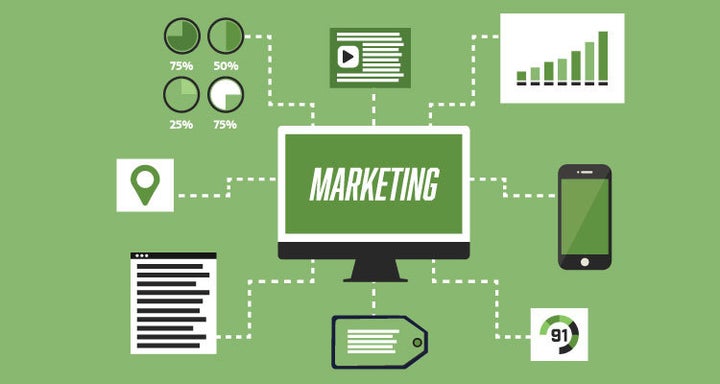 How To Create Marketing Videos In Minutes
Video has never been more important. At the start of 2017, the advertising industry expected spending on social video ads to double to reach more than $4 billion. Those videos, posted on Facebook, Instagram, YouTube and Twitter, make up a third of all US digital video ad sales and a fifth of all social media ad sales. Ad money might be leaving television and heading straight to social media but it's still being used to make video.
Because video works. People are watching more videos. They're watching them for longer. They're absorbing the marketing messages they contain and they're acting on them.
But that creates a challenge for small businesses. Videos have always been harder for small companies to produce than blog posts or image ads. They have to be shot, edited, annotated and prepared. That all takes time. Fortunately, a number of companies now offer solutions that make creating videos for the Web as easy as using Wordpress or writing a Facebook post. In this article I'll talk you through three of the best.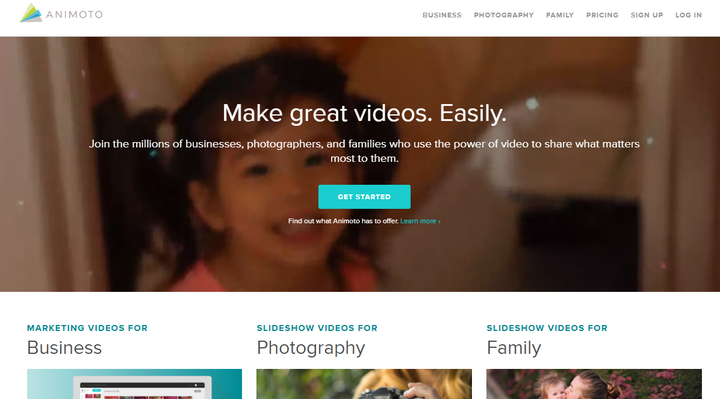 Although Animoto puts "business" first in its navigation bar, it also highlights "photography" alongside "family" in its list of featured uses. That might suggest that it sees itself as a place to show off beautiful images as much as a way of pulling viewers through a sales funnel. If you're not a professional photographer, though, or a hobbyist who wants to show off their images, you'll still find Animoto a very easy way to turn your images into visual marketing stories.
Animoto offers three plans: Personal, Professional and Business. Forget the Personal account. That's only for sharing home videos and photos. You'll have an Animoto logo at the end of the video, and you won't have access to the "Animoto Marketing" features that let you use a pre-built storyboard template. You'll need that!
The Professional plan will probably be sufficient but if you're planning to let a team of people create multiple videos then a Business account will allow up to three people use the platform. Whichever plan you choose though, you do get a free trial. You'll have all the features of a Professional account but your videos will be watermarked. It's a good place to start.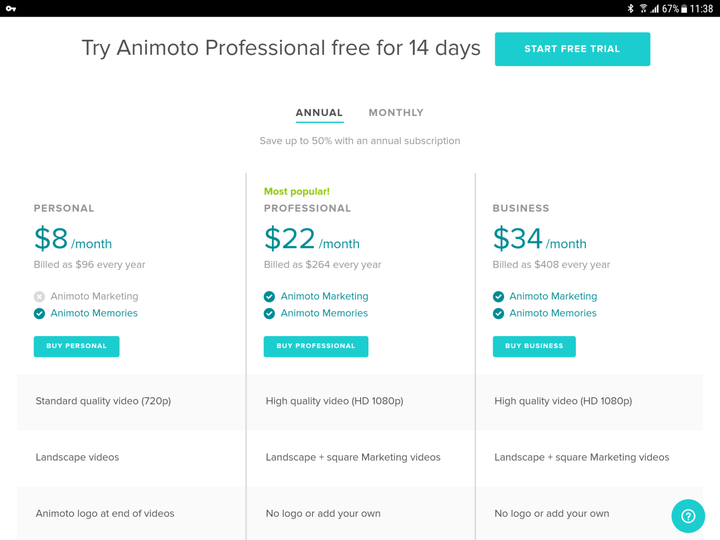 Once you've signed up, you'll be offered two routes into the tool. Animoto Memories is for personal use. Animoto Marketing is for businesses. Before you click through though, take a minute to watch the sample video. Not only will you see the functions that you'll be using on Animoto but you'll also see the kind of video that works best: short and with text overlay rather than voiceover.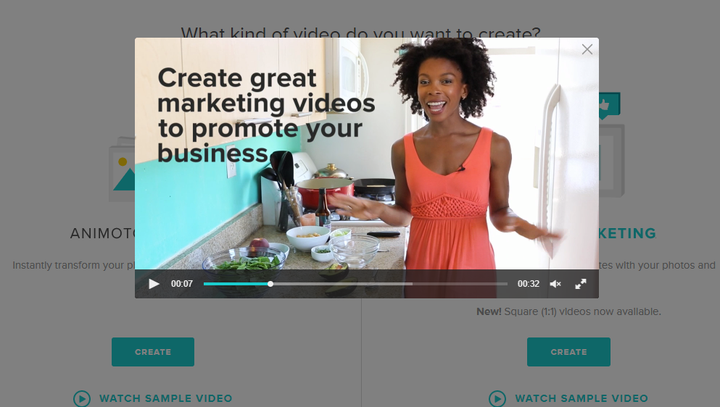 The next step is to pick a pre-built storyboard. This where Animoto is really strong. Instead of thinking about how you need to tell your marketing story, the site tells you exactly what to do and when to do it. It's like having a film director leaning over your shoulder as you create your video.
While you can create your storyboard from scratch, start with a template so that you can understand what they're doing. Altogether, Animoto has no fewer than 40 templates, ranging from About Us videos through Seasonal Promotions, Step-Based Tutorials and Product Catalogs. Pick one and you'll be taken to the storyboard of a video already prepared to tell that story.
That storyboard will be made up of a number of images, each of which remains on the screen for a few seconds. To create your own video, all you'll need to is swap those images for your own and replace the text in the video for your own text.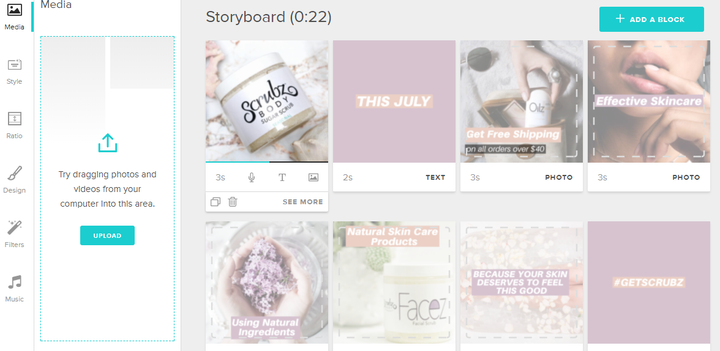 Mouse-over each image and in addition to seeing that picture, you'll also see icons that let you adjust the amount of time the image appears on the screen; add a voiceover; write text; and upload a new image. You can also edit the image and change the background color, and upload your pictures directly into the template or drag them into a media area.
On the left, a simple navigation bar lets you change the format of the text and choose between a landscape aspect, good for websites and YouTube, or square, good for Instagram and Facebook. You can also try different fonts and colors, add one of seven Instagram-style filters and, more importantly, choose your background music. Animoto has a huge library of songs, so it's worth following Animoto's suggestions for the video style you've chosen.
As long as you have the images ready, you can complete the whole process in no more than half an hour. Rendering will take another five minutes or so, and you'll be ready to share.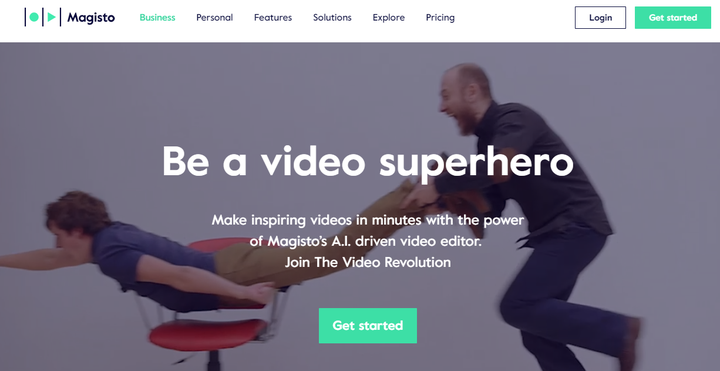 While Animoto is a platform for both personal videos and business videos, Magisto places the emphasis firmly on marketing, and also emphasizes its "A.I. driven editor" which it claims will produce better videos.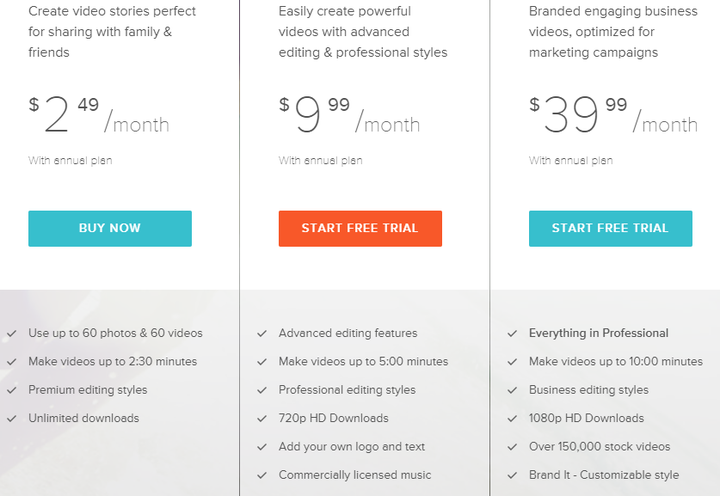 Magisto also offers three levels of membership, but this time you'll want to skip not just the Premium plan, which is for personal use, but also the Professional plan, which is aimed at small-scale users, and head for the Business plan. At nearly $40 per month, it's not cheap but in addition to being able to create videos as long as ten minutes, you'll also get access to 150,000 stock videos so you won't even need your own footage. You'll also have some email marketing tools, the ability to embed your videos on your website… and analytics. A free basic service will let you play around and there's a seven-day free trial for subscription plans, but you'll need to include your credit card and remember to cancel.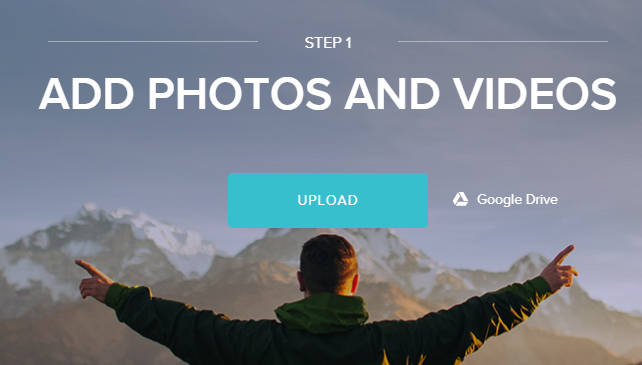 Magisto then requires you to upload your content. The amount of content will vary depending on your subscription plan. The free, Basic plan keeps you to just ten photos (with a minimum of five) and fifteen minutes of video. Move on to the professional plans and the uploads will be unlimited even though the final videos themselves will be no longer than ten minutes.
Unlike Animoto, you won't be working to a storyboard, so you'll need to know what kind of imagery you want to include.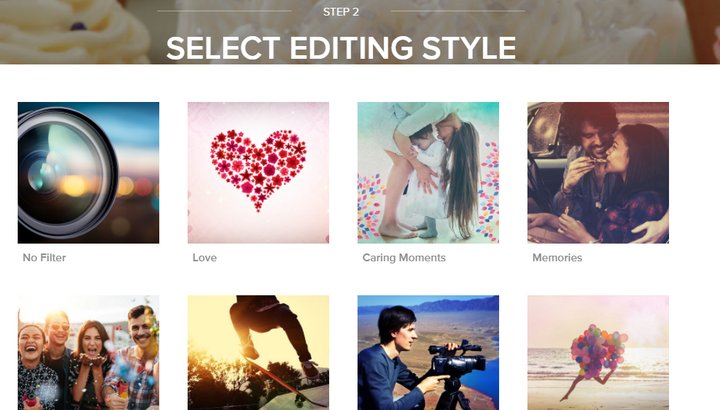 The next step is to apply a style to your video. Even the basic plan has 32 different styles but there are plenty more available with professional subscriptions, including styles suitable for marketing videos.
4. Pick Your Music… And Name Your Video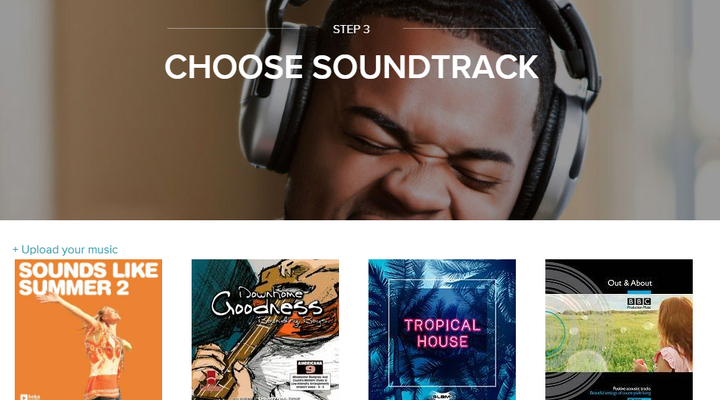 The penultimate step is to add a soundtrack. Again, you'll have a broad choice, which will become even broader as you move up the subscription levels. Unlike Animoto, there's no guidance to choosing a suitable soundtrack to match your video's style so you'll be doing a lot of listening.
Finally, you'll need to give your video a title and you can also adjust the length of the footage. When you're done, you'll just need click a button and wait for a few minutes while the platform cuts your uploaded images and videos into short footage. Professional users can then change the sequence of the content and add their own branding and captions.

Both Animoto and Magisto depend on marketers to upload their own imagery. (Magisto does offer a selection of stock videos with its biggest subscription plan, but it's not the platform's USP.) Slide.ly's Promo assumes that its users don't have any content at all: no images, no videos and no music. It lets anyone create a marketing video by simply adding text and music to one of the company's thousands of stock videos. For small businesses in particular, or for anyone without the time to shoot their own visual content, it's a very powerful solution.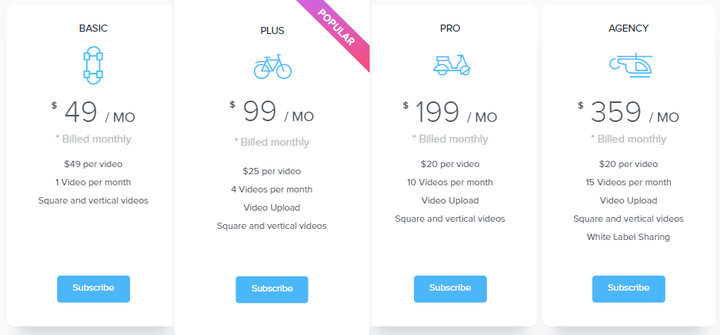 Slide.ly takes the subscription plans for its Promo platform through four levels from $49 per month to as much as $359 per month, a level aimed at agencies. The biggest difference between those plans though is the number of videos you can create. None of the plans is unlimited. The smallest will allow you to create just one video a month, while the largest will give you as many as fifteen. Slide.ly says most people choose the Plus plan. That lets you create four videos at $25 each. Whichever you choose, a free trial lets you use the platform before you dig into your bank account.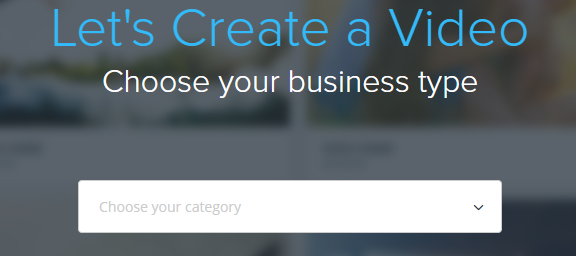 Promo helps you to find the most appropriate stock videos by first asking you the subject of your business. The categories, though, are limited to just eleven topics, ranging from real estate to weddings. If your business fits into one of those categories, the rest of the process will be very straightforward. If not, you can choose "other" or skip this section.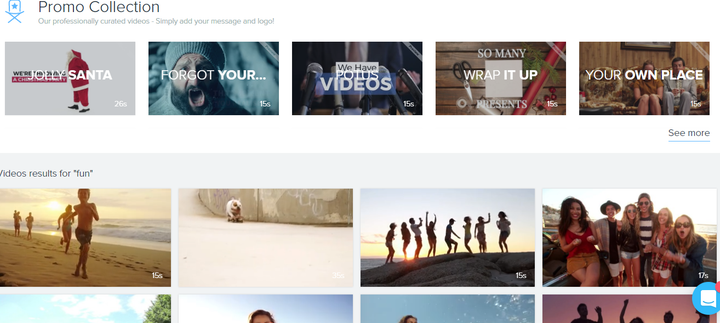 You'll then be taken to a search engine filled with videos. If you're using the free trial, you'll be limited to "fun" videos but you can enter any search term here and pull up a long list of videos that are typically up to thirty seconds long. You'll be able to preview the video and see how it looks in landscape, square and portrait formats. Take your pick and choose "Use."
4. Write Your Marketing Message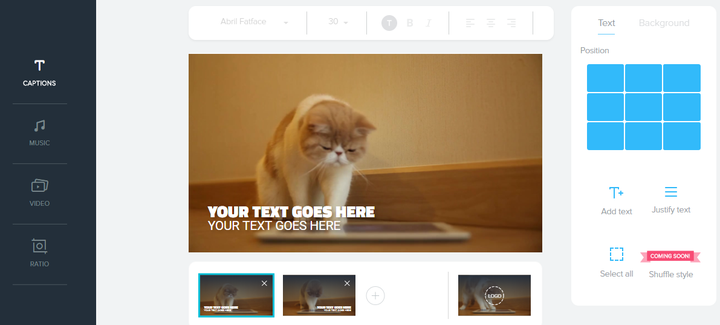 The last step is very simple. You just have to overlay text onto the video in the appropriate places. You can play with the placement of the text, its fonts and formatting. You can add text to additional frames and you can also add your own logo at the end. Promo provides a good choice of background music and even when you've finished making the video, you can see how the message looks over different images.
Slide.ly says the whole process takes no more than five minutes. If you have the text prepared, that's possible. You will need to make sure your message matches the visuals but it's a very easy way to create videos for sharing on social media and websites.w
Support HuffPost
The Stakes Have Never Been Higher
Related
Popular in the Community