Over the past few years, ramen has firmly planted itself at the top our wheelhouse when it comes to hearty noodle soups. While we'll never ditch classic chicken soup, we love the super-flavorful broth, springy noodles, and customizable ingredients that go into this Japanese staple. We've come up with a few options for your base, noodles, and tasty edible accessories to make all of your ramen dreams come true. Grab a big spoon, a set of chopsticks, and dig in!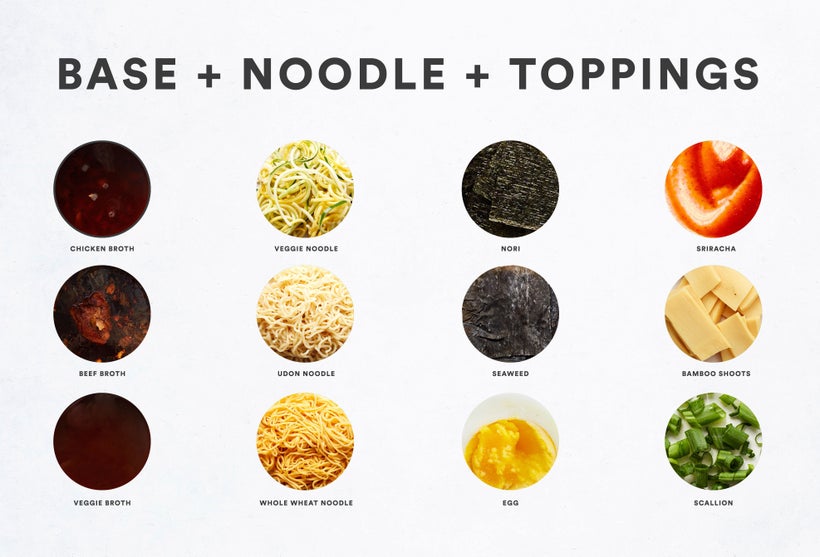 Broth
Our super-savory pork broth is a total winner, and though it requires a solid number of ingredients, it's absolutely worth it. Plus, it'll freeze well, for on-demand ramen in the future. See below for instructions!
Vegetarian Miso, Mushroom and Leek Broth
This warming meatless broth packs a serious flavor punch, and gets depth from miso, soy sauce, and mushroom powder. If you can't find mushroom powder, don't sweat it!
Noodles
Traditional Ramen (Chuka Soba) Noodles
Springy wheat ramen noodles are the traditional choice, and can be bought dried or fresh. We recommend an Asian market to pick these up.
Though these aren't the classic ramen noodle, and are, in fact, Chinese, we love these slightly chewy noodles in a bowl of ramen.
Although noodles are a must-have in ramen, if you're feeling like lightening things up, try spiralized veggies instead of the noodles. It still counts.
Toppings
We love adding a couple sheets of crunchy, salty Nori into our ramen. For a little less salt, use regular dried seaweed.
These shoots add a little crunch to the dish, which we can never resist.
Whether you soft boil or fry, ramen is even more delicious with a gooey yolk on top. Putting an egg on it is basically a must.
Whether this takes the form of Sriracha or another Asian hot sauce, the added spiciness will warm you right up.
Thinly sliced scallions add fragrant flavor and crunch to your bowl.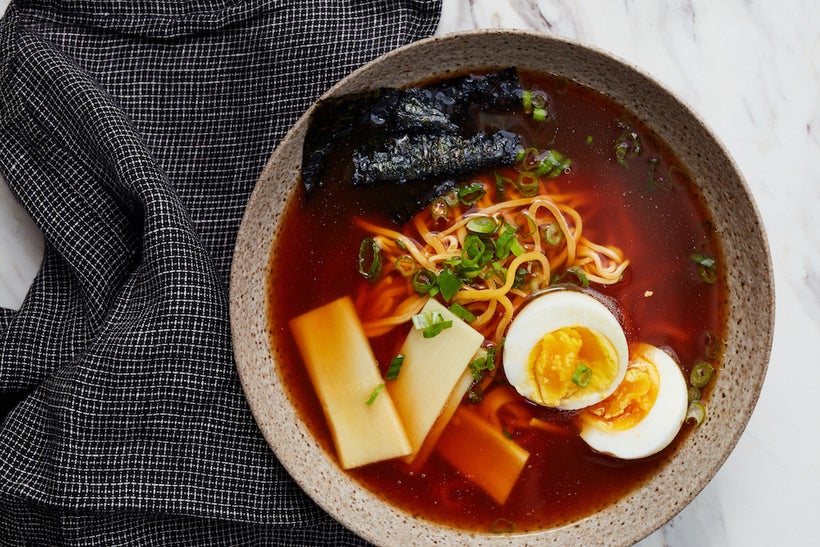 Pork Shoyu Broth
Ingredients 2 leeks 3 large knobs fresh ginger 6 ounces shiitake mushrooms 4 pounds boneless pork butt (shoulder), tied 3 pounds chicken bones or wings 1 tablespoon canola oil 6 quarts water 6 cloves garlic 1/2 cup dark soy sauce 1 sheet kombu 1/3 cup light soy sauce 1 1/2 tablespoons sake 1 tablespoon mirin Kosher salt and ground pepper
Instructions Quarter leeks lengthwise and cut crosswise into 2-inch pieces. Place in a bowl of cold water and allow dirt to sink to the bottom. Peel ginger. Roughly chop mushrooms. Pat pork dry and season all over with salt and pepper. Pat chicken dry.
In a large pot, heat the canola oil over medium heat until shimmering. Add the pork and brown on all sides, about 12 mins total. Add water and scrape up browned bits. Drain the leeks and add to the pan along with the chicken, ginger, chopped mushrooms, garlic, and dark soy sauce. Bring to a boil, cover, then reduce the heat to medium-low and simmer for 1 hour. Uncover, flip pork, and continue to simmer, uncovered, until tender, about 1 hour longer. Skim off foam periodically.
Remove pork to platter to cool, about 30 minutes. Wrap tightly in plastic and refrigerate overnight.
Strain broth and discard all solids. Return broth to pot and bring to boil over high heat. Add kombu, cover and simmer for 1 hour and 30 minutes.
Uncover broth, discard kombu, add soy sauce, sake, and mirin.
Remove pot from heat and allow to cool, 30 mins to an hour. Cover and transfer to fridge to chill overnight.
REAL LIFE. REAL NEWS. REAL VOICES.
Help us tell more of the stories that matter from voices that too often remain unheard.
This post was published on the now-closed HuffPost Contributor platform. Contributors control their own work and posted freely to our site. If you need to flag this entry as abusive,
send us an email
.